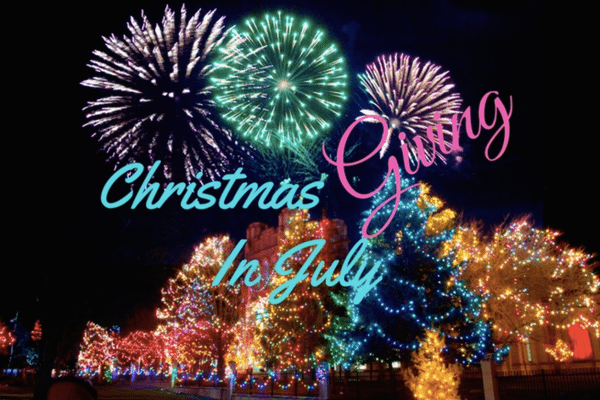 Every December, instead of making a list of what we want to "get,"
my family makes a list of all the things we can "give." Our time, our money, things we've outgrown or underused — all go to others who may not be lucky enough to have the same type of holiday season that we are used to. Many other families do the same, allowing November through January to be the time of year when selflessness can triumph over selfishness on a grand scale. This atmosphere of love is part of what makes the holidays so special, and I love it…
… but what about the REST of the year? You know, the other nine months? Aren't people still going hungry, kids still sick, beaches still dirty? Don't dogs and cats still need homes in May, and couldn't your elderly neighbor still use some help in her yard in June? The answer, of course, is yes — which is why I'm challenging you and yours to Make Summer Matter and celebrate the 12 Days Of Christmas in July! The more relaxed schedule and abundance of free time that summer brings makes it a great time to give back — especially since it's not a time that many agencies or individuals expect to be receiving. Maybe you have a favorite charity or volunteer organization, but if you need a few ideas or would like to bring something new into your usual mix, then look no further:
Christmas in July: Day One
Since we do our 12 days consecutively, we jump right in. This year, on our first day of Christmas in July, we are going to do a mini park cleanup. We've chosen Four Corners Park in Murray Hill, because we once owned a home across the street, and I spent many an afternoon strolling around its uneven sidewalks and gorgeous trees, trying to get babies to nap. It's a hidden gem over here in the historic districts and is also up for playground funding, so we want to help our 'hood keep looking its best. There are four quadrants, and today we'll cover two of them with a trash bag, gloves, approximately 30 to 40 bottles of hand sanitizer and bug spray — and promises of Community Loaves cookies down the street when we're done.
Day Two
Yesterday was definitely the trial by fire version of volunteerism — especially if this year is your first attempt at the 12 days! Keep it air-conditioned today and write thank-you postcards to troops stationed overseas through Operation Gratitude. Little ones can color pictures!
Day Three
Check out the Wolfson Children's Hospital Christmas In July campaign. This annual FUN-raiser offers three ways to get new toys into the hands of sick children. You can donate online (tax deductible!), pick out a toy and bring it in to Jersey Mike's Subs (July 1-24) or Wolfson (July 25), or shop from their Amazon registry, new for 2017!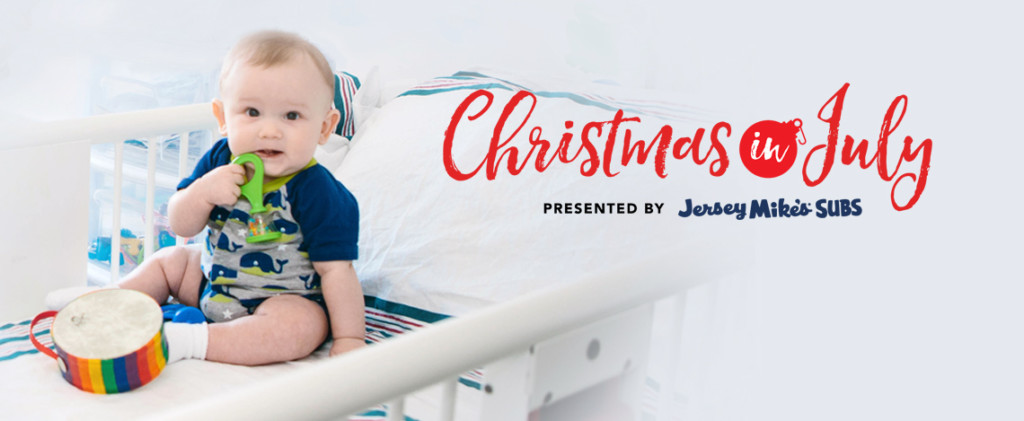 Day Four
It's summertime, and the beach is calling our name! We don't cross the ditch too often, so it's an all-day affair when it happens. When you're hunting for shells today, do your part and bring an extra bucket for trash.
Day Five
We have several elderly neighbors who don't get out much but always wave to the screaming kids on the street from their front windows. Baking (or buying) a treat, brewing an extra jar of sun tea, or even cutting some flowers from your yard could be the extra spark that brightens their day!
Day Six
Do you have a favorite charity? Homeless pets are a serious problem in Jax (Cats. Cats everywhere. EVERYWHERE.) and Friends of Clay County Animals and First Coast No More Homeless Pets are both near and dear to my heart. We accepted donations in lieu of presents for each of our toddlers' respective first birthdays, we pick up extra treats to drop off when we're buying in bulk for our own pound puppy, and we never throw away a towel or blanket without first asking if they can use it. My kids are still too young to volunteer, so today we'll buy something off their Amazon wish list or make a little donation from Mac's piggy bank.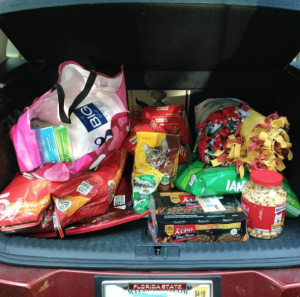 Day Seven
Celebrate your friends and family, too! Is there anyone who could use a couple hours of free babysitting or a home-cooked meal? Maybe they're moving and need an extra set of hands or someone to help paint the nursery. Time to help those who've helped you.
Day Eight
Tackling the other half of Four Corners Park today! (Think it's been long enough for cookie rewards to be exciting again?)
Day Nine
Speaking of parks, have you gone rock hunting with Jacksonville Rocks yet? We're technically a part of the Jacksonville Rocks-Westside area, and my kiddos and their friends have so much fun hunting for brightly painted rocks on our park trips. We're painting some ourselves to hide and help spread the joy. (Check out Shannon's post on how you and your kids can join in the rock-painting fun!)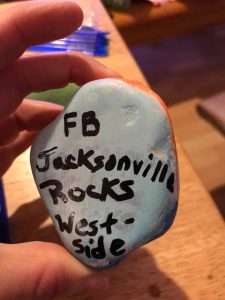 Day Ten
Purge, baby, purge! Take today to go through the kids' rooms and get rid of ill-fitting clothes, great toys that they no longer play with, and books they've stopped pulling off the shelf. Check the need list at local organizations like Foster Closet and send them on to someone in need. Don't forget places like The Sulzbacher Center and Emergency Pregnancy Services will take that half box of too-small diapers, the unopened, unexpired  formula you were sent in the mail, and even your gently-used maternity wear.
Day Eleven
There are more than 350 Summer BreakSpot (also known as the Summer Food Service Program) locations in and around Jacksonville. The Summer BreakSpot Program is a free federal nutrition program that local nonprofits and schools use to make sure kids in their communities don't go hungry during the summer. Check their site to find a location near you and see how your kids can help be sure other kids go to bed with bellies just as full as their own.

Day Twelve
The last of our 12 days signals that we're closer to school than summer. Pick up some extra school supplies to drop off at a Community First Jacksonville Moms Blog Park Hop supply drive or help the United Way of NE Florida fill a backpack.
And there you have it! Feel free to go right down the line, swap one day for another, or do your own thing completely. My family likes to really "live in it" and do all 12 days in a row, but you can always go at your own pace and break up your giving if that works best for your household. My grandmother always says, "Doing anything is doing something," so Merry Christmas, Happy Holidays, and have fun Making Summer Matter!