As a follow up to my post last week about Easy DIY Valentines for students, I'd also like to share a few simple ideas for teachers. They have the important role of educating our little ones during their most impressionable years. Teachers offer a secure, supportive and engaging environment for them to learn and grow. Our children represent our future and will go on to be leaders of the next generation. I know this is a little deep for a post about making Valentines, but I have a new found respect for teachers since having children of my own, and even more so since attempting to educate them myself (more on this in a future post).
In a world where educators aren't revered the way they once were, I believe it's important to show them we appreciate what they do. After all, children spend the second most of their time at school. Even a small gesture will brighten a teacher's day and help show them a little love. Here's my list of 5 easy, DIY Teacher Valentines, and once again each link includes a FREE printable.
Easy DIY Valentines for Teachers
1. You Rule Valentine – I chose this one from ThompsonandSpring.com for its simplicity…and the fact that it's super cute! It was also extremely inexpensive, and took less than 10 minutes to complete! See our version below.
2. Just Write Valentine – This was another that we chose to construct. Also a cheap and simple option…although I wasn't crafty enough to perfect the decorative edge.  Check ours out below.
3. I Heart My Teacher Valentine – These are adorable! Another cost effective option. All you'll need is: heart shaped wrapped candies, card stock, double sided tape, and scissors. Very simple…love these!
4. Spread Love Not Germs Valentine – A teacher can always use hand sanitizer…especially in the peak of flu-season! Print the tags, cut out circles, punch hole, and attach with ribbon. Voila!
5. S'more Than You Valentine – What teacher doesn't love a little treat? If you're nervous about your child bringing glass to school (eek!), put your mixture into a plastic bag instead. This is one your kids can definitely help with!
Our Teacher Valentines
You Rule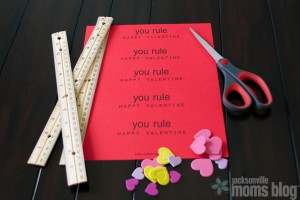 My four-year-old was thrilled to help make three of these for the teachers in our home preschool co-op. Once again, I chose to make something quick, simple and inexpensive. The supplies we needed were minimal: rulers (purchased at Target for less than $1 each), red card stock, scissors, and a utility knife. Fortunately, I had everything on hand except the rulers. I did do all of the cutting for this one, but let my son assemble the Valentines with some assistance. He put the finishing touches on by writing his name and decorating them with foam heart stickers we had leftover from another project. Aren't they adorable? He is very proud of them!
Just Write
Since my two-year-old is also part of our co-op, we needed to make three for him as well. But, let's be honest, he did not help me with any part of making them! In fact, they were completed during his nap time! This Valentine calls for: white card stock, scissors, hole punch, cute pencils, ribbon, and eraser tips ($.97 for 25 at Target). You just print and cut, right? Well, the only decorative scissors I own are cheap plastic ones and they were not cutting it (pun intended)! I chose to use regular scissors rather than spending money on more expensive decorative scissors that I'd probably never use again. They still turned out great, but I love the ones with the decorative edge a little more!
I'm sure whatever you choose to make will be much appreciated by your child's teacher. A few tips to consider: select something the teacher can use like the rulers, pencils, or hand sanitizer; treats are always treasured–and gifts that double as decor for the classroom (melted crayon art) are also a wonderful option for teachers. Let's show those teachers a little love!
Have you thought about Valentine's Day yet? What will you make for your child's teacher this year?