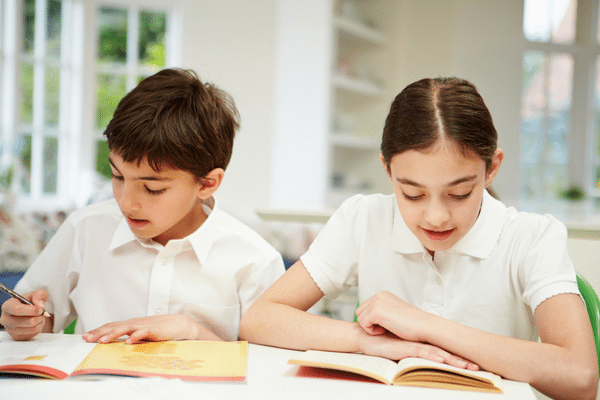 We recently toured the brand-new charter school going up in our community — it's scheduled to open in the fall, and my son will be entering 1st grade at the school. It was a lottery process to get in, and we didn't expect to get in the first year… and then we did. I went back and forth all summer trying to decide if we should accept our spot. I felt awful moving him to a new school, especially after such a great kindergarten school year at our elementary school — the same school all his friends that he made last year will be attending.
To be honest, I didn't even know what a charter school was — or the difference between it and a regular public school. In case you don't either, a charter school is a publicly funded independent school established by teachers, parents or community groups under the terms of a charter with a local or national authority. It's still public, and it's tuition-free.
We finally decided we're going to give it a shot this fall. Here are the top five reasons:
It's brand new. Every square inch of the school is brand new. The building is more environmentally friendly than most older schools. The bathrooms don't even have paper towels; they have those cool hand dryers where you stick your hand in and they are blown dry in seconds. The athletic field is made of astroturf, not weeds and dirt — most of which came home in my son's sneakers every day. There are a lot of windows; you can see into common spaces very easily, there is a lot of natural light, and the furniture has never been sat in before. Something about the newness of it makes it more appealing.
Students will learn using the latest technology including iPads and smart boards. The iPad ratio is 1:1 for now. My son was thrilled to hear he would be getting an iPad. I had to break the bad news that the same games he plays at home won't be on his home screen. But, the thought of no more textbooks, or him having to lug it around in his backpack is intriguing. Plus, it's a no brainer that digital is the wave of the future — it's nice to get them familiar with it at such a young age.
Students wear uniforms. If your kids wear uniforms, then you know why this is a major win! No more arguing over what to wear in the morning or having to hear that another kid wore a cooler shirt. It's all red, navy and khaki from here. Our introduction to uniforms was in preschool, and I didn't think I would like it… boy, was I wrong. I've missed it ever since.
The fourth reason wasn't a deal breaker for us, but the location is better for my morning commute. The road to get to our former elementary school was so congested it would take me over 30 minutes to go less than five miles, and it wasn't exactly on my way to work. The new charter school is still on a very busy road, but at least it's on my way to and from work so I'm not spending even more time in the car.
This is the biggest reason for switching — the charter school is kindergarten through 8th grade. I know we have four more years to worry about middle school, but I am not crazy about the one we are zoned for and would rather not have to worry about having to find yet another new school, with all new friends again, when the time comes. He'll be able to stay with the same set of friends for many years to come, and I like the thought of that.
Okay, I know I said five reasons, but I should list safety for obvious reasons. This school has extra security features that should make any parent feel a little better dropping their little ones off for school each day.
I'm aware that because it's a new school, there will likely be some kinks to work out and some adjustments to make. That would be the case whether it's charter, private, magnet or public. But, I've asked around a lot, and most people familiar with the same charter school system throughout the county have nothing but positive things to say about it.
No school is perfect, but we hope this one comes close. And, we know if it's not the right fit for our son, we can still go back to our nearby elementary school where he already spent his first year making new friends and learning new things. Not a bad plan B!