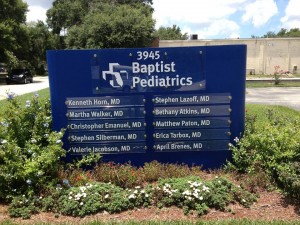 3945 San Jose Park Drive, Jacksonville, FL 32217, United States
The pediatricians of Baptist Pediatrics feel that children have very unique and specific needs from infancy to adolescence and young adulthood. Your child's primary care doctor is here to be your partner in keeping your child safe and well – backed by resources including our region's nationally recognized pediatric hospital, Wolfson Children's Hospital.
Two locations offered, San Jose & Ponte Vedra Beach.
Pediatricians:
Bethany Atkins, MD,
Christopher Emanuel, MD,
R. Matthew Paton, MD,
Stephen Silberman, MD,
Erica Tarbox, MD,
Valerie Jacobson, MD,
April Brenes, MD
Christy Conner, MD