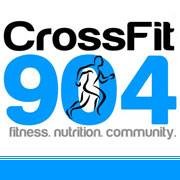 11366 Trade Court, Jacksonville, FL, United States
CrossFit 904 offers constantly varied, high intensity workouts designed to maximize your results in a single hour. CrossFit combines weightlifting, gymnastics, and metabolic conditioning in fun group classes. The Workout of the Day (WOD) can be scaled to ANY ability level, even individuals with pre-existing injuries. Our world-class coaching will instruct you in proper technique for safe and effective body movement. You'll build muscle without adding bulk, whittle away all-over body fat, and make new friends to keep you committed to coming back!
We also offer a dedicated kids room stocked with entertainment and toys, Kids Conditioning classes, a High-School Student Athlete Program, nutrition counseling, mobility classes, and personal training. Your first class is always FREE; what's holding you back from making a change to your family's health TODAY?
After seen my husband change so much I decided to give CrossFit a try, but had been completely and utterly intimidated by the whole thing. After two classes I immediately fell in love with it. I am so lucky to have fallen into such a great community!
Obviously, it is wonderful that the facilities are great, and the owners are constantly improving the space and equipment. The trainers are excellent – well educated and informed, patient and flexible – and they are wonderful at working with all skill levels to properly scale workouts to each athlete's ability. But, the best perk is the people! I have already made such amazing friendships. Everyone is so supportive and friendly.
Now I can look back at my feelings about CrossFit one year a ago and see how silly I was. There was absolutely no reason for me to be intimidated, because my experience has been nothing but smooth and accommodating. If you are in the same position I was, I hope you take the leap and see for yourself!
You must login to post comments
i have been a member of Crossfit904 for over 1.5 years. Before my initial class I had heard about CF and was very nervous to try it, but the owner (Josh) was so welcoming and friendly. The coaches work with each member at their own fitness level and help teach modifications for the movements as you progress. I recently had the opportunity to crossfit through my entire first pregnancy. The coaches and members were so awesome and supportive! They have a great kids area to help entertain the children, and I feel very good about bringing my little guy (2 month old) with me to my workouts knowing he's in a very safe and welcoming environment. CF904 has become an amazing part of my life and is definitely worth checking out!
You must login to post comments