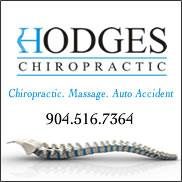 13947 Beach Blvd, Suite 202 Jacksonville, FL 32224
Welcome to Hodges Chiropractic, where we provide quality chiropractic care to the greater Jacksonville area. We strive in giving patients excellent chiropractic care and helping them reach their goal of becoming pain free.
Dr. Sarah Kassab is experienced in treating many different cases from auto injury, wellness, sports injury and pregnancy. Hodges Chiropractic offers the most advanced treatments and a wide variety of techniques. The staff at Hodges Chiropractic strive at giving excellent patient care and customer service.
At your first visit to Hodges Chiropractic, Dr. Kassab will explain the science behind how chiropractic care works, and give you a full evaluation to see if chiropractic care is right for you. If there is a good fit, we can develop a plan of chiropractic care that is specific to your condition and health goals.
What we treat:
Auto Accidents
Headaches
Neck Pain
Low Back Pain
Slip and Fall
Hip & Joint Pain
Sports Injury
Chronic Pain
Pregnancy Pain
Wellness Care
Whiplash
Sciatica