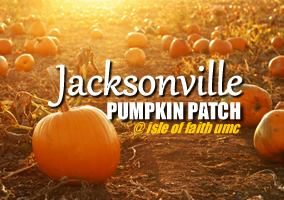 1821 San Pablo Road S Jacksonville, Florida
The Isle of Faith Pumpkin Patch is one of the most popular patches in Jacksonville. With a Hay Maze, photo opportunities, Noah's Ark and Cinderella's Carriage climbing toys, Miss Muffet's Tuffet with a giant spider and a slew of fresh pumpkins, you want to make sure you add this patch to your list.
The Jacksonville Pumpkin Patch is hosted and managed by Isle of Faith United Methodist Church. It is entirely volunteer run! Every person you come across working in the patch is volunteering their time in support of the good that comes from it.
The patch is open to the general public with no entry fee!  Please be mindful of our hours.