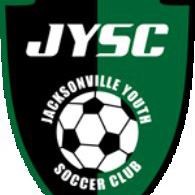 Jacksonville, FL, United States
JYSC serves nearly 2,000 children in Jacksonville, Florida with over 100 teams. We are passionate to instill within young people a love of soccer, the world's most popular sport. We want our players to establish a lifestyle of fitness, great nutrition and a deep understanding of TEAM which serves our players on the field, and throughout their lives.
JYSC provides a competitive, positive environment for all players, ranging from beginners to advanced athletes seeking to play at the collegiate level. We offer a a superb Recreational Program for girls and boys from U5 – U19 along with an excellent advanced soccer program for players in U10 – U19 who want to push their skills & knowledge to the highest levels.
Both Rec and Select players learn competitive soccer skills from their team coach and from JYSC professional coaching staff.
Rec teams compete weekly against other JYSC teams within their age bracket.
Select teams compete against other soccer clubs throughout the city, state, region and nation.
JYSC fosters a sense of community among all families who participate in its various soccer programs.
Three high-quality training facilities in central Jacksonville: Chuck Rogers, Earl Johnson and Losco.