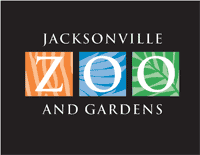 370 Jacksonville Zoo Train, Jacksonville, FL 32218
Escape to the Jacksonville Zoo and Gardens for the only walking safari in Northeast Florida. Discover the earth's wildlife through interactive and educational experiences. A true family adventure, the Jacksonville Zoo and Gardens is growing and changing daily and is dedicated to consistently improving.  Beginning in 2004 with Range of the Jaguar and continuing with Giraffe Overlook and Savanna Blooms garden, the Jacksonville Zoo and Gardens is quickly becoming a world-class establishment. The Zoo has something for everyone with more than 2,000 rare and exotic animals and 1,000 varieties of plants. Whether you are a visitor to Florida's First Coast or a lifetime resident, we invite you to experience the Jacksonville Zoo and Gardens through interactions with people, wildlife and the environment.
The Jacksonville Zoo and Gardens is a zoo located in Jacksonville. It sits at the mouth of the Trout River. The zoo occupies approximately 110 acres and has over 2,000 animals in its collection.
Check out the new African exhibit!
I can't say enough great things about the zoo! If you are on the fence about a membership…do it! They offer several free promotions for members. For example, the month of January members were able to attend Camp Ground Critters for free! It's a wonderful show that showcases several animals that have been saved from animal shelters.
I love the flexibility of being able to go for a few hours and not have to rush to see the entire zoo. It's a great morning activity. If you are wanting to ride the train, see the show and watch a movie get the wrist band it's worth it!
You must login to post comments
This is seriously one of the best zoos I've been to in the country! The exhibits are incredible, with the Africa loop being the only exhibit that's somewhat dated, but even then, my kids still love it. They love seeing so many different animals, the kids play area is so incredible with a great playground, maze, monkey bars, splash park, carousel, 4D theater, etc.
As for the exhibits, they really are incredible. The Land of the Tiger, the African Forest, and the Range of the Jaguar are so immersive and just blow you away every time. We never get tired of visiting the zoo, whether with our kids or without!
You must login to post comments