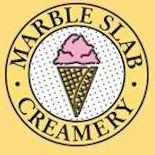 2000 Hendricks Ave Ste 1 Jacksonville, FL 32207
Since 1983, Marble Slab Creamery® was the first super premium ice cream shop to use a frozen slab for blending gourmet ingredients into ice cream. Marble Slab Creamery, is the leading provider of super-premium, hand-mixed ice cream, and sets its quality standards exceptionally high. Every batch of Marble Slab's ice cream is homemade using the finest ingredients in the world – vanilla from Madagascar, the finest European chocolate, and fresh, wholesome dairy products from local farms.
I flipped when I realized there was a Marble Slab in San Marco! I remembered when I was in high school that there were tons of these places around, and for whatever reason, they kind of disappeared over time. It was just as good as I remembered, too! It was so neat to see all the different combinations you could get, and it was just as good as I remembered. Great place to stop in after a date night for dessert!
You must login to post comments