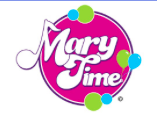 Mary Time Music is a perfect fit for your house, clubhouse, or park to celebrate your child's birthday party! Ages appropriate for 1 to 6-years-old.
Mary Time Music program is a music and movement program, action packed playing with a variety of instruments (drums, maracas, castanets, tambourines, cymbals, bells), ribbons, scarves, bean bags, guitar sing-along session, and their favorite parachute play.
Choose a general music program or choose a theme i.e. transportation, jungle animals, farm
Prices are based on parties of 16 children or less. An increase in price will be applied for parties with over 16 children. A small travel fee is applied with travel of 30 minutes driving time or more.
30-35 minutes is $60
45-50 minutes is $75