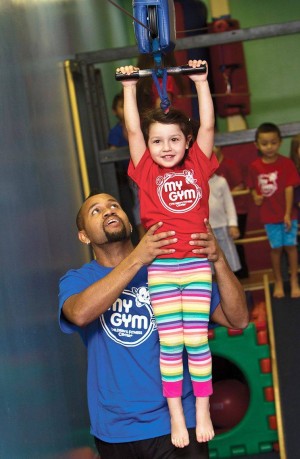 10950 San Jose Blvd. ste # 10 Jacksonville, FL 32223
My Gym has developed an extraordinary program and facility devised to help children 6 weeks thru 13 years of age develop physically, cognitively and emotionally. We have hundreds of locations in more than 30 countries offering structured, age-appropriate, weekly classes that incorporate music, dance, relays, games, special rides, gymnastics, sports and more. Children have loads of fun as they gain strength, balance, coordination, agility, and flexibility while developing social skills, confidence, and self-esteem. Our state-of-the-art facility, extensively trained staff, award-winning class programs, and excellent student/teacher ratio have earned My Gym the reputation as the best early learning program of its kind.
Excellent instructors and classes
My Gym has been a great find for our family. The instructors are truly wonderful, work hard, and are great with children. The set up of the gym changes every week, and they have different fun workouts with different themed music every week. They learn basic gymnastic skills, a variety of different sports skills, and play group games.
I have found the business to be incredibly accommodating for my schedule and make up classes. Very professional and easy to contact.
We have been going there over a year, and literally my only criticism is that sometimes the class sizes get a little bit too big. This mostly happens around vacations and holidays when parents schedule make up classes.
I would recommend My Gym!
Tessa Alexander

reviewed 3 years ago
last edited 3 years ago
The first review from 5 years ago, is from an old owner. We have been happy with the staff, equipment, and confidence building play methods at MyGym. The facility is clean and a great way for kids to interact with other kids(and parents too). They are very flexible with changing schedules as long as you give them heads up! It's pretty on par with its policies like other My Gym's around the nation.
Tiffany Thornton

reviewed 3 years ago
last edited 3 years ago
Just had to cancel my membership and there was a confusion on my end with regard to sending the letter certified (I sent it regular mail) but it wasn't received (that's why certified is best) and I was upset by how there was a- what I felt was a lack of care towards the family. I went in person to do it and literally felt like I was being scolded and talked down to. As I am admitting I did it wrong nobody said even "we are sorry for the mix up" I was all "our people followed protocol, it's up to the member to to it right"
Meanwhile in my explaining why I couldn't go in I mentioned how my son was hospitalized with seizures and they expressed no care for him… just policy. I left and cried, I'm a grown woman and I felt so tossed to the side. As a business owner myself I would never jump at a client that way. I would sit and listen to them and let them speak. I came in today and was silent and they started in saying "we read your correspondence and it's not our protocol to follow up with people" the owner jumping in tying equally defensive was just intimidating. Literally no care, no even "we are sorry to see your kids go"
"Sorry you feel this way" "it's not our intention to make you feel that way" nothing. Just defensive, very defensive. Maybe the owner doesn't realize he comes Across aggressive when he's defending himself. But I literally cried. Never going back.