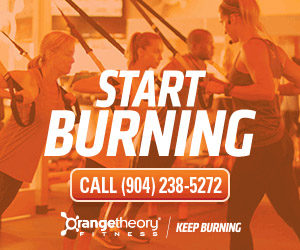 11111 San Jose Boulevard, Jacksonville, FL 32223
13500 Beach Boulevard, Jacksonville, FL 32224
9734 Deer Lake Court, Jacksonville, FL 32246
152 Capital Green Circle, Ponte Vedra Beach, FL 32081
3994 Third Street, Jacksonville Beach FL 32250
2851 CR 210 St Johns, FL 32259
1615-100 County Road 220, Fleming Island, FL 32203
Orangetheory Fitness is a one-of-a-kind, group personal training workout broken into intervals of cardiovascular and strength training. Backed by the science of excess post-exercise oxygen consumption (EPOC), Orangetheory Fitness' heart-rate-monitored training is designed to keep heart rates in a target zone that stimulates metabolism and increases energy. Led by skilled instructors, participants use a variety of equipment including treadmills, rowing machines, TRX Suspension Training and free weights, burning an average of 900 calories per class. The result is the Orange Effect – more energy, visible toning and extra calorie burn for up to 36 hours post-workout.
Various Locations in and around Jacksonville!
Jacksonville Beach – COMING SOON
They are opening a new one in Ortega!!
This is an AWESOME workout and I'm so excited that they are opening a new one closer to me on Roosevelt Blvd! Just as an FYI, right now they are doing their pre-sale pricing so I got to save some money too. In case anyone is interested their phone # is (904) 328-6905. When they said I could burn up to 8lbs a week I was hooked!
You must login to post comments