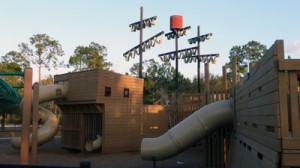 405 Palencia Village Dr., St. Augustine, FL 32092
Palencia Pirate Ship Park and Athletic Fields is a fun playground shaped like a giant pirate ship. Other amenties include a covered Pavilion, basketball courts, softball and soccer fields. This fun play area is located at the entrance of the Palencia neighborhood.
palencia pirate ship park
Beautiful park, fenced in. Tire swings, baby swings, slides, etc. So much fun from ages 1-5!
You must login to post comments
Really cute & fully fenced in!
Super safe, fully fenced in, and so cute! The entrance is hard to find though. Gotta park in the school parking lot and go past the roundabout and find the sidewalk to get to it.
You must login to post comments