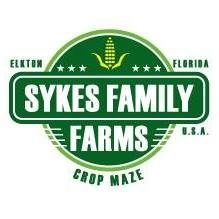 5995 Brough Rd, Elkton, Florida, USA
With over 50 years of farming experience, Sykes Family Farms continues to grow. Providing folks of all ages with a FARMtastic family tradition that they can look forward to each Fall.
Just a short country drive from St. Augustine…
Located just 10 miles west of St. Augustine in Elkton, Florida. Coming from Jacksonville or Daytona? Cruise down I-95 to exit 311. Then head toward Hastings on SR 207 for about 5 miles. We are located on the right. You can't miss us!
9 acres of cornfusion and fun!
Since 2010, Sykes Family Farms has been providing folks of all ages with "Agritainment"! You may wonder what this means… We combine a 9-acre corn maze full of "cornfusing" twists and turns, "live" entertainment including, Jack, the loudest hee- hawing donkey around and lots of farmtastic family fun… Mix it all together and you have "Agritainment"!
More than just a maze. Check out all we have to offer.
Our 9- acre maze is only the tip of the iceberg! Enjoy jumping on one of our jump pads, visiting with the animals, riding through the fields on the hayride, a variety of delicious snack vendors, and more! You are sure to have an a-MAZE-ing time at Sykes Family Farms!