"It's the best cancer you can get if you're going to get cancer," was what the dermatologist told me when my first biopsy tested positive for basal cell carcinoma. I can't say I was relieved by that statement, and it certainly didn't prepare me for the five other positive biopsies I would have over the next three years. The first three on my legs, the last two on my face — one in the corner of my eye which would require an eye surgeon and one right above my lip that would require a plastic surgeon.
While I do consider myself one of the "lucky" ones, as I haven't progressed beyond basal cell yet, I am, as my dermatologist, Dr. Moon, tells me, a frequent flyer for skin checks in her office. Just like Melissa Papock, co-founder of Cabana Life, I am a light-eyed girl with light hair who definitely did not take proper precautions during my younger years (hello, tanning beds). Now my daily skincare routine includes SPF in every product I use, very similar to Melissa (I love SuperGoop, too!).
I was inspired by Melissa's story and excited to have the opportunity to ask her some questions about her own skin cancer journey, as well as her inspiration behind creating Cabana Life, clothing with sun protection in mind that also looks and feels great. I am even more excited to rock out in my Cabana Stripes Unisuit and White Tie Wrap Top this summer, both with 50+ UV Protection. Bonus: Find our special Jax Mom discount code below!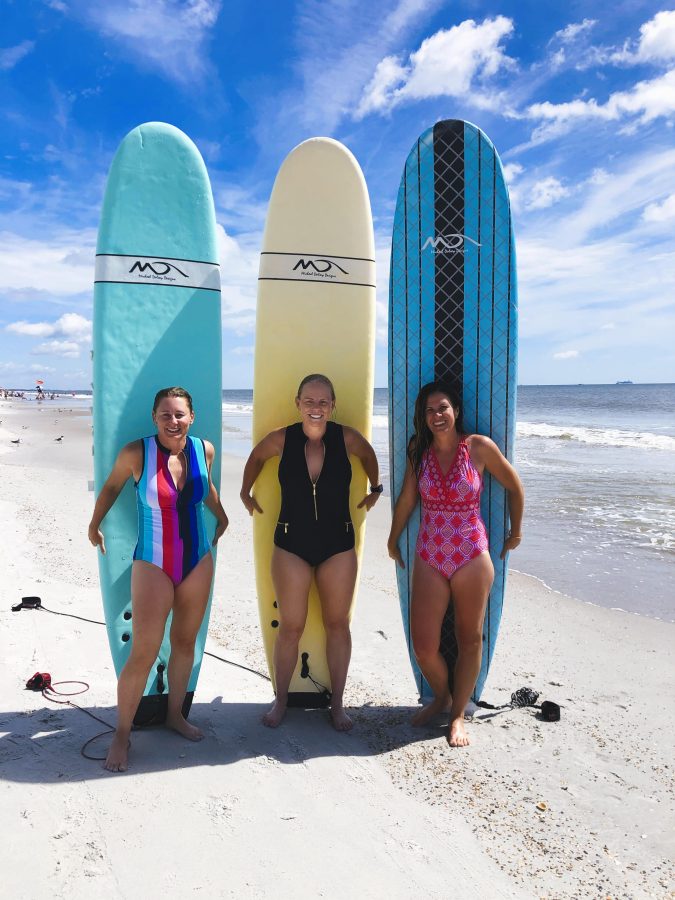 ---
How did you discover you had skin cancer? What kind of skin cancer were you diagnosed with? How was your skin cancer treated? 
I was living in NYC and working at top fashion and beauty magazines, basically having the time of my life. I was in my 20s and relatively carefree about most things. I'm a strawberry blonde with light eyes and freckles, so growing up, I knew I needed to be more careful than most in the sun. 
I randomly changed my primary care physician with a new magazine job, and the doctor suggested I get a skin check, recommending a dermatologist in his building. Impressively, I actually make the appointment (again, giving that new health insurance plan a workout). 
When I went for the skin check, it seemed incredibly fast. At the end, the dermatologist asked if I had any questions. Truthfully, I didn't go in with any pressing questions, but in the moment, I just spewed off a bunch of "What's this? What's this? What's this?" pointing to different spots on my body. One of my "What's this?" spots was a pinkish, tiny mark on my upper left arm. It turns out it was an amelanotic melanoma! That's skin cancer without the telltale pigment you are told to look out for. 
I never thought I'd hear the word "cancer" at 26. Pathetically, my initial tearful reaction was, "Will I have a scar?" He looked at me and said, "You could die." 
At the time, like so many people, I thought of skin cancer as "cancer lite," something you just cut off. Needless to say, my world was rocked and my eyes were opened. 
A new dermatologist performed my surgery (5" victory scar for pinhead size spot), and thankfully the melanoma was removed before spreading to my organs and lymph nodes. He also told me that wearing sunscreen wasn't enough. I needed to start wearing sun-protective clothing because a white, lightweight cotton T-shirt provides the equivalent of SPF 5. 
What?!?! Really? My clothing wasn't protecting me? I immediately flashed back to my youth spent wearing a white tee over my bathing suit at the beach so I wouldn't get burned, or all those years in uniform at sleepaway camp with sunscreen only on my face and legs. 
I said, "How can this be? Nobody is talking about this! I work in the fashion industry, and I go on the news to tell people what they should be wearing this season, yet nobody knows about this!" That's the moment he showed me a catalog from the waiting room filled with my supposed new sun protective wardrobe. I looked through it and asked, "Does it have to be ugly to work?" He said, "I don't think so." 
I guess you'd call that my "Aha moment." I could combine fashion with function and make something as ugly as the subject of skin cancer bright and stylish. I could use my story to educate others while also providing a solution they'd actually WANT to wear. Cabana Life was born! 
Knowing what you know now, what would you tell your younger self about sun safety?
While I can't go back and undo my childhood sun exposure, I can tell my kids the same things I would tell my younger self if I could. The sun is sneaky and is constantly delivering harmful UV exposure even when you think you are "safe." Whether you are driving in the car or walking on a cloudy day, the UV rays are reaching your skin and adding to your cumulative sun damage. That's why sun protection needs to be a daily habit. Wear sunscreen every day (reapply!) and make your life easier by covering your body in sun-protective clothing. The sun sees you all day, every day, from sunup to sundown. 
Can you tell us about your skincare routine? How else are you protecting your skin on a daily basis besides wearing sun-protective clothing?
Sunscreen! I wear several layers on my face — a base layer of Supergoop! Unseen Sunscreen, plus my Face Finishing & Firming Tinted SPF Moisturizer from Perricone MD (gives you a sun-kissed look without the sun damage). On my body, I love LaRoche Possay Anthelios Melt-In Milk Sunscreen for Face & Body SPF 100. Sprays are convenient but I find you get better coverage applying lotion. It seems that so many people spray from a socially distant 6', which isn't particularly helpful. 
Besides creating clothing to protect your skin from UVA and UVB rays, what else inspired your designs for Cabana Life?
Cabana Life's designs are inspired by my travels. The beautiful, tropical colors that occur in nature, coupled with architecture, tiles, interior fabrics, and other treasures pack my "inspiration" photo album on my phone. Once your eye is trained, you really can find inspiration anywhere. I love that my daughters even get in on it now, spotting inspiration after watching me for years snapping away at objects most people overlook. 
What are some of your favorite pieces in your collection and what new items are you excited to wear this season?
I love the terry cloth tunics for a day out on our boat! Of course, our classic shift dress is a quintessential Cabana Life style that takes you from everyday to vacay or sand to sidewalk. I can always be found in a unisuit or rashguard when in the ocean, and I'm confident our solid black or navy unisuit delivers the MOST sexy sun protection while keeping you covered. It's how I channel my inner Bond girl while chasing my kids on the beach to reapply sunscreen.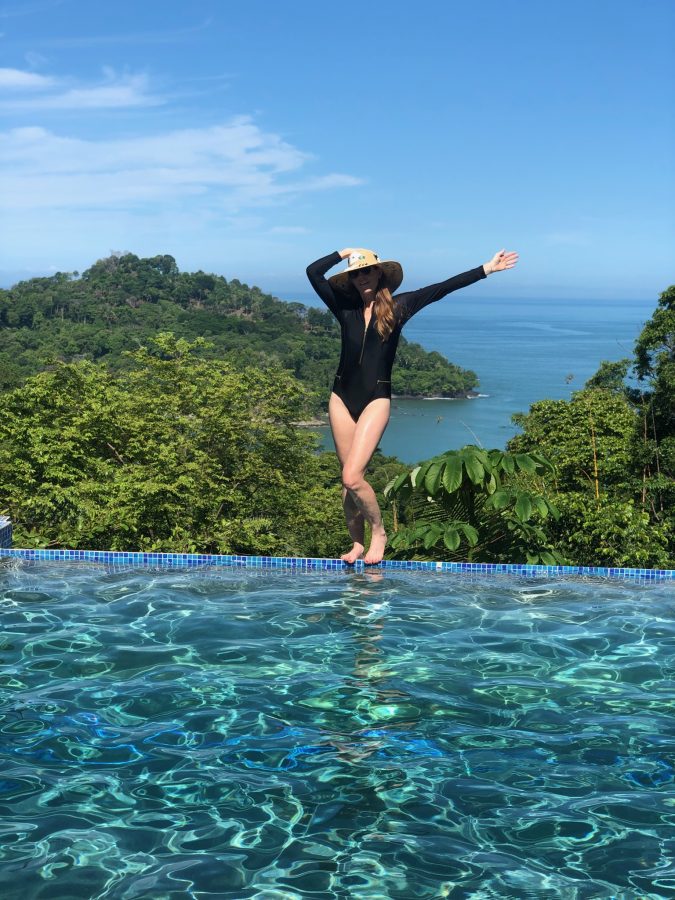 Are there any pieces you can recommend for outdoor activities popular in the summer like golf, tennis, running, etc.?
The style I have lived in most is our Sport Zip Polo — it was my quarantine savior during my daily walks and runs. The cooling fabric and mesh under the arms make it perfect for golf, tennis, running, swimming, etc. It's a versatile sporty-chic style. 
Finally, tell us what you love about Ponte Vedra Beach and the Jacksonville area and what you love about being a local mom!
We moved from NY/CT to PVB almost seven years ago, and I love the laidback lifestyle. While I still work non-stop, I feel fortunate to be living the Cabana Life every single day. I recognize how lucky we are to be part of this close-knit, impressive community. Plus, it's perfectly acceptable to have a pina colada on the beach any day of the week, and you can't get better than that! 
Use code JAXMOM20 for 20% off all Cabana Life Stylish Sun Protection!