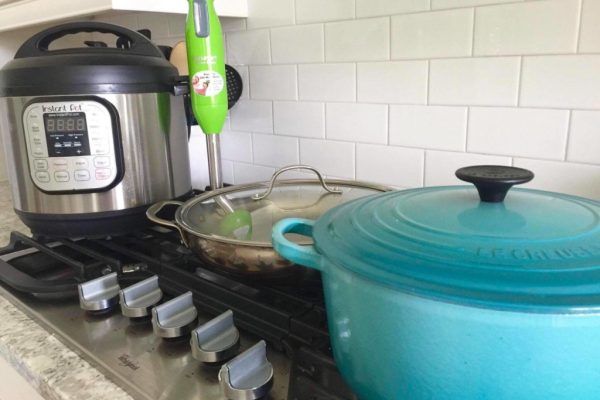 I have a love-hate relationship with cooking. My love took me as far as culinary school, my hate is why there are so many boxes of cereal on hand for dinner. There are so many conditions that need to be just right for me to be in the mood to actually cook. And when I say cook, that includes the recipe finding, the shopping, and then the prepping, cheffing, and cleaning (yeah, that's part of it).
There are times (weeks, even) when the mood is right. And I'm like, DANG I'm on a roll! There is food in the fridge and all the ingredients to my favorite recipes. It's time to mise en place…
Over the years, I have bought a ton of kitchen gadgets. Some are always out, and some have fallen back behind the waffle maker I use once a year and the pasta maker I used every day for three weeks and then never again. Here are the five things that I would say I cannot live (cook) without:
The Instant Pot
This is my most recent kitchen purchase, and I have no regrets. The Instant Pot is basically a pressure cooker, but the best thing about it is the sauté feature. You can get your base going (onions, peppers, etc.) before you add your meat. It also cooks meat way faster, and it comes out OH SO much better! THIS IS NOT A CROCK-POT! Yes, you definitely can slow cook, but the purpose of the IP is to get it done faster and better. It is not a "set it and forget it," but believe me, you will be blown away with the results.
A Few Favorite Recipes:
Kalhua Pig (OMG, it's amazing and the easiest to make.)
Salsa Chicken Tacos
Chicken Pho
[products columns="1″ orderby="title" order="" ids="72173″]
The Immersion Blender
I have had this thing for SO LONG, and I still love it! Guess what? I don't even have a blender. I blend smoothies and shakes right in the cup I drink them out of. I never have to dump soup ingredients into a blender and then back into the pot. This thing saves my sanity when it comes to convenience and cleanup. I won't deny the power of a Vitamix, but if you are looking for a smart kitchen tool that saves counter space, this is it!
[products columns="1″ orderby="title" order="" ids="72457″]
The Best Stainless Steel Pan
One thing that is always on our menu is crispy chicken thighs. Yep, dark meat only for this family. Well, mostly. I've got cooking crispy thighs down to a science now, and this pan has made it super easy. I've tried the nonstick pans and the pans that claim they are 12 inches (but they are not). You need a nice, big-bottom surface and the handles on each side to make transferring to and from the oven easy. Chef's tip, buy a splatter screen. Another sanity (and floor) saver. I also make steaks in this pan, and every time, I get a nice, brown crust. You'll never want to grill a steak again!
The product below is the 10-inch version on sale, but I prefer this 12-inch Calphalon!
A Few Favorite Recipes:
Perfect Pan-Roasted Chicken Thighs (You're welcome.)
Restaurant-Style Filet Mignon
[products columns="1″ orderby="title" order="" ids="73155″]
The Avocado Slicer
I know, I know, you can use a knife and a spoon and just get it done! This is one of Megan's picks, but when I saw the pit removing feature, I was sold. As much avocado toast as I make, this is a cute add-on to my kitchen essentials. This one even comes with egg cups for a perfect poached egg!
Favorite Recipes:
Avocado Toast with Poached Egg (and Everything Bagel Seasoning!)
[products columns="1″ orderby="title" order="" ids="73142″]
The Only Dutch Oven You Will Ever Need (Le Creuset, of course)
This is by far the most expensive thing on this list (and in my kitchen). I've had it for almost EIGHT years, and it sits on my stovetop like a trophy… my very own Oscar I can look at every day. Do you know why I love this dutch oven so much? You CAN'T BURN ANYTHING! Okay, well maybe if you are truly a terrible/distracted cook, but seriously, the enameled cast-iron pot is where it's at. I've used it on both glass and gas stovetops, and it cooks perfectly every time. Like the steel pan, it also can go right into the oven (if you are brazing or roasting). I mainly use it for soups, stews, and stoups. Put it on your wish list!
A Few Favorite Recipes:
Corn and Crab Chowder
Quick and Spicy Tomato Soup (I omit the red pepper for kids and add sausage to this!)
Shrimp Bisque (If you are feeling extra chef-y.)
Irresistible Guinness Beef Stew Recipe with Carrots
Thai Red Chicken Curry
[products columns="1″ orderby="title" order="" ids="72417″]
Is there something else I must have in my kitchen? Tell me in the comments!