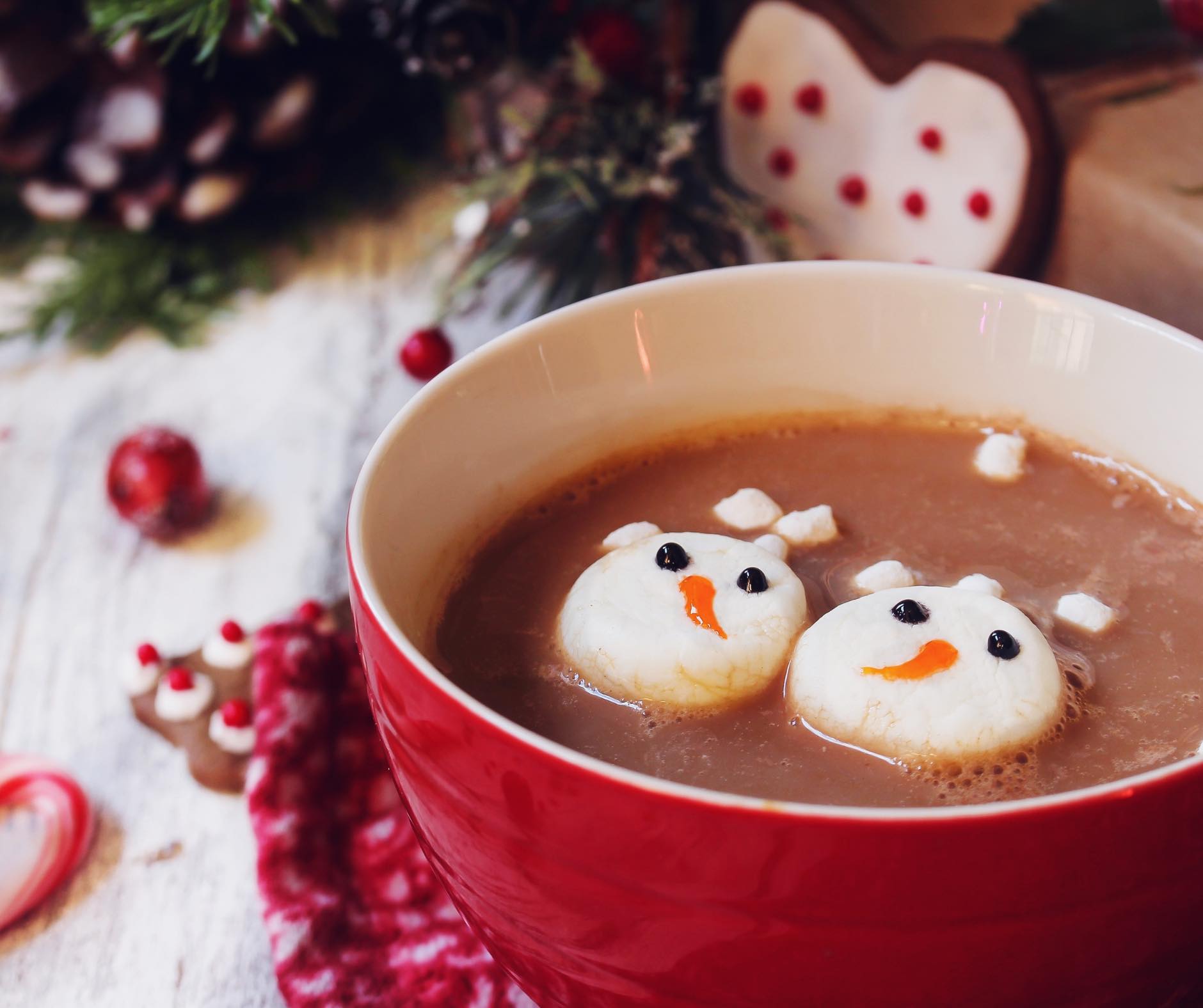 It's beginning to look a lot like Christmas, and Hot Cocoa Bombs are everywhere I scroll. My social media feed is full of these little delights bursting with marshmallow goodness inside cozy mugs, so naturally, I had to try my hand at an allergy-friendly version. As with anything spotted on social media, I approached the mission with caution. They seem simple. But every recipe seems simple and worth it on social media. I am happy to report that unlike Dalgona coffee, this is one trend that does not disappoint. It is a recipe that I would classify as easy, and you only need a few specialty products: a silicone or acrylic mold and a food thermometer. Happily, the other ingredients are winter pantry staples: Hot cocoa, chocolate chips, marshmallows, and sprinkles.
The chocolate selection
Let's start by talking chocolate. A great many of the Hot Cocoa Bomb recipes we found online called for the use of candy melts to make the shell. If you frequently use candy melts, you can absolutely use them. I prefer the taste and texture of using traditional chocolate. Due to our food allergies, only one brand of candy melts is safe for us anyway, and they are a special order. I find it is just as easy to temper my own chocolate from what we have on hand. You can use a double boiler or take the fast track and use your microwave, which is what we did.
The heat factor
Tempering chocolate for your Hot Cocoa Bombs in the microwave is a super kid-friendly activity. There is no high heat when you do it properly. The trick is to never let your chocolate get above 90 degrees, as it melts, and to stir it frequently. Place your chocolate chips or a good-quality chocolate bar of choice in the microwave for 15 seconds. Remove it and stir. Test the temperature to ensure it has not gone above 90 degrees. Return the chocolate to the microwave in 5-second increments until it becomes smooth. Each time you remove the chocolate from the microwave, check your temperature to ensure you do not go above 90 degrees. You are looking for your chocolate to be smooth and glassy as you stir it. That is it. This almost never takes more than 25 seconds at our house. The time your batch takes will depend on the volume you use and type of chocolate. If you end up overheating but not burning your chocolate, simply stir in some additional chocolate chips to bring the temperature back down. Do not let the chocolate cool to 90 on its own.
What catastrophe awaits you if you fail in your mission to temper the chocolate properly? A few things could happen: Your finished Hot Cocoa Bombs may melt at room temperature, lose their luster, or at worst, fail to hold its shape perfectly. The end game for these treats is dissolving into a melting pile of marshmallow goodness at the bottom of a mug. Even if you mess up the tempering process or molding, I am reasonably sure you will still land with a rich and delicious mug of cocoa. This is an all-around great recipe to practice tempering chocolate. Even if it goes wrong, it's still likely to be delicious.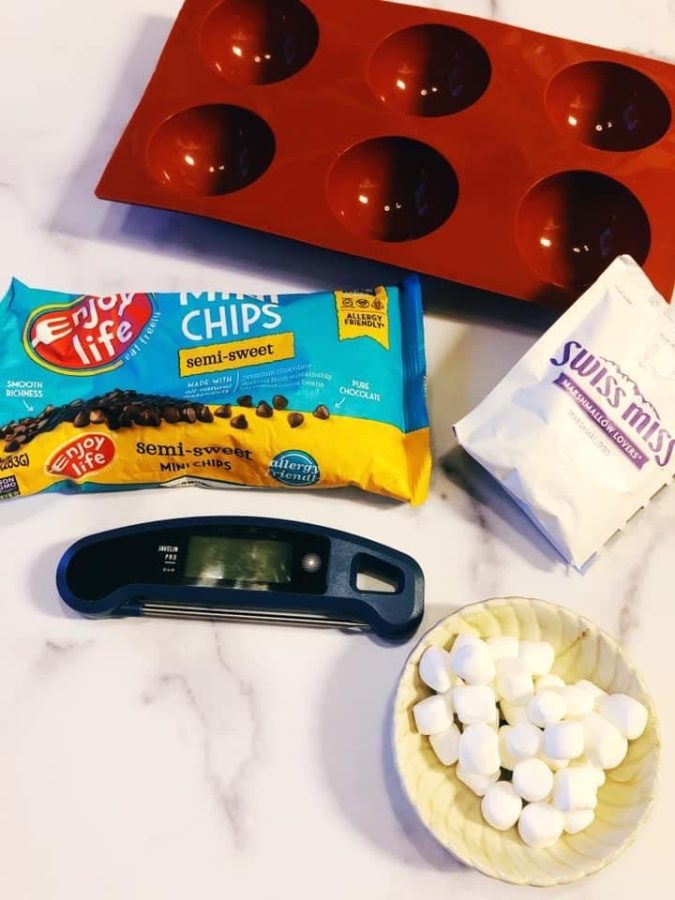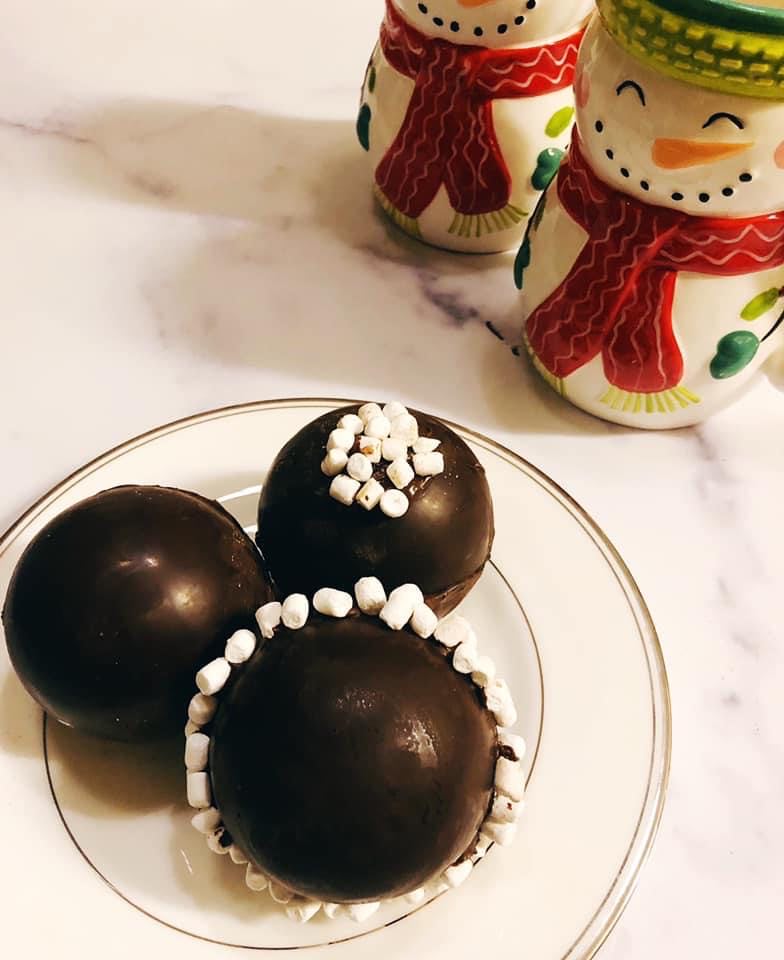 The chocolate mold
Once your chocolate is tempered, it's time to mold your chocolate into the outer shell of your Hot Cocoa Bombs. We used the silicone mold, which I think is easier than acrylic. With the silicone mold, you simply paint one layer of chocolate in each sphere. Refrigerate the mold for 5 minutes. Paint a second layer of chocolate, being sure to build up the chocolate on the rim of each sphere and return to the refrigerator for 5 more minutes. You are ready to unmold the half-sphere shells. These silicone molds simply pull away from the chocolate spheres. They rarely break even with such thin layers of chocolate.
Acrylic molds will help you to more easily achieve a professional high-gloss finish and are faster. They require you to pour your chocolate into the molds, scrape the molds evenly, and then slam the mold down to free all of your half spheres. I almost always experience some breakage on large thin chocolate projects like this in acrylic molds.
Filling it with all the goodness
Once all of your Hot Cocoa Bomb half-sphere shells are removed from their molds, you get to fill them up. We used a tablespoon of hot cocoa powder, cinnamon, and fluffy marshmallows. You can also add fun-shaped marshmallows, sprinkles, food-safe glitter, or peppermint bark — the ideas are kind of endless and so much fun. Fill your cocoa and treats on one side of the mold, then add a thin line of chocolate around the rim of the sphere. Place the second empty half of the sphere onto the filled half and seal it. You can add another line of chocolate around the seam for extra security and to add decorations. We used dehydrated marshmallows this first time.
A party in your cocoa cup
Now you are ready to experience the goodness that comes from your hard work. Simply place your cocoa bomb in a mug and pour either hot water or warmed milk over your chocolate bomb. You can also drop your hot cocoa bomb into a mug of warm liquid. Either way, the result is a party in your cocoa cup. It is really delightful watching these treats open.
From start to finish, this recipe took us just about a half-hour. It was a lot of fun, a little messy, and genuinely delicious. It is worth the effort to try your hand at making one of these sweet treats. This at-home holiday activity results in a decadent and delicious hot cocoa — candy in cup!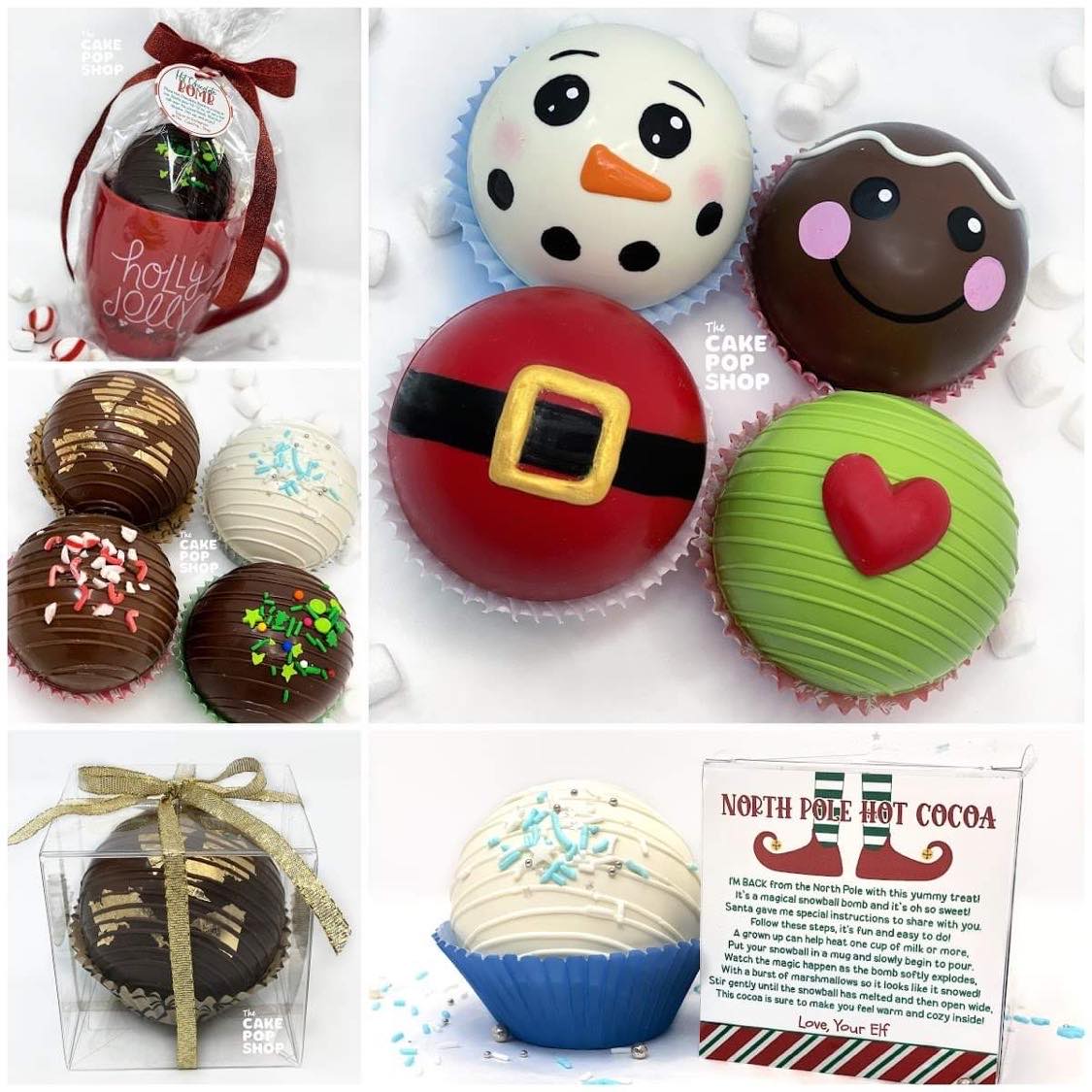 Do you think this sounds like fun, but you really just want to buy one? We found several local retailers who are making Hot Cocoa Bombs this holiday season. Please consider buying local: The Cake Pop Shop, Holiday at the Farm, Peterbrooke Chocolatier, Sweet Girl's Baking, and Sweet Pete's are all great local options!