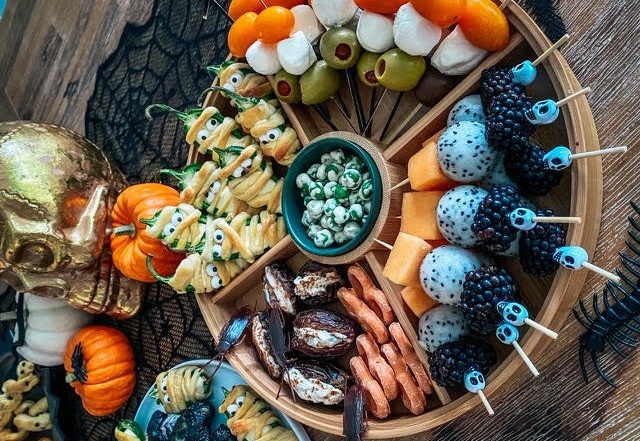 It's spooky season, and I'm here for all of it! Some may consider me basic (and you're probably right), but I just can't help it that I get so excited for the thrill of creepy movies, cooler temps, pumpkin spice things, Halloween recipes, and an excuse to wear boots, even on an 84° October day in Florida.
I also love to host a good Halloween party — really just any chance to get dressed up in a fun costume and partake in themed snacks and drinks.
I'll spare you the long food-blogger paragraphs where I wax poetic about how my fun babysitter used to make me buttermilk pancakes in the shape of ghosts, or how my mom loved to make me intricate fried hotdogs that resembled spiders. That's all completely unnecessary — although trick's on you because I juuuust snuck that in there.
I've had such a blast playing in the kitchen and concocted this simple, yet spooky menu just for your Halloween party or evening at home with your family. These Halloween recipes are for you, you Fall-lovin', Pinterest-saving, basic-ass Mama, who just wants to have some fun this season!
Dragon Eye Deviled Eggs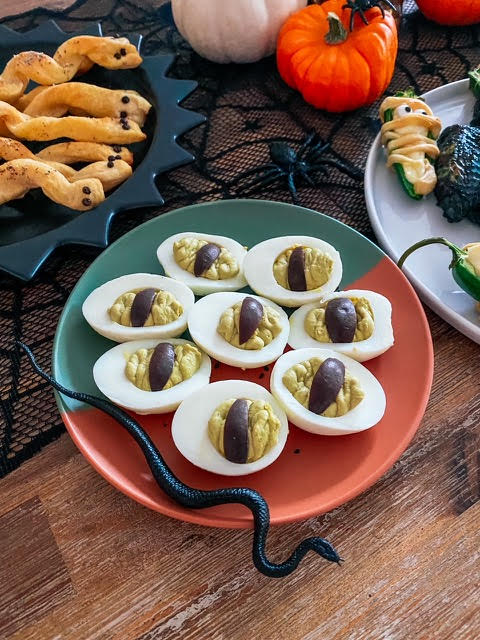 How about a jazzed-up version of those beloved deviled eggs? Just blend the yolks with a little mayo of your liking and add some avocado, wasabi, a dash of soy sauce, and season to taste. Pipe the filling in the hard-boiled eggs* with a Ziploc bag or pastry bag (if you're fancy like that). Slice black olives into slivers to make the dragon pupils.
Pro Tip: Buy store-bought hardboiled eggs if you're pressed for time or haven't mastered the art of hard-boiled eggs.
Slithering Snake Breadsticks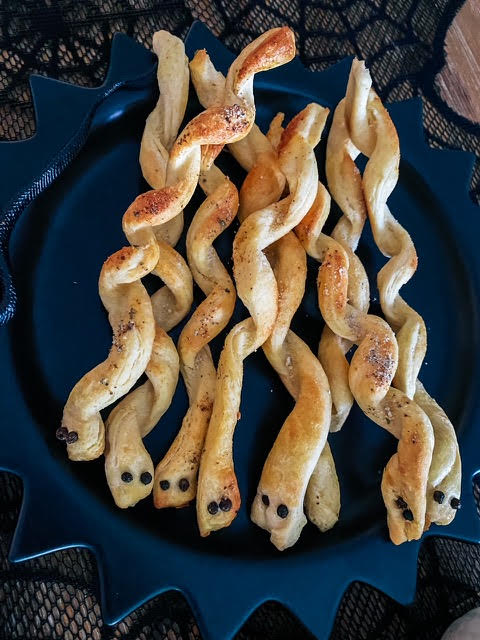 Take a can of Pillsbury crescent rolls or pizza dough, cut into strips and roll them into a long snake shape. Wrap the dough around a metal skewer or chopstick and pinch one end to make a tail and flatten the other to make the head. I used black peppercorns for the eyes, but you could use whatever your spooky little heart desires. You could add a red bell pepper for the tongue to make it extra sssspooky. I basted them with a little egg wash to make them tan and shiny (1 egg mixed with 1 tablespoon of water), then sprinkled with a bit of parmesan and garlic powder. You could also use poppy seeds or black sesame seeds to give them a little more texture. Bake until golden then pull them off the sticks to reveal the coolest and easiest slithery breadsticks.
GHOUL-ash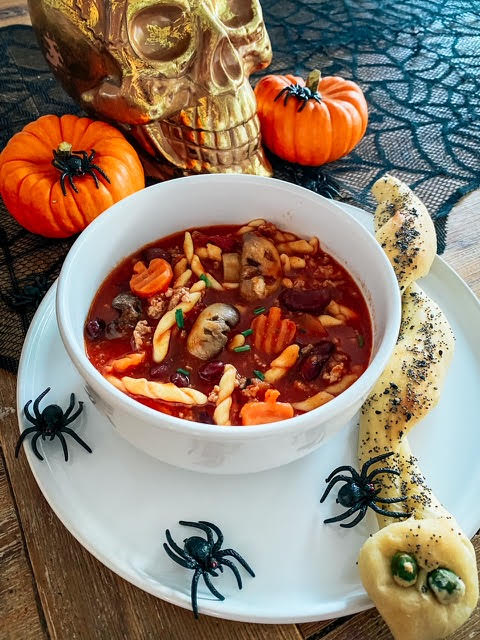 Now that you have yummy breadsticks, you gotta have something to dip them in! Make your favorite fall soup and cut carrot coins into little pumpkins or carve mushrooms into skulls that can float on top of your soup. Just use a small paring knife and be very careful not to make this into a finger soup! You could do this with chili, goulash, chicken noodle soup… whatever soothes your soul. I'm certain that this little added touch will make for a comforting and scary bowl of yumminess that will give everyone the energy they need for an evening of trick-or-treating!
Shrunken Potato Heads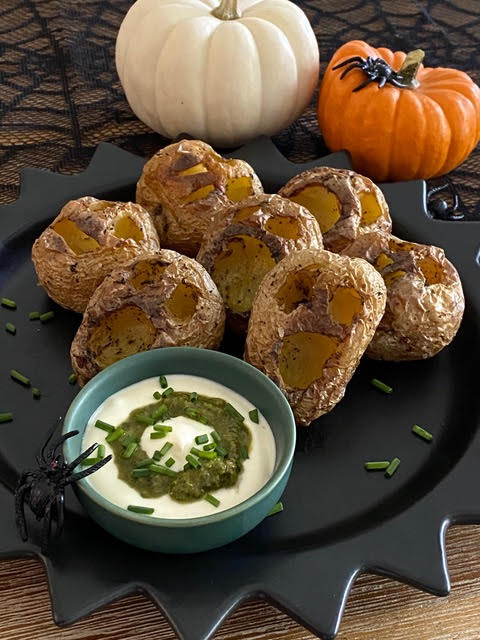 Get yourself a bag of small potatoes (I used Yukon Gold, but most any small potato will do) and use a melon baller or that handy paring knife and carve out little faces in your taters. I made mine look like they were screaming because it gave me a good laugh while they were baking, and little did I realize they'd make the most perfect dipping sauce vessels. Rub the potatoes with a little olive oil (after carving them, please) and season them with coarse salt before baking (400° for approx. 40–45 minutess). Bake until fork tender and the skins start to look shriveled. For the dipping sauce, I used crème fraiche (or sour cream) and the Zhoug sauce from Trader Joe's. You could always use a pesto or even a chimichurri instead. Make a bunch because these shrunken heads will be devoured in minutes!
Bat Wings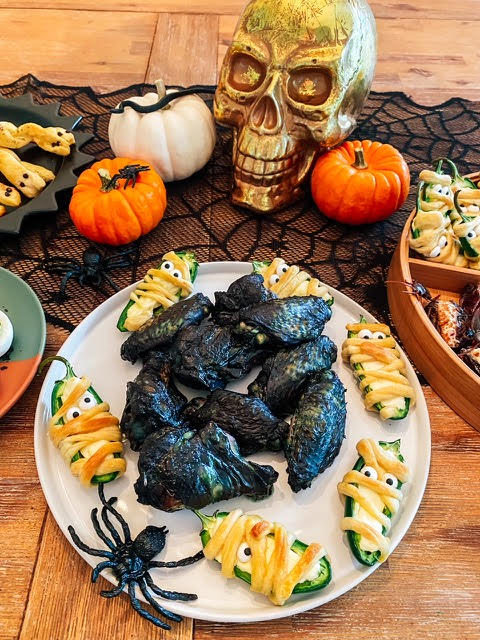 When I saw this recipe on Pinterest, I knew I HAD to make it. My kids love chicken wings and even though they look rather burnt and inedible, I promise you these wings are delish! All you have to do is make a simple marinade and add black gel food coloring to it, marinate overnight, and then bake the wings in the oven. So creepy and such a show-stopper!
Spooky Charcuterie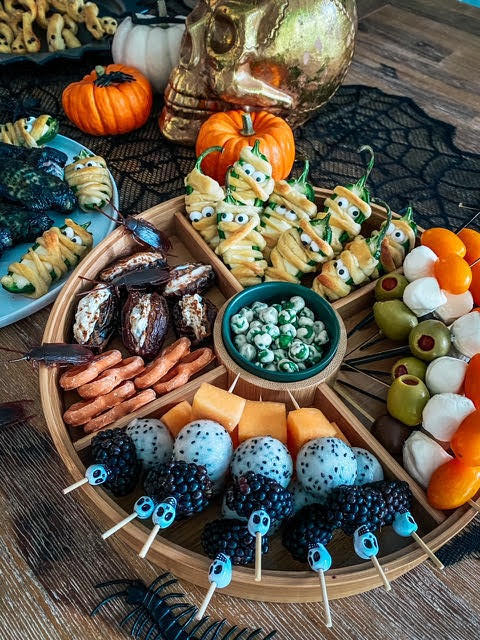 Don't be a scaredy-cat, have fun, and load up a platter full of yummy goodness that everyone can enjoy. Here, I have some Mummy Jalapeno Poppers, Stuffed Date "Cockroaches" (make sure you add a few fake plastic roaches around to really mess with your guests), cocktail skewers with colorful orange and black fruits and veggies, spicy wasabi peas, pumpkin spice pretzels, or whatever festive delights you can find.
Bonus Recipe: These Jack-o'-Lantern Stuffed Peppers are also a tried-and-true Jax Mom favorite!
I really hope you enjoy these fun Halloween recipes and feel inspired to make a spread with all of the things you love with some added spooky vibes. Happy haunting!