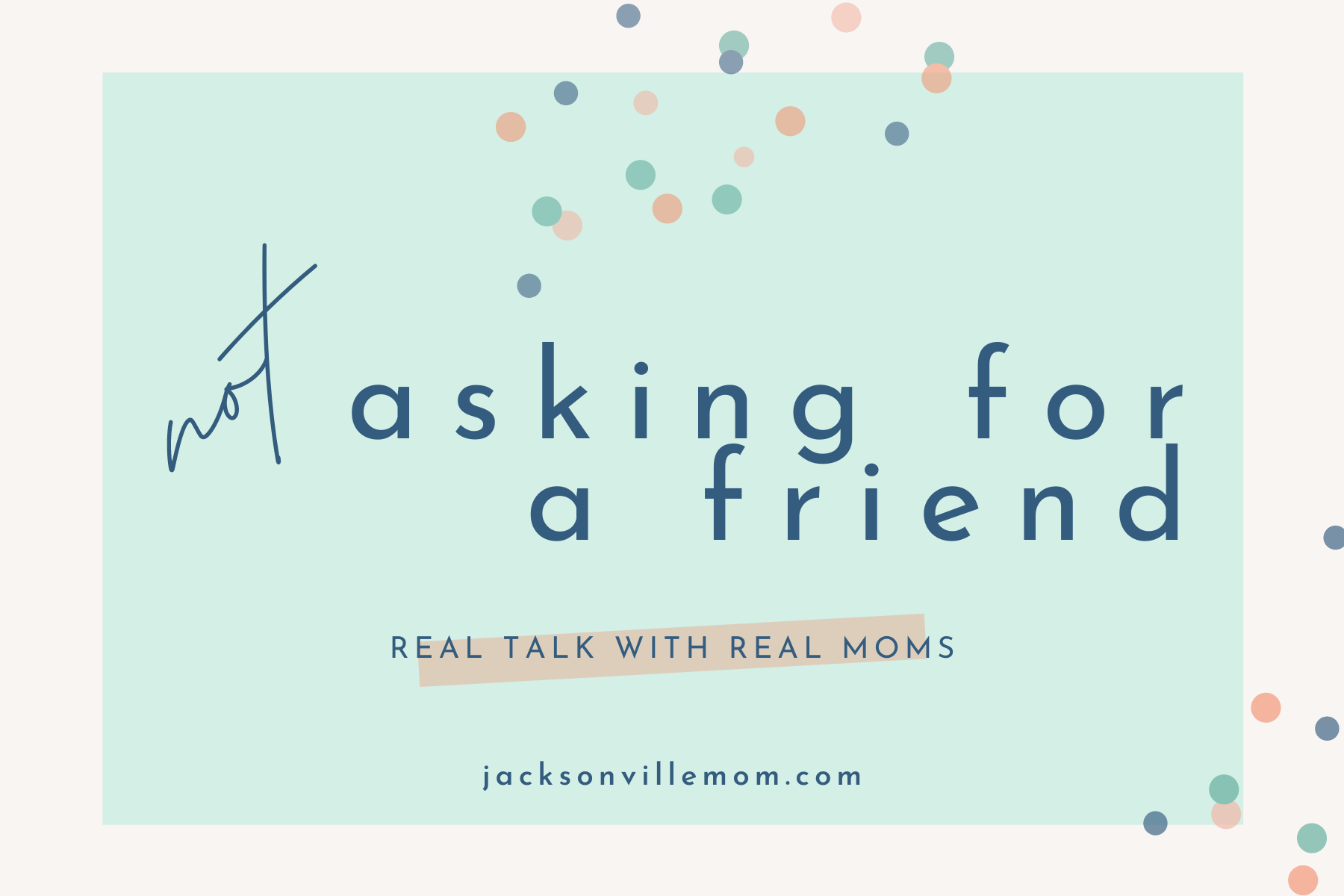 This month, we have two moms dealing with two very different #momlife situations. One mom is new to town and wants to make some new friends, while the other would like to fit workouts into her hectic schedule.
Q: I am new to the area and a new stepmama to an incredible 8-year-old little boy. I work from home and know absolutely no one other than my hubby and his mother! Help! It's hard to get out for "me" time between 9-hour workdays, tutoring, gifted schooling, and karate. I would LOVE to have an adult conversation with another woman my age (a very very young, spitfire 31). Are there any early-morning coffee meetups, evening get-togethers, or weekend groups in the area with lots of nice moms?
Dear Desperately Seeking Working Mom,
Making new friends can be really tough the older we get, especially for busy working moms, just like you! Have you joined any of the Jacksonville Mom groups on Facebook? We have groups that represent areas of town/neighborhoods, working moms, special needs moms, foster and adoptive moms, single moms, LGBTQ moms, military moms, and more! Join as many of these groups as you like! Post about yourself and that you'd love to meet new friends, and I guarantee you'll be making a morning coffee meetup sooner than you think!
If you'd like to make friends early morning or later evening, and you enjoy workout classes, consider joining a group fitness facility. Have you considered inviting your neighbors over for a Saturday brunch party as an informal open house? Who knows — your next good buddy could be the 64-year-old grandmother down the street who longs to share hilarious mothering anecdotes and match energies with her younger, spitfire neighbor! Other suggestions to meet your new bestie: Join an interest group (book club, running club, PTA), attend local farmers markets, join parent groups at church.
Even though you may feel lonely as a newcomer, Jacksonville is one of the friendliest cities I've lived in. Many are transplants, like you and me, who are eager to help other newbies feel welcome and connected. And I must say, the "born and raised" locals extend the same hospitality. Welcome, new friend!
Here are some additional thoughts on making mom friends:
Desperately Seeking Mom Friends? You're Not Alone
Dear New Mom: Motherhood Isn't Always This Lonely
The 10 ComMOMdments of Solid Friendships
Love,
A Fellow Jax Transplant
Q: I am feeling so overwhelmed with trying to work out while balancing new motherhood. Our sleep schedule never seems to fit in with any of the fitness groups that I have seen, and I can't seem to get motivated to work out on my own. I am wondering if it is worth the investment to buy workout equipment like a treadmill or a bike for our home? I don't want it to become a clothing rack! But I need something easy that I can do in small increments. Is it possible to work out with a baby if you aren't already a super fit well-rested mom with a massive budget? What is something I can buy to help me get fit at home that I won't regret? Does that even exist?
Dear New Mama,
Firstly, I want to commend you for focusing on your wellness in the midst of this new life change. The good news is that it is absolutely possible to incorporate movement into your routine in a way that is seamless and doesn't break the budget. Getting outside for a quick walk is great for both your mental and physical health and doesn't cost anything. Before you break the bank on larger equipment, opt for some bands and a light set of dumbbells. There is a ton of free content online for workouts you can do at home with just your bodyweight or minimal equipment and short amounts of time. Once you get it into your routine, you can decide if a larger purchase makes sense for you down the road. Most importantly, give yourself tons of grace. You got this.
More tips on getting fit during motherhood:
Guide to Fitness and Health in Jacksonville
How to Make Your 'New Year, New Me' Fitness Goals Last
How I Finally Became an 'After' Thanks to TitanUp Fitness
Love,
A Fellow Mom Friend Who Isn't Well-Rested Either
Do you have a question for the Jacksonville Mom team? Nothing is off-limits. Submit them here!
Not Asking for a Friend
Need advice? Got a tough (or even not-so-tough) question you don't want to ask a family member or Facebook group? Because let's be real here, you're not asking for a friend — you're asking for yourself. We're not therapists or experts by any means, but we are moms from a wide variety of backgrounds, and collectively, we've seen and been through a lot. Use the form below to submit your question, and you might see it answered right here on Jacksonville Mom.