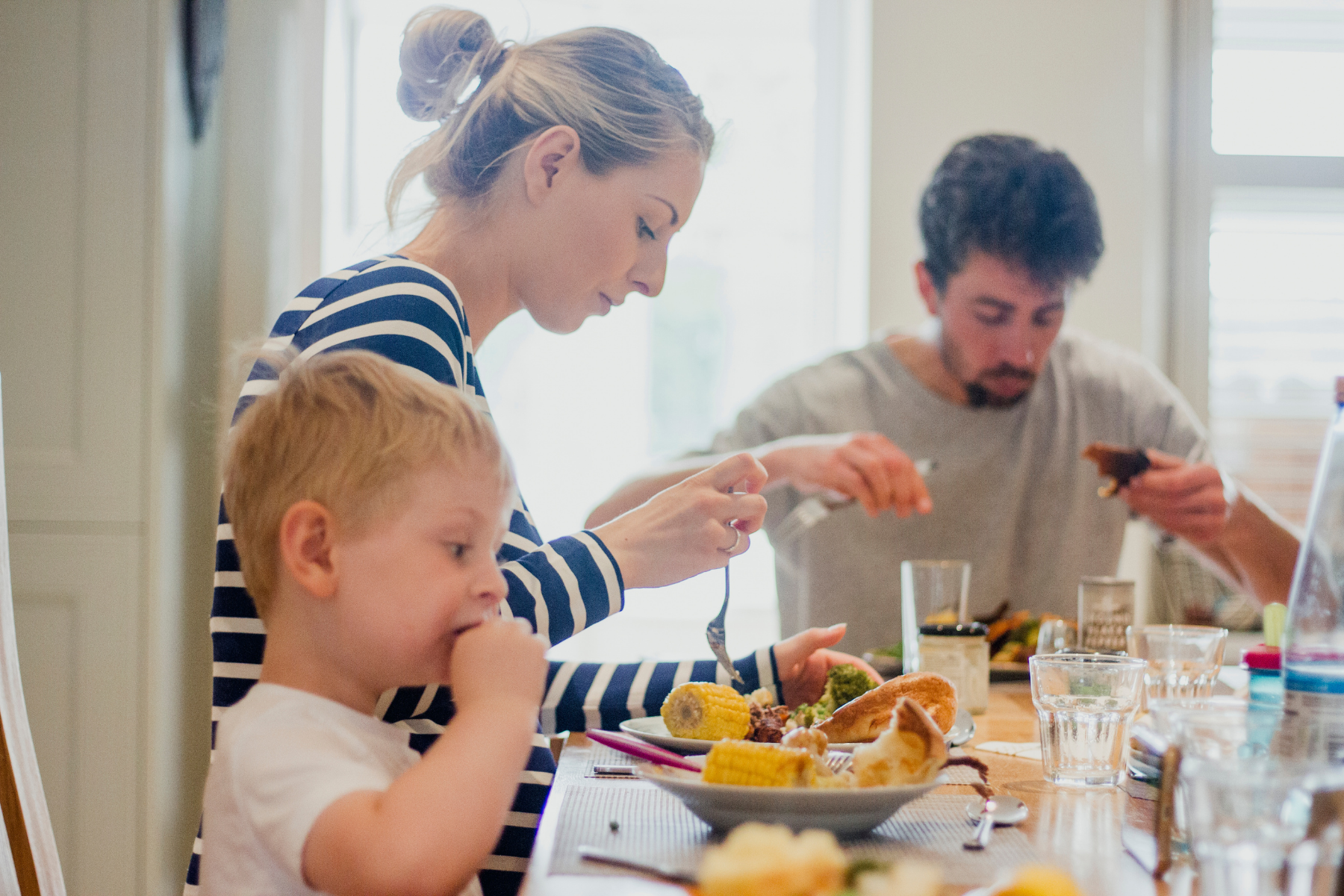 Before having children, I just knew that our family would gather around the table every night and eat dinner together. That is how I grew up, and my husband and I cooked and ate together every night, so of course we would continue the tradition as our family grew.
When our daughter was a baby, she went to sleep at 6:30 pm.  I know, I know, she was an amazing baby. I was working full time, and I would try to keep her up later so I could spend more time with her, but she was fast asleep most nights before I had even had time to think about a meal. When her brother arrived the next year, we had the opposite problem. He never slept. Or stopped crying. It was a hectic season of life, and we fell into the habit of feeding the kids early, putting them in bed (or attempting to with my son), and then figuring out what we would have for dinner. So many nights we would eat cereal in front of the TV, or I would just have a glass of wine and leftover grilled cheese crusts.
Eventually, I became a full-time stay-at-home mom, and the children got older and started staying up later. We did family dinner for a couple of years, and it was mostly just stressful for me. I had to time my husband's arrival from working downtown with when the meal would be ready and hope that it wasn't so late that the kids were hangry and melting down. It was a very specific timeline that was often interrupted, and it seemed the only way to prepare a family meal was to put the kids in front of the TV while I cooked and hope that Trevor would make it home in time to eat with us. I tried all of the tricks with meal prep and Instant Pots, and some nights, we would manage to all sit down at the same time and eat a meal that everyone enjoyed. But most nights I would end up frazzled and family mealtime resulted in crankiness all around.
At some point over the last few years, we have drifted away from nightly family dinners, and our new routine suits all of us so much better. The kids, who are ages 8 and 9, eat around 6 pm, depending on activities or the time of year and how late they are staying outside playing with friends. They always eat together, and I am able to prepare their dinner without worrying about when my husband will be home. About half the time, I sit with them and have a snack or a small salad while they eat. And the other half of the time, I will finish my own work or clean the kitchen while they eat and watch a show or a movie together. Occasionally on Friday nights, after a long week of school, they will ask for "room service." It is something we started at the beginning of COVID when we were all so tired of being trapped in the house together, and we have continued it as a special treat. I bring them dinner on a tray, and they are allowed to eat in their room while they play on their iPads.  I reserve "room service" for once or twice a month, which keeps it special.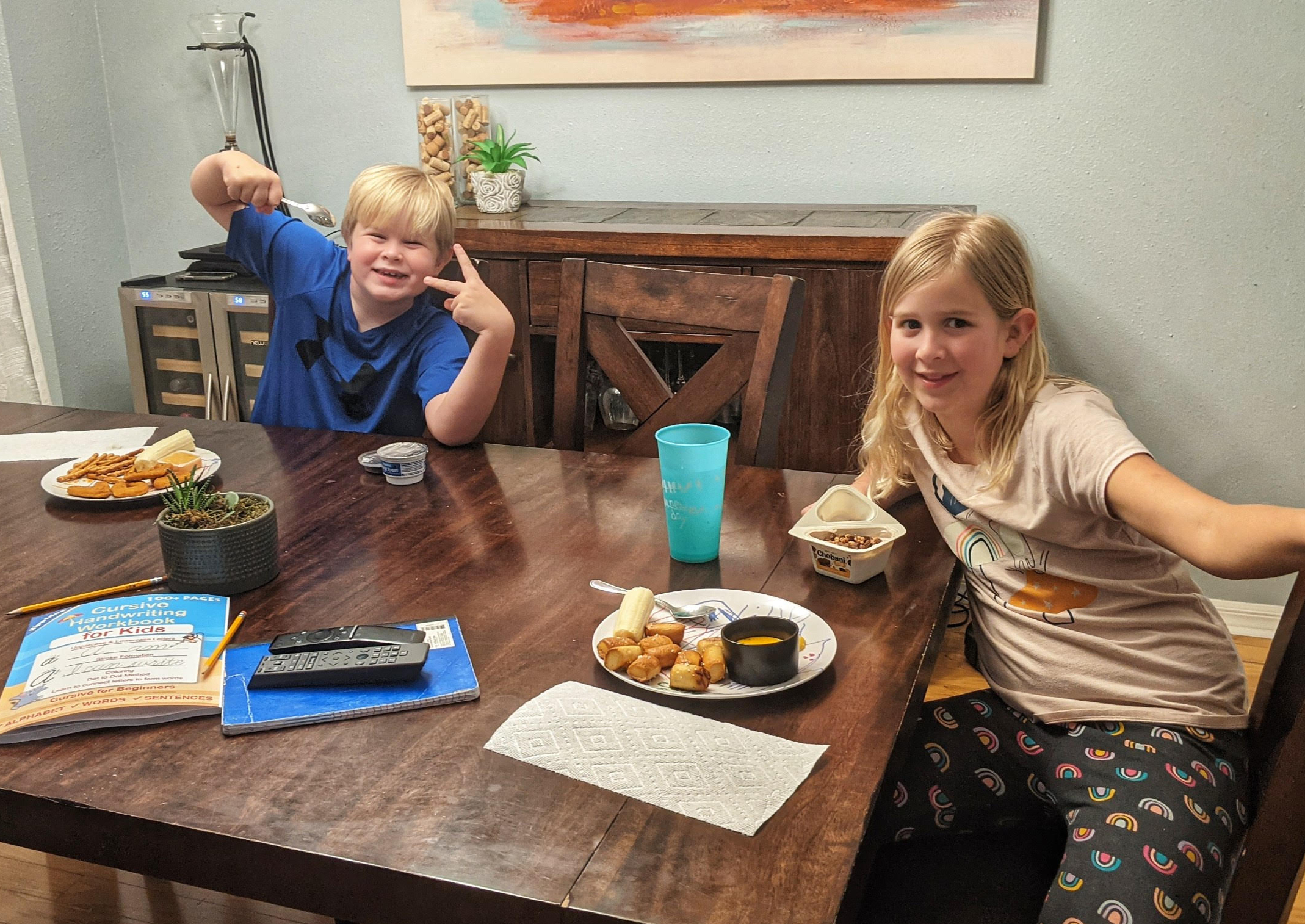 The best part of this arrangement is that my husband and I often enjoy dinner together, just the two of us. We usually eat around 8:30 or 9pm, once the kids are in bed. One of us cooks while the other plays with the kids, handles homework, showers, whatever needs to be done. Sometimes my daughter likes to come help, and we can enjoy cooking together when she isn't hungry and cranky. Once they are in bed, my husband and I sit down at a clean table, enjoy adult conversation, and focus on each other for a small, wonderful part of the day.
I used to feel guilty about our family routine, and I was vague on what we did for dinner when talking with friends. I felt like a bad mom for not focusing on family dinners because you always hear how important they are. But after doing a bit of research, there are numerous studies that say it isn't the act of having dinner together that is so important, it is making time to spend together as a family each day. My kids are early risers, so we breakfast together most mornings. We also go on walks every day, play air hockey after school, and read together each night at bedtime. When it comes to holidays or special occasions, we all enjoy sharing a meal together, but for our daily routine, separate dinners work best for our family.
How do you do dinner as a family? Sound off with your thoughts!