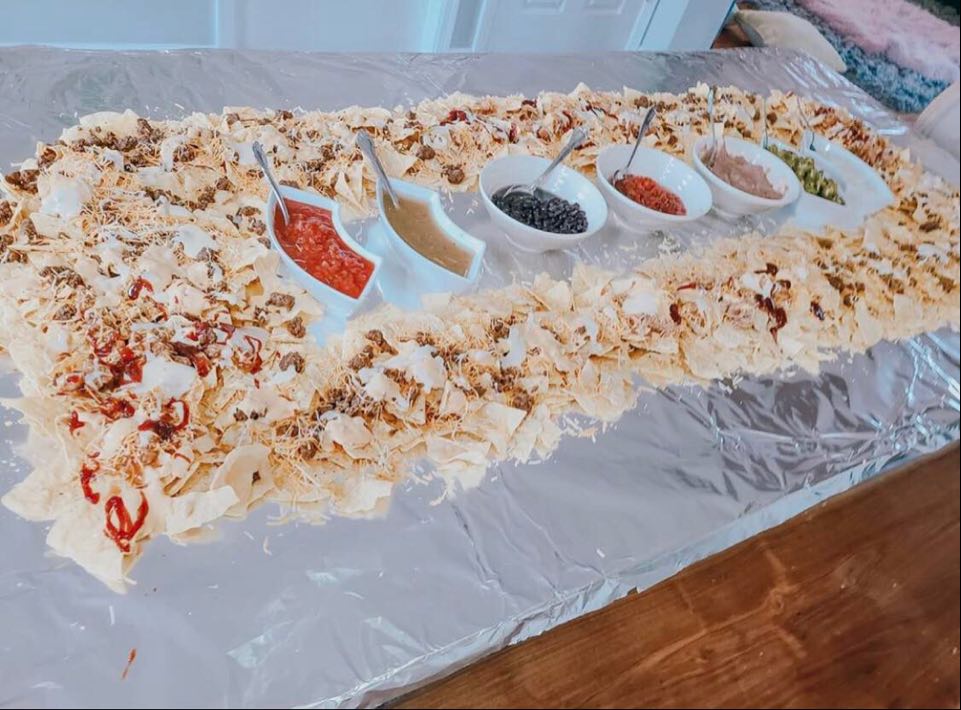 Let's face it — as moms, we're always trying to find family-friendly meal ideas, something that is not only tasty for us adults but fun and easy for the kids, too. My husband and I may love more sophisticated fare, but that's not always appropriate when we're having to feed our horde of hungry monsters. And you can only eat so many chicken nuggets before you start getting desperate for some better meal ideas.
Enter the grazing table.
In August, one family's nacho table went viral on TikTok. Wrapping the table in aluminum foil first, they then covered it in chips and other nacho toppings (no plates), and millions of people were enthralled with the idea. My husband and I were among those who were intrigued and decided to give it a try. But I decided to do it a little bit differently.
First, the table setting. The aluminum foil seemed a little too impractical for me, so I decided to use plastic tablecloths instead. I used three, just to make sure the table was adequately protected, and then went to town. I spread chips across the table the best I could, and with that, let me give you a tip: You'll need a lot of chips to completely cover the table, the way the TikTok family did. I got four bags of chips, thinking it would be plenty to artfully spread across the table, but alas, it was not.
Second, the toppings. Here, you could really let your imagination run wild because the possibilities are endless. For us, we went relatively traditional — this time, anyway. I whipped up some homemade salsa, made some black beans and refried beans, prepared some tomatoes, pico de gallo, and jalapenos, got the sour cream and shredded lettuce ready, and we were almost set to go.
The next step was the cheese and meat. I browned some ground beef, and the question became how to get the cheese to melt. The solution, for us, was to use shredded cheddar cheese and to make some queso dip, like the addictive stuff they serve in Mexican restaurants. We layered the ground beef down first, then the cheddar cheese, and then the queso dip over the top, to help melt everything nicely. From there, everyone could individually place whatever toppings they wanted on top of their portion. It was perfect for the kids! Everyone loved it.
The best part? Cleanup was ridiculously easy. All I did was gather up the tablecloths and toss everything in the trash. The table underneath was still pristine. Our first grazing table experiment was a huge success.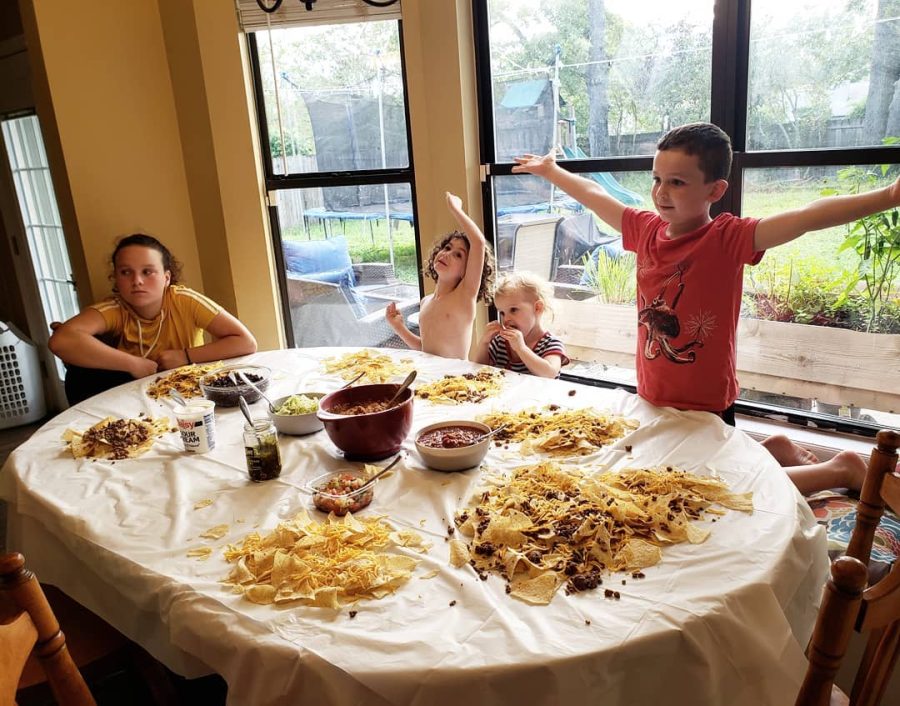 Considering how much my kids liked the nacho table, my husband and I decided to try another grazing table dinner. This time, we took inspiration from an Italian tradition and made a pasta table. Again, we used several tablecloths to keep everything clean and got to cooking.
This time, we kept it super simple, with garlic bread knots and spaghetti, tossed in olive oil and parmesan cheese. Then we spread it across the table and let the kids have at it! (This time, us grown-ups stuck to our bowls and utensils, with homemade fettuccine alfredo.) Once again, they loved it. Sure, it made for messy little hands, but everyone was happily slurping up noodles and chowing down on garlic bread.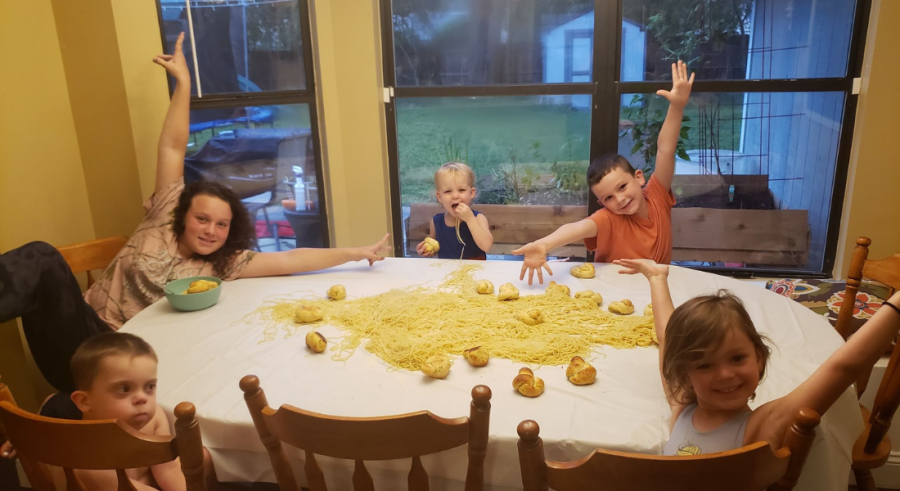 So far, these are the only two grazing tables we've tried out, but we have so many more to experiment with in the future. A breakfast grazing table is probably next — just imagine a table with biscuits, bacon, and fruit scattered across. Or, for a more grown-up occasion, you can turn your entire table into a charcuterie board, with your favorite cheeses, meats, antipasti, and vegetables available. Or you could have a regular meal, and do a dessert grazing table: cookies, brownies, fruit, candy. Really, anything is possible, and your kids are bound to love it. After all, it's not very often that they're encouraged to eat with their hands.