Delicious food is an important part of any celebration, which is why one of the first things people plan for their gatherings is the menu. Even my kids know tasty dishes are a key part in making memorable traditions. Whenever we're going to a party, they inquire about what food will be there and my four-year-old always asks, "Will there be cake?" A celebration coming up soon is Passover on April 22nd.  If you need recipe ideas for this holiday, Winn-Dixie and kosher celebrity Jamie Geller has the perfect dishes to add to your table just in time for Passover.
This is the second year Winn-Dixie teamed up with Jamie Geller to develop easy-to-follow, gluten-free Passover and year-round recipes. I think all of the dishes look delicious, so I had a hard time deciding which recipe to cook first. I'm a huge fan of brunch, so I had to go with the Potato and Cheddar Frittata. I was not disappointed! The recipe was easy to follow and I knew my kids would like it since the main ingredient were eggs, which is on their list of food they actually eat.
I also had most of the ingredients for this recipe. However, I did have to pick up a few ingredients that I didn't have, giving me the chance to visit the newest Winn-Dixie in town that's located on Baymeadows Road.
If you haven't gone yet, definitely stop by. The kids loved the new store. They felt like they were on a field trip, which pretty much happens whenever we go grocery shopping with them! The main reason for their enthusiasm was the chance to push their own kid-size shopping carts.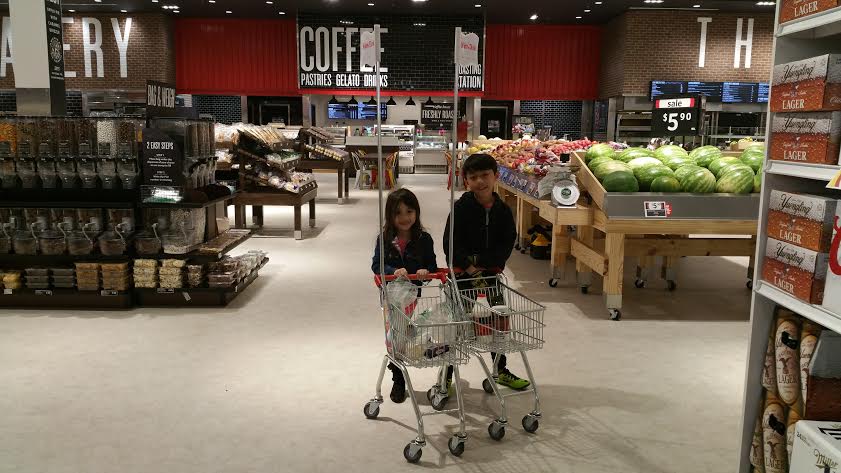 The other reason was the candy aisle that included candy from Sweet Pete's.
The store was easy to navigate and I appreciated the large signs that labeled the different sections. It made it quick and easy to find everything I needed.
That made it easier and faster for me to get home and start cooking. (Yes, I added some extra cheese!)
Additionally, Winn-Dixie makes cooking for Passover even easier with their Passover Shopping List. Select stores provide the option to order Passover meals if you would rather not cook.
If you would like to cook the meals yourself, I say go for it! There's plenty to choose from in the eBook Winn-Dixie's Joy of Kosher with Jamie Gellar.
If you're not familiar with Jamie Gellar, she has held cooking demos in Jacksonville and across Florida. She is the best-selling author for the cookbooks "Quick & Kosher" and "Joy of Kosher," the founder of Kosher Media Network (KMN), which includes award-winning magazine "Joy of Kosher" with Jamie Geller and the website www.joyofkosher.com. Gellar has been coined by The Miami Herald as the kosher Rachael Ray.
Even if you don't celebrate Passover, these recipes would make a delicious meal for any occasion! Here are a few I'd love to try next: Steak Roll Ups with Creamy Mashed Potatoes, Honey Lime Chicken with Spanish Sweet Potato, Fresh Basil Salad, and Cauliflower "Mac" and Cheese.
Do you celebrate Passover and if so, what recipe would you choose to make from Gellar's cookbook?
Thank you, Winn Dixie for sponsoring this post. All opinions are my own!