Our favorite family date nights usually involve a little cold treat. We all love ice cream; it's usually a home run for every single person in our family. We are very lucky to have so many ice cream places to choose from here in Jax, so the trouble comes when deciding where to go. Everyone has a different favorite.
Sophie's Favorite :: Yobe Frozen Yogurt
My daughter loves frozen yogurt best, and her favorite is Yobe/Yogaberry. Prior to Yobe, she loved Menchie's, and before that Mochi. I can't really tell a difference between all the yogurt places, but she can! She gets really excited when Cheesecake is a featured flavor. She loves many toppings. Fruit. Cereal. Chocolate Candies. Brite Crawlers. Whipped Cream. I think her favorite part is sampling all the flavors each time and choosing different toppings.
Will's Favorite :: Whit's
It's not surprising that my kid who loves the richest ice cream with the most mix-ins possible loves Whit's. We recently celebrated his performance in the school play with a trip to Whit's after the show. The flavor of the night was Thin Mint, which he loved, but his recommendation is to look at the calendar and go when they are serving Penguin Tracks or Reese's Fudge! They serve vanilla and chocolate every day, along with a flavor of the day. They also have some frozen treats in a self-serve freezer and the most amazing ice cream cake I've ever had. I ran into a couple at the Atlantic Beach store, and they ride their bikes up almost every night to sample the flavor of the day. It's also good to know that the Kid Scoop here is quite sizeable. This ten-year-old boy asked for a small regular scoop one night and could not finish it!
Lainey's Favorite :: The Dollar Tree
My six-year-old is a sucker for ice cream truck varieties. It was awesome when we discovered the joy of taking everyone to The Dollar Tree to enjoy a more reasonably priced treat. They have a little cooler near the cash registers with some ice cream sandwiches, popsicles, and other varieties of ice cream. Her favorite lately is the Jolly Rancher Push-Up. She loves the triple flavor sherbet and she loves that we can ride our bikes there. Mom loves the dollar price tag!
Henry's Favorite :: sweetFrog
My two-year-old also chooses frozen yogurt for his favorite: sweetFrog. I think he fell in love with that sweet frog mascot when he was just a baby. Our specific store has also been very involved in our community, hosting spirit nights to help local not-for-profits and schools raise funds. We were happy to support many local fundraisers by pulling the lever, filling our cups, and eating some yummy frozen yogurt. So you could say his exposure to that cute little big-eyed frog was pretty high! Henry's usually orders his yogurt by color, but his favorite right now is the No Sugar Added Strawberry. Mom loves the No Sugar Added part!
Mom's Favorite :: Rita's Italian Ice
As a child, I remember on many occasions convincing my baby sister to sweetly ask if we could go get ice cream. My mom rarely said no to her. Those days our choices were usually Baskin Robins or Dairy Queen. I still die over World Class Chocolate and the Peanut Buster Parfait, but in my adulthood, I learned about a thing called frozen custard. And Rita's Italian Ice does it right! My favorite treat is the Gelati, Italian Ice, and frozen custard layered together in one cup! My favorite lately is Swedish Fish Italian Ice with Chocolate Frozen Custard.
Dad's Favorite :: The Dreamette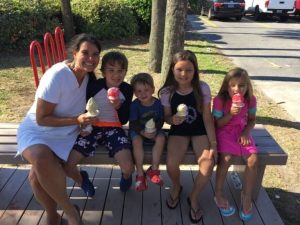 My husband grew up in a small town. His family frequented the Tastee Freeze where his uncleand grandfather would sometimes dress as the milkshake mascot on the weekends. He still loves a good milkshake and lately his favorite is The Dreamette. Single Flavor. Peanut Butter. The rest of the family also chooses The Dreamette as our second favorite, so we end up here a lot. We all love the toasted coconut dipped cone! It's also the cheapest bill besides The Dollar Tree for our family of six.
Other Family Favorites
Mochi – Red Velvet Cake was our first love here. Give it try if you are a frozen yogurt fan!
The Florida Creamery – Get a taste of Old Florida at this ice cream shop in Avondale.
Dairy Queen – We love the soft serve and the famous Blizzards here! Henry loves the cherry dipped cone, and Will loves the Reese's Cup Blizzard. Chuck and I love to share a banana split.
Baskin Robins – Our local store in Atlantic Beach was serving up $1 Scoops on Tuesdays and Thursdays so we would hit it up for a cheap family ice cream night!
Ohana Hawaiian Shaved Ice – This is the best shaved ice place in Jax! They also have a full menu of food!
Peterbrooke – Of course we are big fans of chocolate covered popcorn, but the gelato is also wonderful here!
Kilwins – Lots of great flavors of hard ice cream. A nice place to go when not everyone wants ice cream. The kids will sometimes opt for a chocolate covered apple or fudge instead!
Three FX Ice Cream and Waffles – A little Korean Ice Cream place on the Southside. It's fun to watch them prepare everything!
Brusters – Love that they have a drive-thru at the Intracoastal West location. I also love that they have Italian Ice on the menu!
A&J's Old Fashioned Ice Cream – Ice cream here is churned on a 100-year-old ice cream churn, and it feels good to support a locally owned business!
Menchie's – My kids enjoy collecting the cardboard cars at this self-serve frozen yogurt place. They also love the movie-inspired flavors they have had including PAN's Pixied Dusted Sugar Cookie and the new Angry Birds flavors!
Christie's Dream Ice Cream – This ice cream shop in Ponte Vedra has great ice cream for all, including Adult Only flavors like Cinnamon Whiskey!
What's your favorite place to get a frozen treat in Jax??