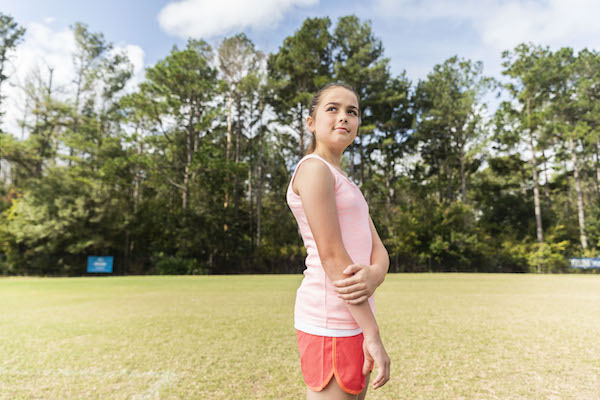 The sports medicine experts at Nemours Children's Health System are here to help your young athlete with any type of sports-related health issue. Whether your child is a recreational beginner, a high school player, or an elite athlete specializing in a particular sport, our team of highly trained specialists can address health concerns as well as short- and long-term goals.
One question Nemours often hears from parents is, "Why does my child get headaches after practicing or playing in a game?" It's actually more common than you may think, and there are several reasons why they may occur.
Heat-Related Illnesses
Heat-related illnesses are basically caused by exposure to prolonged amounts of heat and humidity without rest and adequate fluid and salt intake. Living in a hot environment can definitely predispose athletes to this.
Heat-related illnesses are generally broken down into three categories: heat cramps, heat exhaustion, and heatstroke.
Heat exhaustion and heatstroke are the more severe forms of heat illness, where the body is unable to cool itself properly. Headaches can be present in these two forms of heat illness, but there are usually other symptoms present.
Heat-related illness can be prevented by plenty of fluid intake, avoiding prolonged exposure to the sun, taking rest periods in shaded or cool areas, and gradually increasing time outdoors to get used to the heat.
Exertional Headaches
Exertional headaches occur during or after strenuous exercise. These types of headaches are broken down into two types: primary exercise headaches and secondary exercise headaches.
Primary exercise headaches are usually harmless and do not have an underlying cause, whereas secondary exercise headaches are triggered by an underlying condition such as a sinus infection, ear infection, or more serious problems such as a brain bleed or tumor. Although headaches are a symptom of secondary exercise, there are usually additional symptoms present and they may require emergency medical attention.
With primary exercise headaches, there are usually some easy fixes and straightforward treatment to prevent these types of headaches from happening in your child.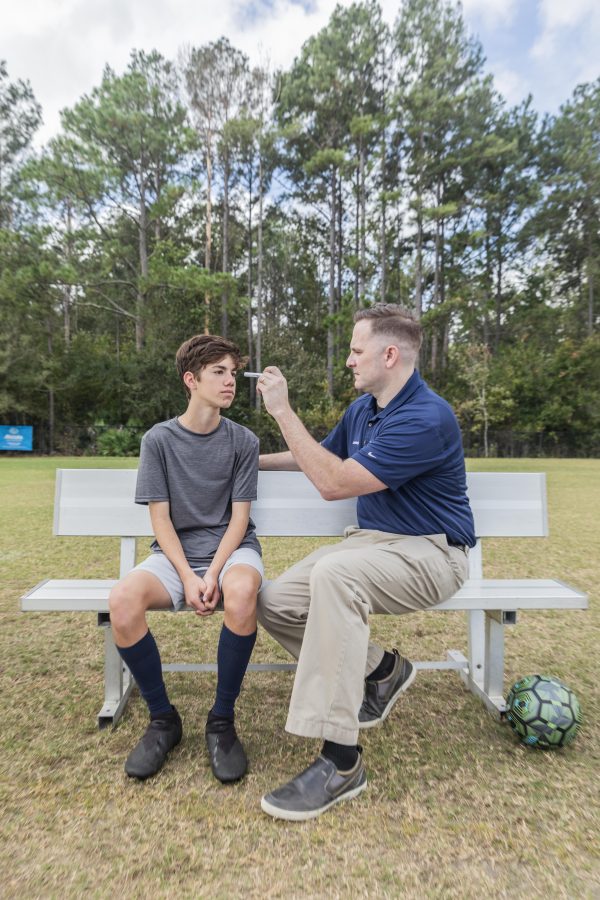 Hydration and Nutrition
Staying hydrated and eating regular meals throughout the day is key to help prevent exercise headaches. Drinking water or sports drinks before, during, and after exercise will help your athlete stay hydrated and replace fluids that will be lost during play. Most kids, even athletes, only need plain water to stay hydrated.
Adjusting to Your Environment
Sometimes children who are new to a sport or are in a new environment (such as moving to a different climate) will need more time to adjust and build up their exercise level to allow not only their bodies to adjust but also their brains!
More About Nemours Health System
The sports medicine experts at Nemours are dedicated to the health and well-being of young athletes. We are specially trained in pediatric sports medicine and focus on delivering the highest-quality care and best outcomes to keep young athletes performing at their best.
To better serve families in Northeast Florida, we offer appointments at three locations including downtown Jacksonville, Fleming Island, and South Jacksonville. 
Call (904) 697-3600 to schedule an appointment for your athlete with a Nemours sports medicine expert or visit Nemours.org to find out more.