If your child plays sports, protecting them from in-game injuries is probably something you think about a lot. The expert caregivers at Orange Park Medical Center think about it, too, and want to help your kids be as safe as possible during the game and all year long.
"Protecting kids who play sports from in-game injuries can feel like an uphill battle for parents," says Dr. Mark McCollum, Pediatric Surgeon at Orange Park Medical Center and Orange Park Pediatric Surgery. "But parents can do more than just buy the right gear and equipment for their kids."
Ultimately, some accidents can't be prevented but doing everything you can in advance goes a long way in getting your kids back in the game as quickly as possible after those accidents happen. Here are some ways you can protect your young athlete before, during and after the game:
Get a pre-season sports physical. "This isn't the same as an annual physical," cautions Dr. McCollum, "During a sports physical your doctor will look for things related to athletic issues, not just overall health and wellness." This is a "must-do" if you want to make sure your kids are prepared for the season.
Keep healthy habits all year. "Parents often think if their kids play sports then they're getting all the exercise and activity they need, but that simply isn't the case," says Dr. McCollum. Kids need to eat a balanced diet, stay hydrated and keep active during the off-season, too, or they can get injured more easily once they start playing again.
Don't encourage "playing through the pain." Whether it's an ankle sprain or a simple feeling of illness, kids shouldn't be allowed or encouraged to play if they don't feel their best. In fact, "playing through a head injury is one of the worst things kids can do because additional head trauma can cause cumulative injury, sometimes resulting in permanent brain damage or worse," says Dr. McCollum.
The best advice parents can follow is to do what they can to help their kids stay safe and healthy, and then let them have fun because that's what playing sports is all about!
Orange Park Medical Center offers a variety of pediatric services including ER, inpatient, critical and surgical care. The pediatric emergency room waiting area provides activities for all ages and child-friendly patient rooms to help reduce the anxiety of a trip to the hospital. For pediatric surgical needs, Orange Park Pediatric Surgery is conveniently located on the campus of Orange Park Medical Center and treats ages 0-17.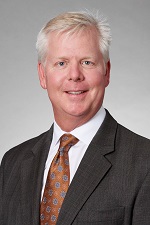 About the Author
Dr. Mark McCollum provides a broad range of surgical services treating conditions including abdominal, GI, chest, lung, hernias, tumors, head, neck and congenital issues for pediatric patients ranging in age from newborn through teenage years.
He brings more than 15 years of experience in the field of pediatric and neonatal surgery and provides a detailed, family-centered approach to the care of the pediatric surgical patient. Dr. McCollum also provides a focus and expertise in the use of minimally invasive surgical techniques in children.