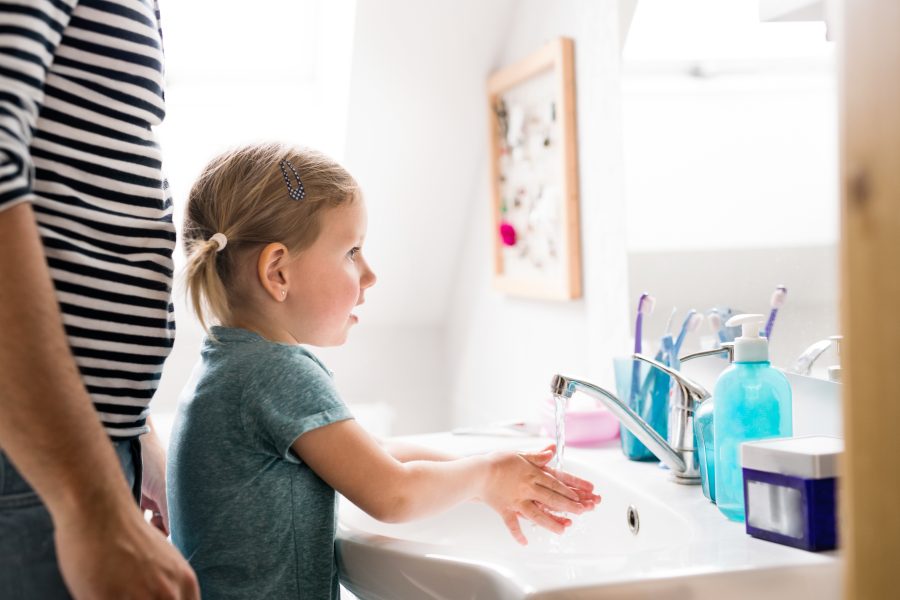 This year, nearly 60 million students will enroll in elementary and secondary schools in the U.S. With the cold and flu season on the horizon, the medical experts at Orange Park Medical Center encourage parents to teach their children that washing their hands properly before school starts.
"Washing hands is easy to get the hang of, but not as simple as people might think," says Dr. Jama Sy, Critical Care Pediatrician at Orange Park Medical Center. "There actually is a right way to wash your hands, and your kids need to know that too."
It may seem like a chore, but effective hand-washing is the easiest way to prevent the spread of disease and infection. This is especially important in places like school where children regularly come in close contact with one another. The process doesn't have to be hard, and from start to finish can take less than 60 seconds.
"The best way to wash your hands is with soap and warm water, scrubbing your hands together for 20 seconds or longer, lightly scratching your nails on each palm in the soapy water to get germs out from under the nails themselves, and then rinsing clean," offers Dr. Sy. "It's a good idea to use your towel to turn off the faucet and open the door afterward, if you can."
Orange Park Medical Center offers these tips for washing hands and keeping them clean all year long:
Teach children to sing "Happy Birthday" twice while they wash their hands to be sure they wash them for the right length of time (20 seconds or more).
It is the soap combined with a scrubbing action that dislodges dirt and germs.
Use your paper towel or sleeve to turn off the faucet and open the door.
Add bottles of hand sanitizer to your car, purse, bag, and child's backpack or lunchbox as a second option for when soap and water aren't available.
Remember, washing your hands isn't enough to stay healthy. Sleep, eating a good breakfast and regular exercise are always key elements to a healthy lifestyle no matter what your age is.
About Dr. Jama Sy, FAAP:
Critical Care Pediatrician Dr. Jama Sy, FAAP serves as the Pediatric Services Medical Director at Orange Park Medical Center. In this role Dr. Sy leads the pediatric medical staff treating patients at Orange Park Medical Center in their pediatric emergency room, inpatient pediatric unit, pediatric intensive care unit (PICU) and undergoing pediatric surgery. Dr. Sy is a Baylor-trained expert in pediatrics with an MD from the University of the City of Manila, where he was a full academic scholar, graduated among the top of his class and Medicine Board topnotcher.  He spent his Pediatric residency at SUNY Downstate Medical Center in Brooklyn, NY. He completed additional Pediatric Critical Care medicine training at Texas Children's Hospital and Baylor College of Medicine in Houston, TX. Dr. Sy is a Fellow of the American Academy of Pediatrics and a member of the Society of Critical Care Medicine. Dr. Sy has dual board certification in Pediatrics and Pediatric Critical Care Medicine.
About Orange Park Medical Center
Orange Park Medical Center, serving Clay County and its surrounding communities, is a full-service, acute care hospital with 317 inpatient beds. Orange Park Medical Center is a Joint Commission Top-Performing Hospital, ranked as one of the best hospitals in the country for heart, lung and surgical care.
For more information about services, facilities, and physicians, please visit OrangeParkMedical.com.