Here is my first day of school picture of my kids looking pretty cute — with a chalkboard so Pinterest-worthy! It was the next day that a big revelation happened. My friend and I were talking, and she says,  "Your kids looked so cute in that Facebook picture, you really have it all together. How do you do it?" I almost choked, and I began to laugh hysterically. I SO don't have it together but at that moment I realized, thanks to Facebook, it sure looks that way!
The Real Story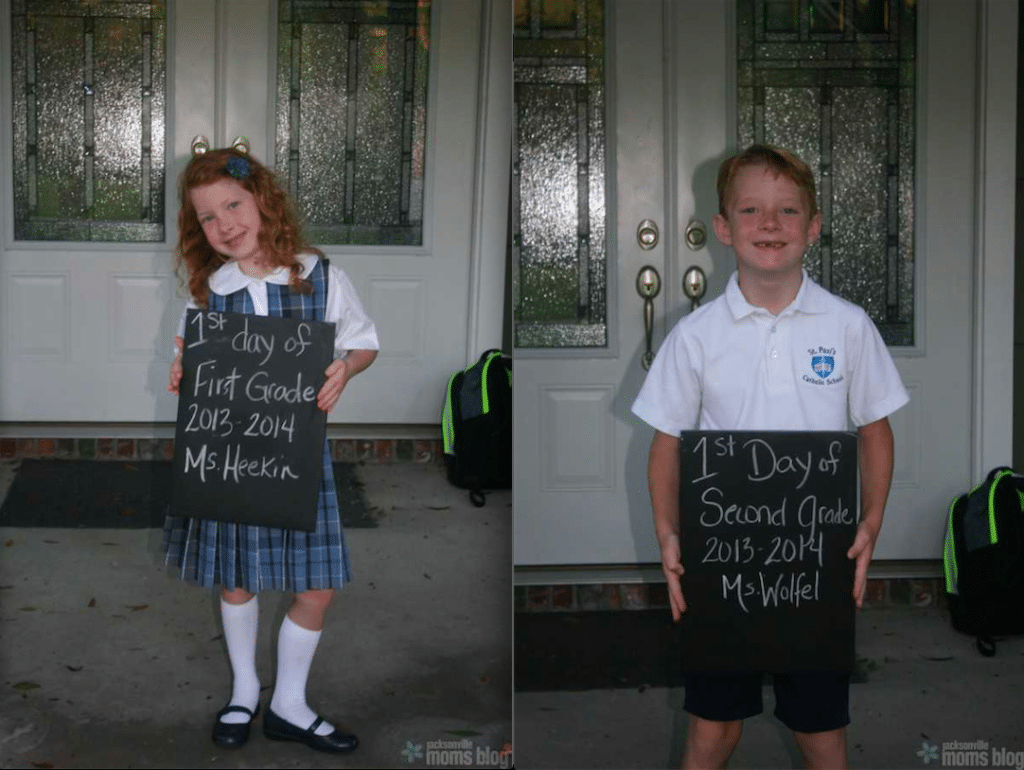 The morning of the first day of school started smoothly as I had planned and laid out everything the night before. But time got away from me, and we were running late (yes, probably because of all my pictures). We all hustled into the car and raced to school and, of course, I had trouble finding a parking spot. We are running up to the school and my daughter starts crying because she realizes we missed the release of the pigeons. I scramble up to the front to find their classes and send them off with quick kisses while the toddler on my hip is crying because she wants to go to school too.
I finally feel a sigh of relief as they are off to their first day. While chatting casually with the other parents, it hits me that I forgot the kid's snacks. I had amazing lunches packed in brand new bento boxes, but I forgot the snacks. What a rookie move! I head to the grocery store to pick up something quick and realize I forgot my purse–ARE YOU KIDDING ME? I don't have time to go home, so I go to my friend's house to beg for two snacks and drop them off. Finally, I am heading home, and I realize I am almost out of gas. Seriously??? How does this happen? Why can't there be a gas indicator as annoying as the seatbelt beep? At this point, I am about to burst into tears. Luckily I make it home on pure gas fumes.
Yes, it could have been an even worse morning. But I am still feeling very defeated and as though I definitely don't have it together at all!
Do you ever feel like you are the only one having these crazy days as you see all these picture-perfect posts on Facebook? I now find myself laughing and wondering what craziness is going on behind the scenes. Being a mom and managing everything is tough, and we are all doing the best that we can. I love hearing real stories and other people's craziness. It is like MOM therapy and another important reason we should surround ourselves with other moms! Over the last seven years, I have felt so fortunate to have found great, real life sharing with girlfriends in playgroups, at MOMS Club, and in Stroller Strength.
What outlets have you found to help with keeping it real?