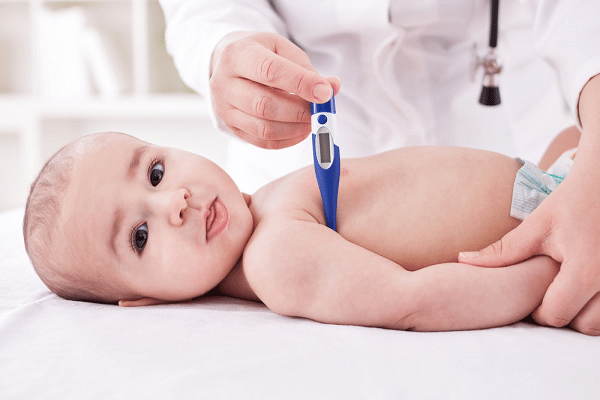 It seems like just yesterday I was with my son as his very first pediatric appointment. The past seven months have flown by, and as a new mom, I frequently have questions for my doctor in between wellness visits. I often wonder whether my concerns even warrant an actual trip to the doctor, but now there is a new pediatric service available in Jacksonville to answer your questions 24 hours a day, seven days a week. I am able to ask questions and receive answers through my computer or phone at the convenience of my own home. Blueberry Pediatrics offers every parent peace of mind, at every hour of the day! I chatted with Dr. Lyndsey Garbi, Chief Pediatrician at Blueberry Pediatrics (and fellow mom) to share a helpful Q&A with some of the most common questions parents ask:
Questions from a New Mom
Q: My baby is 4 months old and dislikes tummy time. What should I do to help her? 
A: Most babies are not a big fan of tummy time. It is very important, however, for the development of their muscles. Keep at it. She may never learn to love it, but you can add fun toys, colors, and games to the mix. Put something you know she likes in front of her and hopefully it won't be such a burden on your daughter and on you in time.
Q: I am trying to start on solids with my 6-month-old, but he does not seem to like oatmeal. What do I do?
A: New textures can be strange to kids when starting out. I would start with something smooth and mix in breast milk or formula so they taste something familiar along with the new food. Each kid is different though, and it usually takes multiple attempts for him or her to get used to a new taste and texture. Your child will get there. Just change it up and then reintroduce rejected foods at a later time. Introduction of foods should be fun, so remember to keep it low stress and create a fun learning environment for your child.
Q: My son has a rash on his arm. How do you recommend I treat it? 
A: The treatment will always depend on the cause of the rash. It could be viral, it could be allergic, or it could be just sensitive skin. Sending a picture to a Blueberry Pediatrician can help figure out which one of these things it is, and we can recommend a course of treatment.
Q: I woke up this morning, and my son has a cough. What do you recommend? 
A: This will also depend on other associated symptoms. Does your son also have a runny nose, a fever, allergies, history of asthma? Blueberry Pediatricians can help get to the bottom of the cough in order to decide the right course of action for it.
Q: I noticed my son has a runny nose but no fever. Should I take him to the doctor? 
A: Most runny noses are due to viruses, which don't require any prescription and just need time to get better. Parents should contact their doctor if they are uncomfortable and don't know what to do. This is the perfect example of how Blueberry can be useful to a family — since we are available 24/7 and there's no extra cost to contact a pediatrician. New onset of a runny nose is not an emergency, but there are things Blueberry Pediatricians can do to identify the cause. They can also recommend ways to make your child more comfortable and help you identify signs to look out for. Board-certified Blueberry Pediatricians can do all of this without you leaving the comfort of your home or trying to transport a sick child and their siblings.
The Blueberry Pediatrics Difference
Q: How is Blueberry Pediatrics different from conventional pediatric offices?
A: Blueberry Pediatrics is available 24/7 and provides a direct line to a pediatric-trained doctor. We can help parents with the first step to addressing their child's needs, whether to go to the ER, pediatric urgent care, or their pediatrician. We can help them figure out the best course of action and diagnose problems over the phone from the comfort and convenience of their home. This can help avoid a parent missing work or taking their child in the middle of the night to be seen, when they are not even sure it's necessary. The universal theme is that parents want to know their kids are okay. We are a team of caring and experienced pediatricians who are excited about all we can offer our families — reassurance from a doctor can go a long way to relax parents. Blueberry Pediatrics also offers continuity of care, with services before and after your child is sick.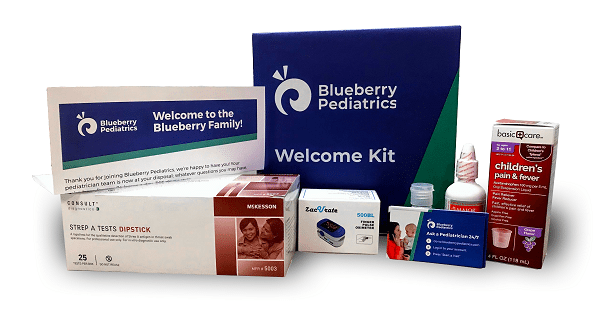 Exclusive Offer for JMB Readers
Visit Blueberry Pediatrics to receive "One Month Free" to new families with no commitment. Included in this offer is a Blueberry Pediatrics Welcome Kit, valued at $75.
About Dr. Lyndsey Garbi Chief Pediatrician, Blueberry Pediatrics: Lyndsey is a board-certified pediatrician and neonatologist. As both a mother (to a 2-year-old that keeps her on the go) and doctor, she understands the concerns parents have over the medical needs of their children and believes quick and easy access should be available to everyone. She completed medical school at Sackler University.