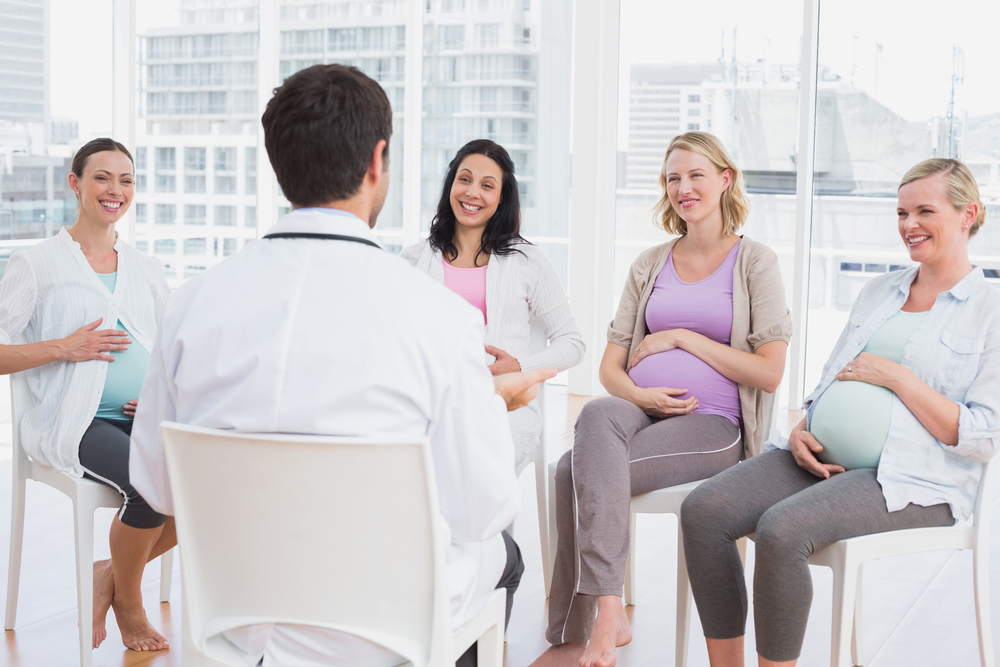 Whether you're newly pregnant with not a clue (hey, we've all been there) or you simply need to brush up on your CPR skills, Baptist Health is on hand to guide you with a wide variety of classes, programs and support groups.
And when I say "guide you," I mean "guide me," because when my husband and I found out in 2016 that we were expecting, we pretty much stocked up on the maternity classes at Baptist. Childbirth Preparation, Breastfeeding 101, Baby Care Basics and Family and Friends CPR were all personal favorites in helping us feel like we knew what we were doing when it came to putting in the parental prep work. (And dare I say it, we've survived our first year as parents!)
Held at several First Coast YMCA Healthy Living Centers and Baptist Medical Centers throughout the greater Jacksonville area, the classes rotate with varying dates and times for scheduling convenience and are taught by experienced, knowledgeable instructors. While some programs are free to the public, many require a minimal fee along with advanced registration, as certain courses tend to fill up quickly.
New courses at Baptist Health this year include Early Pregnancy, Heartsaver® First Aid and a New Parents Bundle class. See below for more information on the various types of helpful classes and programs offered at Baptist Health.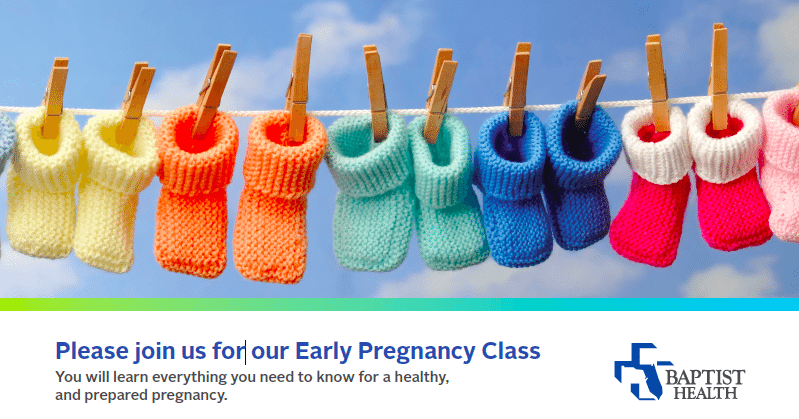 Maternity Classes
From prenatal yoga to childbirth prep, Baptist Health has parents-to-be covered (see above). While the New Parents Bundle combines Baptist Health course classics like Breastfeeding 101, Baby Care Basics and Happiest Baby on the Block (based on Dr. Harvey Karp's bestselling book), the Early Pregnancy Class targets newly expectant moms and focuses on having a healthy pregnancy while preparing for your bundle of joy.
"The Early Pregnancy Class was created for expectant couples and couples planning on starting a family soon," says Kathleen Hugo, Baptist Health Women's Resource Coordinator. "Couples at times feel very overwhelmed by the massive amounts of conflicting information on pregnancy and childbirth. We found that many future parents want to know the facts about having a healthy pregnancy, what to expect at the doctor's visits, and how to prepare for baby. In just 1.5 hours, these future parents will gain the knowledge needed to feel more confident, informed, and ready so they can focus on enjoying their pregnancy."
Other maternity classes offered include Natural Childbirth Preparation, Comfort Measures, and a few postpartum programs such as Baby Yoga and Me and free postpartum and breastfeeding support groups. Courses designed exclusively for dads, grandparents, siblings and young babysitters are also available.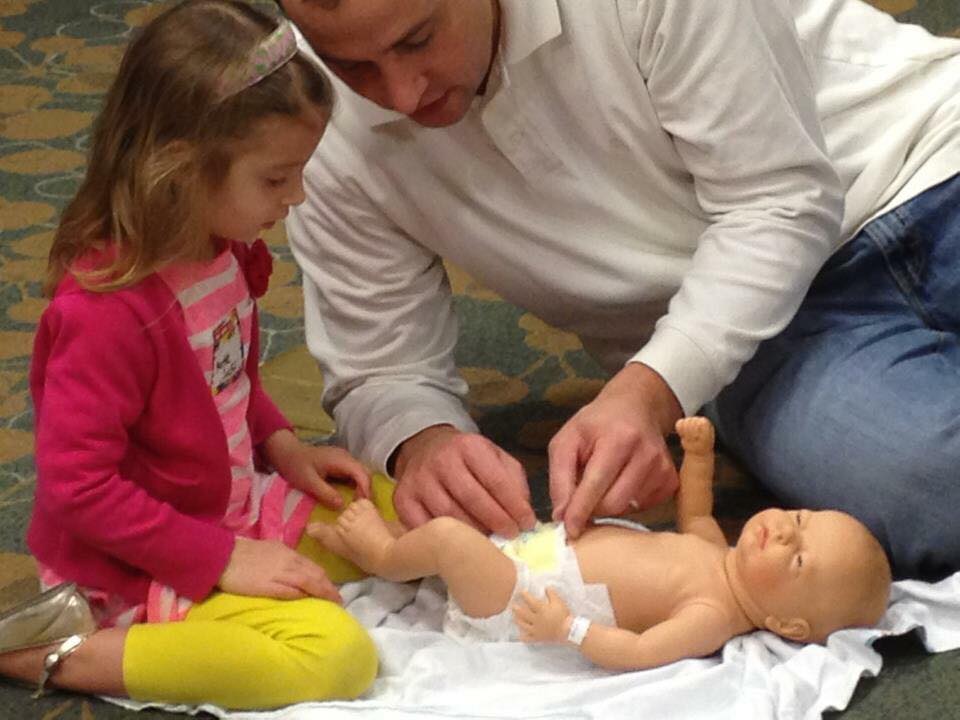 Before her son was born, JMB contributor Meg Sacks brought her oldest daughter to the Sibling Class at Baptist South, where the children were also given a brief tour of the maternity ward and nursery.
"The best part of the class I thought was when they learned how to change diapers and swaddle the baby," she said. "They gave each child a baby doll, and they are very realistic. The class gave my daughter confidence and security she probably didn't have before."
Sacks said she would absolutely recommend the course to any child who is about to become a big sibling.
"Explaining something like a hospital is so nebulous, I doubt she really understood what we were talking about when we were trying to explain how her brother would arrive," she explained. "After she saw the hospital rooms and where Mommy would be, I think she felt much more informed, less scared and more secure."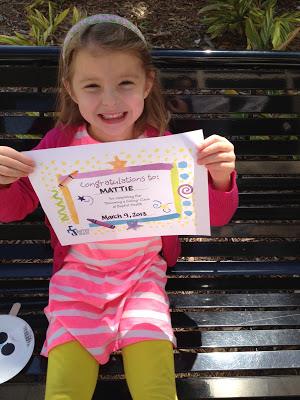 Safety Classes
Baptist Health's classes and programs also go beyond pregnancy and parenting — their safety courses cover useful topics such as CPR and car seat safety, as well as a new Heartsaver First Aid class in accordance with the American Heart Association.
"The Heartsaver First Aid class compliments the Family and Friends CPR course and is ideal for anyone interested in learning how to respond to a variety of emergencies," Hugo explains. "Attendees will have ample time to practice their newly learned first-aid skills and will also receive a first-aid book to take home."
Health & Wellness Classes
For those seeking to live a healthier lifestyle, other pertinent topics covered include weight loss and mental health. In addition, a rotating Talk with a Doc class brings in primary care doctors and wellness experts for community discussions on everything from heart health to hearing loss.
For more information, for class dates or to register, visit baptistjax.com/classes. Free car seat inspections (by appointment only) are offered by Safe Kids Northeast Florida, led by THE PLAYERS Center for Child Health at Wolfson Children's Hospital — click here for more information. You do not have to be a Baptist Health patient or YMCA member to attend classes and workshops.