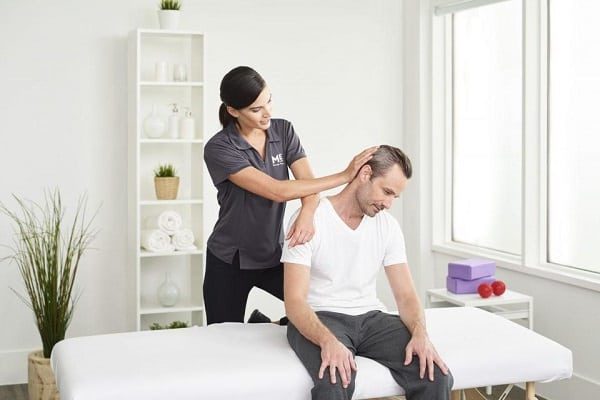 We all know that stretching is really important and beneficial, but who actually takes the time to do it daily? I wish I could raise my hand, but sadly I can't. I'm not sure I really even knew the proper and most efficient way to do it. I've had multiple injuries because of my lack of stretching, so you'd think I'd have learned my lesson.
We are a very active family and love to run and work out hard. We even love to push our bodies to the absolute max by racing and recently completed a Spartan Super! My husband and I both feel like we constantly have tight muscles, and we are sore more often that not. We recently had the pleasure of visiting Massage Envy Harbour Village to try out their new Total Body Stretch! It was extremely clean and the staff was very welcoming and friendly. I've been to Massage Envy before and had a fabulous massage, but neither of us had never experienced an assisted stretch.
Stretch It Out with the Streto Method
Massage Envy uses a special technique specific to them called the Streto Method.  This method consists of 10 targeted stretches that work from the top down, helping your muscles to reach maximum flexibility. Working from the head down, stretch professionals perform a specific sequence of stretches that help loosen individual muscle groups. Using slow, deliberate traction techniques, they are able to help you move beyond your body's inherent resistance and may help extend range of motion, which can increase circulation, reduce tension, and improve muscle function.

Before our individual stretch sessions started, we filled out our paperwork and they read over it to make sure we didn't have any injuries or areas they couldn't stretch. We were brought back into our individual rooms (you wear comfortable athletic wear for the session, so no need to change or undress) and were asked again about any areas we did not want stretched or areas that needed lighter stretches. Our stretch technicians went over the technique and told us about the session and how it would play out. I really appreciated that because I didn't know what to expect and didn't want a surprise leg thrown over the shoulder! I am not too proud to admit that I am probably the least flexible person on the planet. I mean, I can barely touch my toes! I made my technician aware of this and also that I had a piriformis injury last summer, so I asked him to not go too aggressive on my lower back and right hip.
The Weight of the World on Our Shoulders
Just as explained, he started at the top with my head and neck. Honestly, I never realized how tight my neck was. As parents, we carry the weight of the world (or at least the weight of our family!) on our shoulders. When I think of stretching, I usually just think of my legs and maybe my arms and back. Nope, I needed it all! During the whole session, I was constantly asked if the stretch was okay or if I needed less or more. I definitely left feeling less tense. I also felt like I left with a bag of tricks to help myself. My husband had a similar experience. He had just completed an intense bootcamp at our gym two hours prior to our session, so his technician took it a little bit easier on him. That is what I liked about the session — it was customized to your personal wellness needs. This would be a great gift for anyone wanting to loosen up a bit or an add on to one of their amazing massages. Father's Day gift ideas, anyone?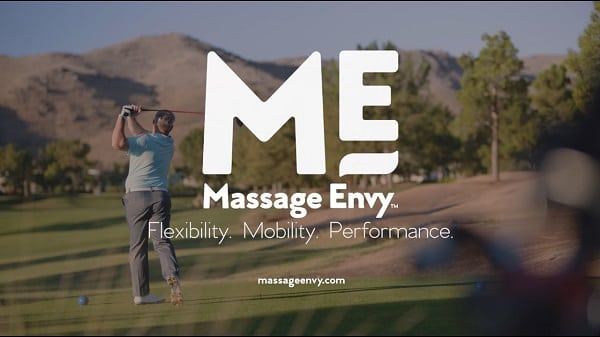 Massage Envy: True Stretch Professionals
All of the stretch professionals at Massage Envy have backgrounds ranging from kinesiology to licensed massage therapy. They are all required to complete a proprietary curriculum that builds on their knowledge of anatomy and neuromuscular physiology to become trained in the Streto Method. I can speak from experience that you will achieve the most from an assisted stretch at Massage Envy. You don't need to be an athlete or even very active to benefit from an assisted stretch. This is for anyone of all ages, shapes, and sizes who have a desire to reach farther and do more. I'm proud to say that we've been actively stretching since our session, and I can't wait to return. They have a wide variety of plans to match your individual needs — intro rates, member rates, non-member rates, and add-ons to your services. For more information about services and Massage Envy's locations (featuring Harbour Village and Jacksonville Beach) click here.
JMB Reader Offer
Mention JMB and receive one of the following offers, just in time for Father's Day, or treat yourself!
– Free 10-minute Percussion Upgrade when you book a 60-minute Total Body Stretch Session
– Free 30-minute Percussion Service when you book a 90-minute massage
Offer valid at the Harbour Village and Jacksonville Beach locations only.