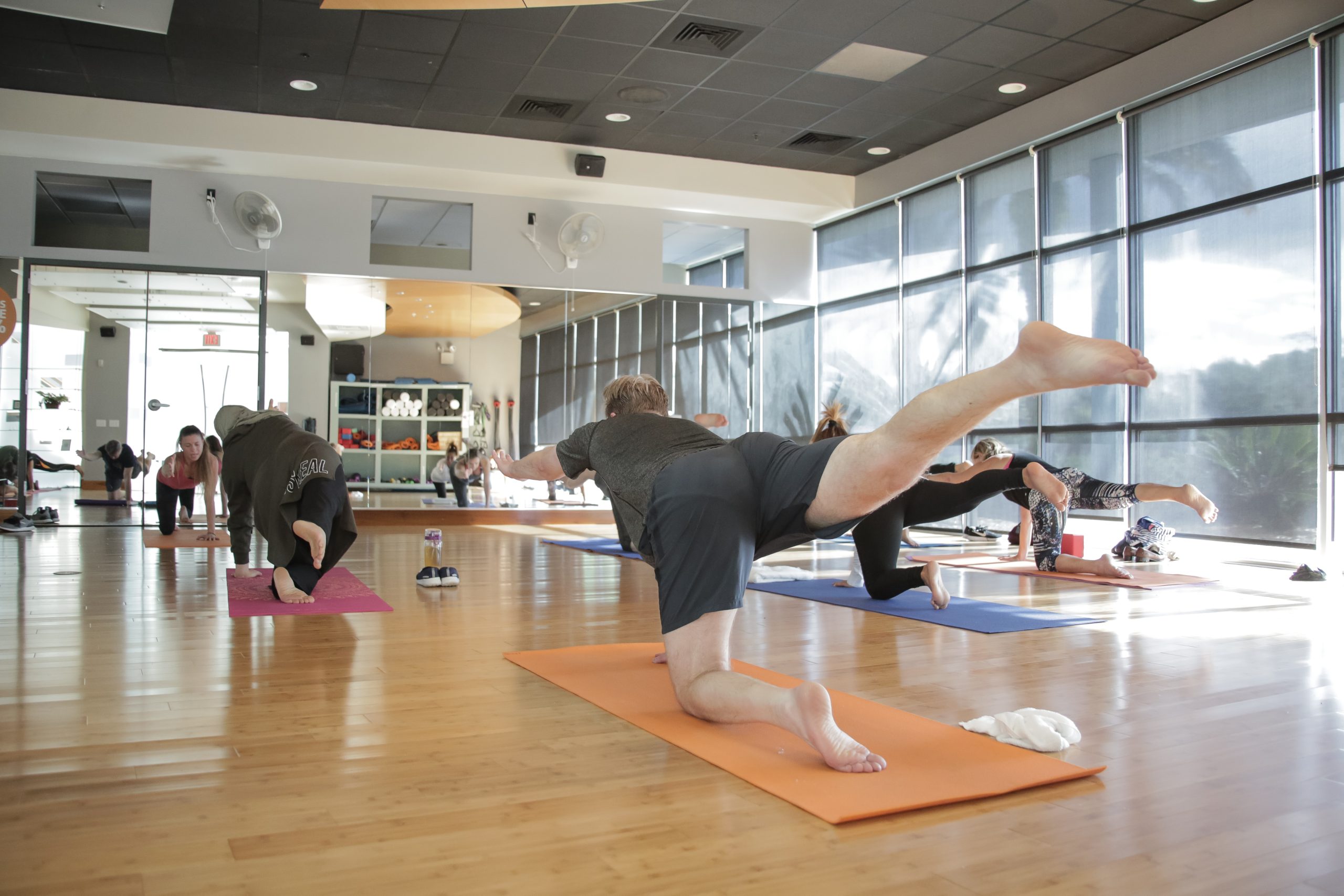 This post was supposed to be my renaissance story. A brittle and bony former dancer, brushing the proverbial cobwebs off of her incredibly tight hamstrings and returning to the athletic glory of her earlier days — countless hours spent in the dance studio or on the yoga mat. And, quite like many peoples' epiphanies planned to take place in early 2020, it got put on hold by COVID-19.
Just a few weeks before the entire country was encouraged to take social distancing seriously, I had signed up for a YMCA membership. This wasn't out of the determination of my own resolve, though. It was c/o a friendly push from one of Jacksonville Mom's incredible owners:
"Hey Allie, it's Megan. So, I know you don't workout, but… would you?"
To which I replied, "I mean, in a perfect world, of course, I would!"
What I didn't tell her at the time was that in a perfect world I would also prepare completely organic and wholly nutritious dinners each night, get eight hours of sleep, and choose water more often than I choose wine. (I would also have much bigger boobs.) But I agreed to her generous offer to work with the First Coast YMCA.
Needless to say, I was skeptical but hopeful — which, I'm pretty sure, is how most Peletons become expensive wardrobe holders. I was also incredibly grateful for the opportunity to take back my body and to do so at such a beautiful facility. I chose the Winston Family YMCA because it's incredibly close to my home and my office, plus, it has childcare, a swimming pool with family swim, and group exercise classes — all qualities that negate my former excuses for not moving my body.
I like(d) to move it, move it
My hips pop multiple times a day, I have a long neck, and I can do a perfect bun in under two minutes. These are just a few of the real valuable skills I have from spending more than a quarter of a century as a trained dancer. It was even my profession during and after college. From there, as I spent less time on stage, I spent more time in a yoga studio and fell in love with a different way of loving my body. Heated power yoga (shout out to my dear friend, Nicole, who not only turned me on to yoga entirely but now owns Yoga Mix — one of the city's most amazing studios) kept me lean, limber, and happy.
But then life slowly crept into every corner of my personal life. Infertility, miscarriages, emotional strain, healthy pregnancies, healthy babies, physical strain, exhaustion, and stress. Things many of you reading this have endured and can understand. I don't need to tell you why I didn't exercise, but here's a brief rundown.
Excuses? I got plenty! (Sung in my best Ariel voice.) Some of them are more legitimate than others. Namely, that I prioritize time with my children above anything else. As a full-time working mom of two kids born within two years of each other, now 4 and 2, you can probably imagine that free time is not a thing. What little time I have before and after work is spent with Adair and Fitz, breathing in (and sometimes spitting out) every moment of their fleeting toddlerhood.
You can jive, having the time of your life
I'm bored by exercise and think that runner's high is a myth. You see, both a perk and a challenge of growing up as a dancer is that I didn't spend much time in a traditional fitness setting so, frankly, I hate gyms. I am admittedly intimidated by all I don't know and turned off by the kind of person who "can't miss a workout." And who, in my opinion, is equally as unhealthy as someone who withholds calories or indulges in too much alcohol. (Don't @ me, please.)
But, as with everything in life, there is a happy weight. There is too much working out, of course, and there is certainly too little. My tight hamstrings and a healthy dose of humility has brought me to the realization that — as I lounge about in my late 30s, my body is taking its cues on how to treat me from the way I've been treating it. 
Tight hamstrings give way to a sore back, made more sore by hauling around my heavyweight son. A weakened core makes it more difficult to maintain good posture, something I want to demonstrate for my young children. Being a tired, overworked, under-cared-for mom is a slow and painful evolution into being a sad mom, something I promise never to be.
It's always fun at the Y-M-C-A
I managed to squeeze in four visits to the Y before quarantine hit. That included three hip-hop cardio classes (with which I am obsessed!), two attempts on some machines that left me feeling dizzy, one visit to "school" by my kiddos which they thoroughly enjoyed and only cried in the window for me briefly, and one time locking my stuff up and not remembering the numbers I pressed to do so. 
It may sound like not a lot, but it did spark a different kind of renaissance. You see, not only was it great to get my body working towards something again, I realized that it was okay to leave my kids for an hour. That when I come home, I can still kiss them good night — and I have the energy to bake banana bread muffins for them to have the next morning. That waking up sore because I had exercised feels amazing compared to waking up sore because I'd failed to stretch for another day. 
Ahhh, sssss, push it
It feels good to miss the gym right now. I know that I could be working out at home, but given how long it took me to realize I can exercise outside the home — let's not push it. You can bet I'll push it real good right on into the Y as soon as I can which (YAY!) is now. They have officially reopened as of Monday, May 25. Check out the full list of First Coast YMCA branch reopening hours and, fear not, KidZone will likely reopen in early June.