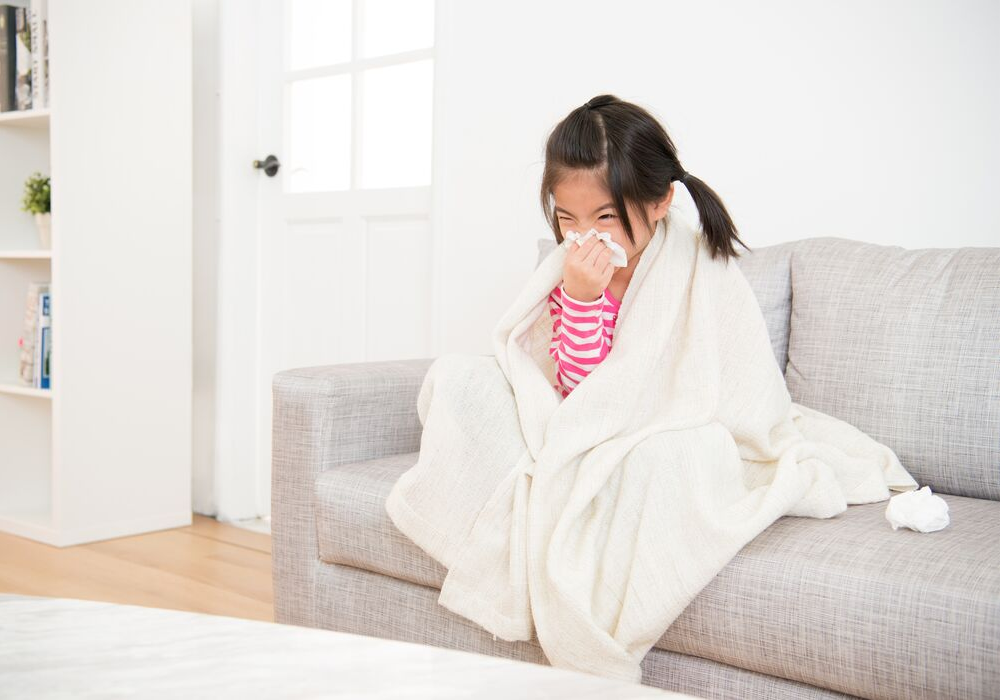 The seasons are slowly changing in northeast Florida — and we don't mean hurricane season! As we transition from summer to fall, you may notice extra sniffles around the house. Pediatric ENT Dr. Scott Brietzke with the Nemours Division of Otolaryngology spoke to us about allergy season and what parents can do to help keep their littles healthy as the weather and air around us start to change.
Q: What is the typical allergy season for children?
A: "There are not actually allergy 'seasons.' Perennial allergens affect us year-round. Examples of these are dust, mold, and animals… things with no seasonal variation and can be present in the environment at any time. Of course, as weather seasons change we do see a difference in what we call seasonal allergies which are the reaction to things like pollen and grasses."
Q: How do allergies present in younger children, pre-teens, and teens?
A: "Seasonal allergens like pollen, grass, and trees cause reactions that present differently based on the age of the child. In younger children, the most common manifestation is Eczema [dry irritated skin that appears like a topical rash]. Skin is the organ most affected by young children. For children ages 5 and up parents will notice congestion with the eyes and nose becoming more commonly involved. That may continue to develop as children grow."
Q: Are there preventive measures parents can take to help ease their child's symptoms?
A: "Know your child's allergies. With perennial allergies you can prevent exposure; avoid mold development around the house, regularly clean pillows, sheets and carpets, don't allow children to sleep with pets or keep pets out of their bedrooms. With seasonal allergies, it is a bit more difficult due to the overall outdoor exposure. Knowing your allergies this is key!"
Q: What treatment options are available for younger children, pre-teens, and teens?
A: "Step one is to do your best to avoid allergens. As needed you can try over-the-counter antihistamines. Some nasal steroid sprays are available for children ages 2-4 and up, depending on the brand. If your child cannot tolerate OTC options or they prove to be ineffective, an allergist evaluation for specific allergy treatments like shots may be required. Doctors are sometimes able to use tablets or drops under the tongue, a pediatric treatment option that is still developing."
Q: How does the current climate (warmer winter) affect allergy season?
A: "The warmer winter we experienced may affect seasonal allergies due to prolonged exposure to pollen, grass, and trees but the perennial allergens are not changing."
Q: What does the diagnosis process look like for children that may be suffering from allergies? Which physicians and specialists are best suited to treat children with allergies?
A: "Symptoms can be so obvious that pediatricians will treat them based on a routine exam; this is called presumptive diagnosis. Blood tests are also used, though not quite as good as a skin test. These look for antibodies in the blood. The gold standard is a skin scratch. For these, your pediatrician will refer you to an allergist. Outside of your regular pediatrician, you may work with an ENT but most commonly you should see an allergist for cases that cannot be managed at home."
Q: What should parents watch out for in order to keep their little ones healthy from the perspective of allergy-related illness?
A: "Breathing problems such as snoring and sleep problems could develop, and in more severe cases polyps may grow in the nose. Mostly children who are continuously congested may be prone to sinus infections so be sure to keep an eye on those allergy symptoms."
For more information on Nemours' children's ENT services, please visit Nemours.org.
About the Author
Pediatric ENT Dr. Scott Brietzke Scott Brietzke, MD, MPH, is a board-certified specialist in otolaryngology and sleep medicine at Nemours Children's Specialty Care, Jacksonville who maintains special interests in sleep apnea and cochlear implants. Before joining Nemours in July 2019, Dr. Brietzke cared for patients at Joe DiMaggio Children's Hospital in Hollywood, Fla, and served more than 20 years in the U.S. Army. In the Army, he served as the director of pediatric otolaryngology and adult sleep surgery at the Walter Reed National Military Medical Center in Bethesda, Md. Dr. Brietzke was also the program director for the military's National Capital Consortium (NCC) residency in otolaryngology. He earned his medical degree at the Uniformed Services University of the Heath Sciences (USUHS) F. Edward Hébert School of Medicine and completed the NCC residency in otolaryngology. He specialized in pediatric otolaryngology with a fellowship at Boston Children's Hospital. Dr. Brietzke is certified by the American Board of Otolaryngology – Head and Neck Surgery in
otolaryngology and in sleep medicine.