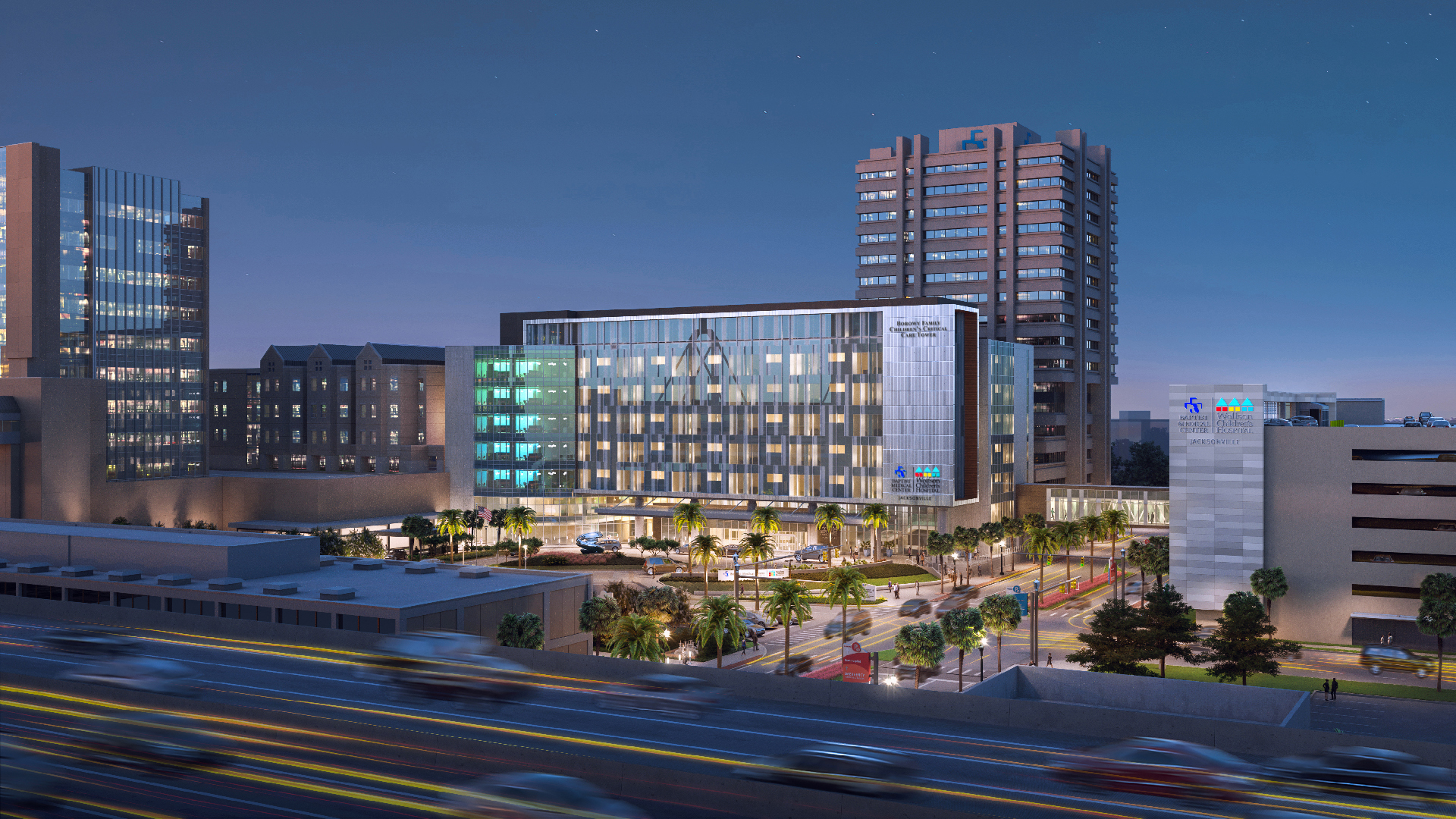 Northeast Florida is making even more strides to ensure that our youngest and most vulnerable patients and their families receive the best neonatal and pediatric intensive care imaginable. Meet the newest addition to the Baptist Medical Center Jacksonville and Wolfson Children's Hospital campus: the Borowy Family Children's Critical Care Tower.
Further enabling the growth of Wolfson Children's intensive care capabilities, the seven-story, 225,000-square-foot building will now serve as the "front door" to the expanded campus — a $224 million expansion project that has been in the works in May 2019. The state-of-the-art critical care center's phased opening kicks off in February 2022.
In addition to 127 patient beds, the tower will feature a site-specific Healing Arts Program: curated art installations throughout the two lobby floors, in the critical care units, and in every patient room to help inspire and uplift children as they get better.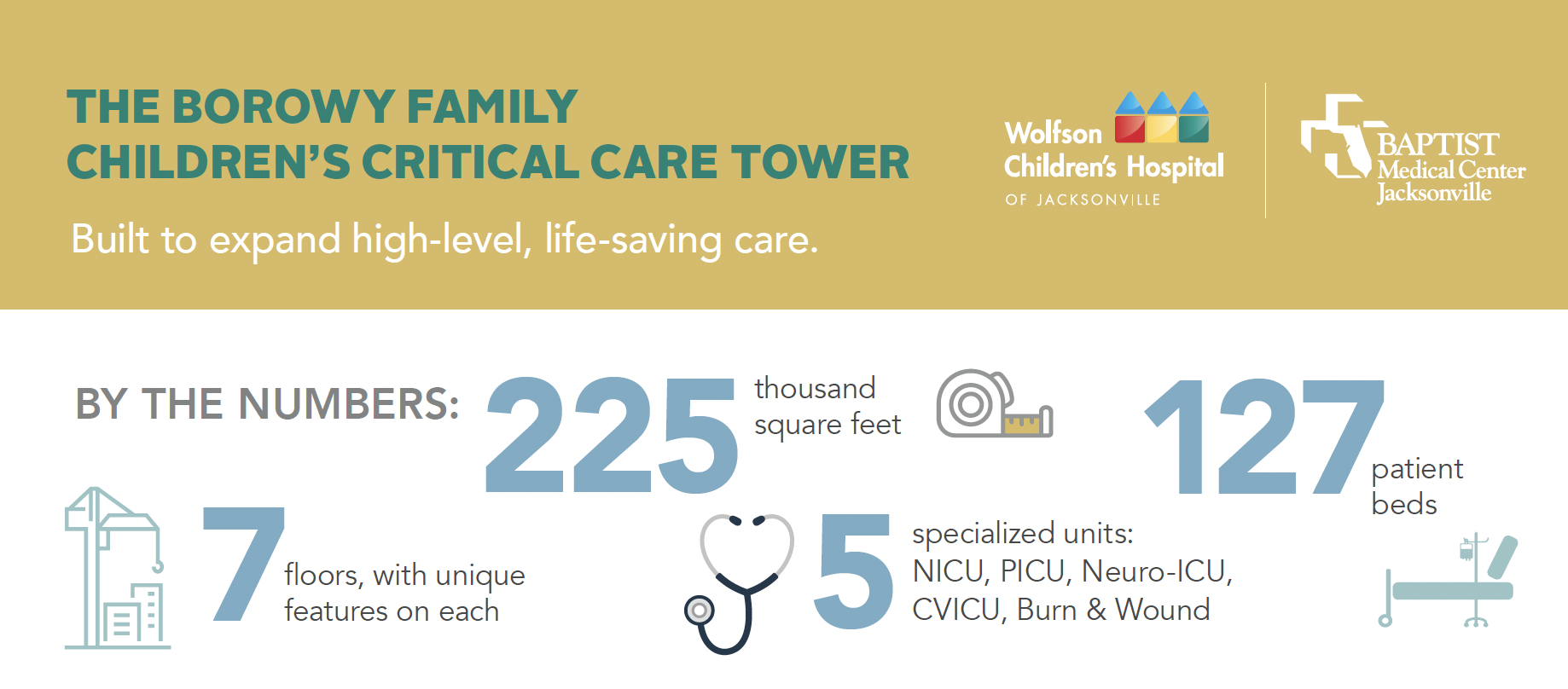 The Highest Level of Life-Saving Care
The region's growing number of critically ill and injured children will benefit tremendously from the increased space and enhanced resources at the tower, featuring updated facilities, such as:
A Neonatal Intensive Care Center with three separate NICUs, all adjacent to the newly renovated Chartrand Frisch Family Birth Center.
A Pediatric Intensive Care Unit, including a Neuro-Intensive Care Unit.
A Cardiovascular Intensive Care Unit and a specialty Burn & Wound Care Unit.
New technology such as the Embrace Neonatal MRI unit (first in the state of Florida!), which allows clinicians to get images of newborns quickly and quietly without leaving the NICU.
The new Getwell Network, an interactive "edutainment" platform that helps patients and their families take a more active role in their healthcare.
Seven Floors of Hope
Each of the seven floors in the Borowy Family Children's Critical Care Tower offers unique features and specifications.
1st Floor: Arrivals are made easy with an arrival court, four-lane drop-off plaza, and valet service, in addition to the Kids Kare Mobile ICU and dedicated ambulance bays. A spacious lobby and patient registration center welcome visitors — this includes the Amanda and Ashton Hudson Welcome Center and the Sutton and Debbie McGehee Family Children's Going Home Center. The warm, yet stunning atmosphere includes a grand staircase and Healing Arts installation. A large community room for meetings and education can also be found, as well as the ERG Philanthropy Center.
2nd Floor: Guests can see even more of the expansive lobby and atrium, as well as a Healing Arts installation, and connect to the P2 garage via the pedestrian Skybridge over Palm Avenue.
3rd Floor: For the tiniest patients, the C. Herman and Mary Virginia Terry Neonatal Intensive Care Unit (level IV, highest-acuity NICU) is here, in addition to private family rooms and access to Baptist Jacksonville Labor & Delivery.
4th Floor: The Dr. Thomas T.W. Chiu and Anna Shi Chiu Neonatal Intensive Care Unit (mixed-level acuity) can be found, as well as private rooms and the Embrace Neonatal MRI technology. This includes access to the 4th floor of Wolfson Children's Hospital.
5th Floor: Here, guests will find another NICU, two dialysis treatment rooms, and access to the 5th floor of Wolfson Children's Hospital.
6th Floor: The Clayton J. and Harriet Kicklighter Pediatric Intensive Care Unit (PICU) and the Frank and Marisa Martire Neuro-Intensive Care Unit are on the 6th floor, as well as several private rooms and five dialysis treatment rooms.
7th Floor: The top floor houses the Cardiovascular Intensive Care Unit (CVICU) and the Snyder Family Burn & Wound Care Center. There are also additional private rooms and five dialysis treatment rooms.
We are excited to welcome this exciting new medical facility to Jacksonville!
More About Wolfson Children's Hospital
Wolfson Children's Hospital is the only hospital just for kids in the North Florida and South Georgia region, providing care for children of all ages with congenital heart conditions, cancer, neurological disorders, orthopedic conditions, behavioral health disorders, and more.