Cruising for Christmas lights in Jacksonville can be a daunting task- driving from one side of this 800+ square mile city to the other. Finally Jacksonville has a light display that you can drive through nightly, in one location, all while listening to a synchronized radio station! With over half a million LED lights, Jax Illuminations has created a twinkling winter wonderland within minutes of the St. Johns Town Center!
We set out to experience Jax Illuminations Saturday night and I can definitely say there is nothing like it in Jacksonville. We were greeted with candy canes and owner, Chrystal, who is one half of Jax Illuminations (the other half is her fiancee and Technical programmer, James Bain). Jax Illuminations is not just another business, but a passion to create something amazing for the community of Jacksonville.
 Jax Illuminations isn't just a "company", it is really just myself and my Fiancé who fund it and work year around in addition to full time jobs to make this happen. James Bain is the co-owner of Jax Illuminations and the Technical Director, he designs, builds and programs the show each year. It takes over a month to build with a team of four. There are over half a million LED lights, over 6 miles of electrical cable, and countless hours of computer programming that go into making the show complete. Our passion for Christmas and our love of technology and lighting is what made us pull the money out of our 401Ks to make this happen.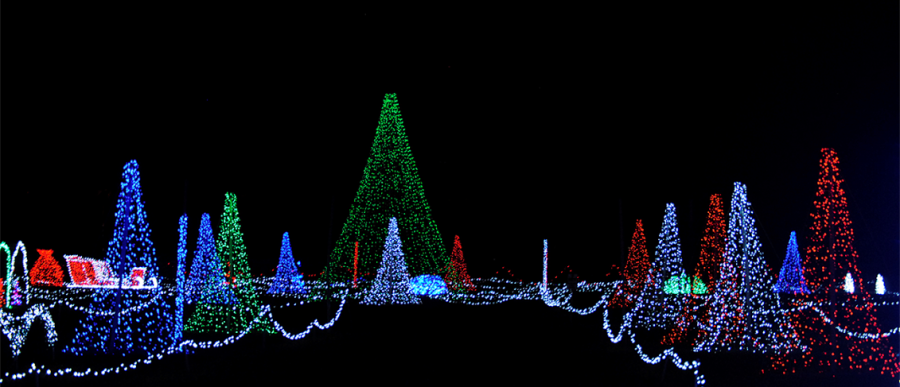 As we began our journey, we turned our car radio to the personalized station so we could experience the lights "dancing" to the music (the kids thought this was the coolest part). For the next 20-25 minutes, we were transported into an amazing light and music show that is unlike anything I have ever seen in Northeast Florida! Lights and holiday displays were out every window, even the sunroof!
The lanes are wide enough for cars to pull over, stop and admire any display, so we didn't feel rushed at all. In the middle of the drive is a light "tunnel" which made the kids squeal with delight.
Not only is this an amazing holiday family experience, but the couple behind Jax Illuminations have a social conscience as well. As a member Big Brothers Big Sisters for over 20 years, Chrystal's role as a "little sister" in the Nashville, TN chapter and her relationship with her "big sister" has made her realize the importance of giving back to the community.
We proudly support Big Brothers Big Sisters of Northeast Florida. When I was growing up I was a "little" and my relationship with my "Big" and her mentoring changed my life. My "Big" is Mia Bain, who now lives in Saint Augustine. We have "matched" for well over 25 years now . Mia owns St Augustine Historic Walking Tours and was influential in our decision to become entrepreneurs. 
This year, Jax Illuminations has partnered with the Department of Transportation's "Celebrate Safely" campaign and are passing out booklets with non-alcoholic drink recipes. And, as everyone exits the show they will see a large LED sign, "Celebrate Safely" – hard to miss and a great reminder.
Jax Illuminations is open nightly through January 4 from 6pm-9:30pm. They are conveniently located right I-295 at the Morocco Shrine Center, 3800 St. Johns Bluff Rd. South, 32224. Each car is $20 with a maximum of 7 people per car.
Get a sneak peak of what it's like: