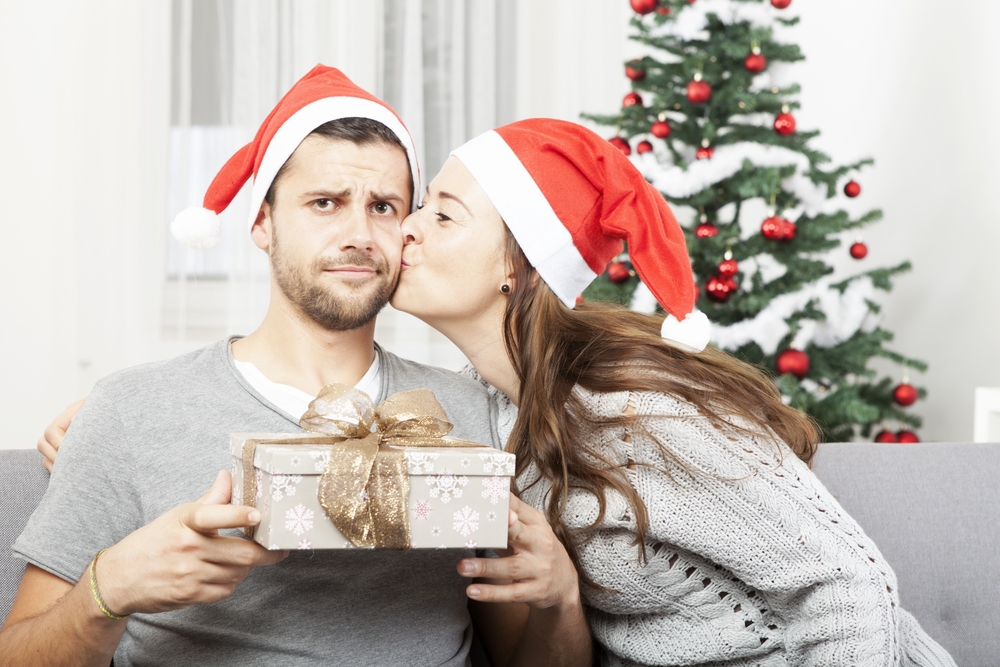 Men. They can be so simple — no disrespect meant, but emotionally, they're no female — yet so darn difficult to shop for. Why? I'm not sure. Maybe it's because many of our partners would be completely content with a cold beer, a turkey sandwich and a [insert sexual innuendo]. Or maybe it's because they already have a bazillion ties and 15 unused gift cards to The Art of Shaving.
Or let's be real, simply because it's just way more fun to shop for shoes and makeup. No matter, let dude shopping be the last of your holiday stressors! Here are a few fool-proof gift ideas for the special guy in your life — be him your husband, your dad, your brother, or your man friend.
For the Sports Fanatic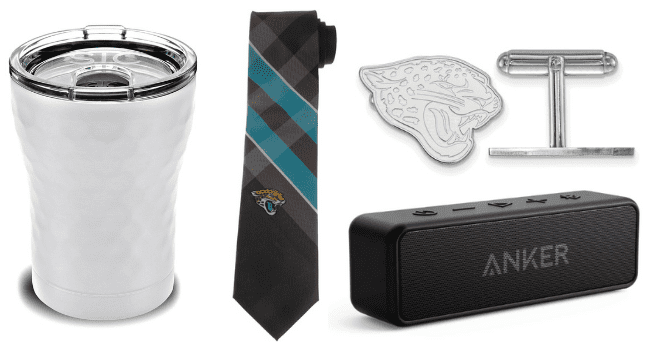 Sports lovers can be the easiest to shop for because there is just so much out there. For any Tiger Woods hopefuls, the new 12 oz. Hammered Gloss Cup ($20) from Siccups looks like a golf ball in cup form and holds a can of beer, cocktail or coffee, keeping it ice cold or piping hot for hours (if he's a slow sipper). When it comes to sports gear, Fanatics.com is a solid option. Standouts include the Woven Poly Tie ($24) and the Sterling Silver Logo Cufflinks ($100). Oh, and for the dedicated tailgater, a portable speaker is always a win — the Anker Soundcore 2 Portable Bluetooth Speaker ($40) is waterproof and boasts a 24-hour playtime, along with some solid reviews. Side note: I actually bought the Green Bay Packers tie (sorry, Jags fans) for my husband on his birthday — it's high quality and he loves it! He also loves taking his 27-oz. Siccup to the gym, just sayin'. Can't go wrong with any of these items!
For the Outdoors Enthusiast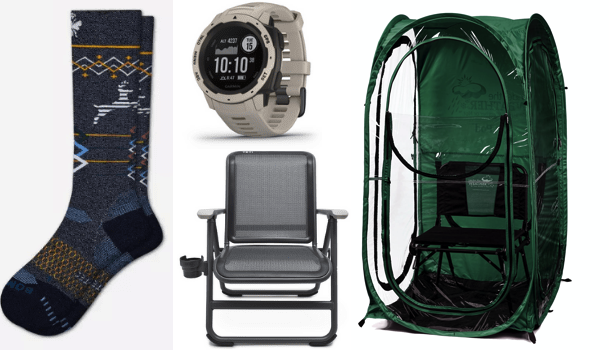 Originally designed for backpackers, the weatherproof MyPod Pop-Up Tent ($99) will keep him protected from the elements, whether at a sporting event, outdoor festival, the beach, or a hiking trip. Another outdoor option is the Garmin Instinct Watch ($300), a rugged GPS watch built to withstand the toughest environments. In case he needs somewhere to sit, the Yeti Hondo Base Camp Chair ($300) is durable and comfy to boot. Oh, keep his feet warm with a pair of Bombas Men's Performance Ski & Snowboard Socks ($24), which are pro-level wool socks. The best part? For every pair of Bombas purchased, a pair gets donated to those in need.
For the Guy Who Likes His Liquor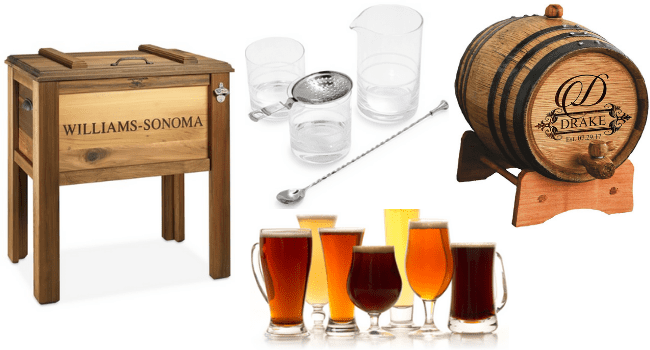 The Custom Oak Whiskey Aging Barrel ($80) comes highly recommended and is perfect if your man longs to age his own whiskey or wine — it can also be engraved with his name for that extra-special touch. If he's more of a cocktail connoisseur, the Crafthouse by Fortessa Mixing Glass Set ($100) at Williams-Sonoma will allow him to construct professional-level drinks at home. Or if he just needs somewhere stylish to keep his beer cold, their Red Cedar Wood Beer Cooler ($450) is a nice investment. And if nothing else catches your (or his) fancy, there's always the Beer of the Month Club (prices vary) — which sure beats Jelly of the Month (just ask Clark Griswold).
For the Dude Who Likes to Look Sharp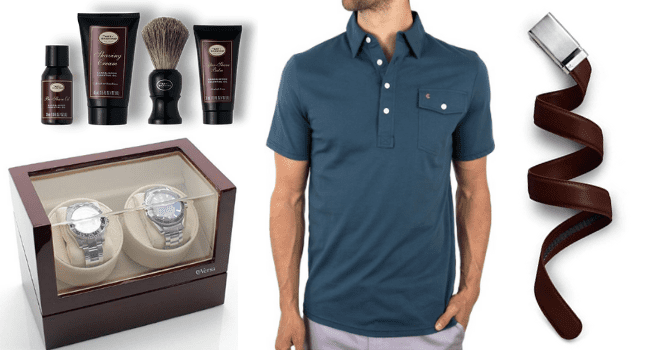 I won't use the word "metro," here, but there ain't nothing wrong with maintaining good grooming habits! If he's a watch collector, the Versa Elite Double Watch Winder ($100) is something you probably didn't even know he needed. If he's into popped collars, the Luke Wilson-endorsed Criquet Players Shirt ($79) is vintage-inspired and oh-so-soft. Also, the Mission Men's Leather Ratchet Belt ($37) is apparently all the rage with stylish guys. Oh, and it wouldn't be a proper Men's Gift Guide if I didn't include at least one shaving kit — the Sandalwood Shaving Kit ($95) is a good option. For the grooming gift that keeps on giving, consider a BirchboxMan subscription ($10/month).
For the Eternal Gamer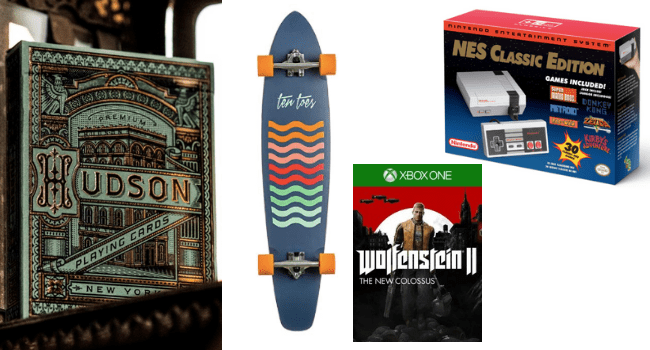 Because he doesn't spend enough time playing Diablo, Wolfenstein II: The New Colossus ($40) is newly released and is available for a variety of platforms. If card games are his thing, Theory 11 Premium Playing Cards ($10) are gorgeous and make for the perfect stocking stuffer. Surprisingly, a longboard topped my husband's wish list this year, and upon doing my research, the Ten Toes Bamboo Longboard ($50) is both quality and affordable. If he pines for his lost childhood and old-school Super Mario Bros., spring for the Classic Nintendo Entertainment System ($60).
For the Sentimental Guy
Personalized or homemade anything will do, from a calendar to a mousepad. But whatever you do, don't order those photo socks with your kids' faces on them, because they feel like compression socks — then again, we regifted them to my 70-year-old father, and he wears 'em daily. So it depends, really.
What's on your guy's holiday wish list?