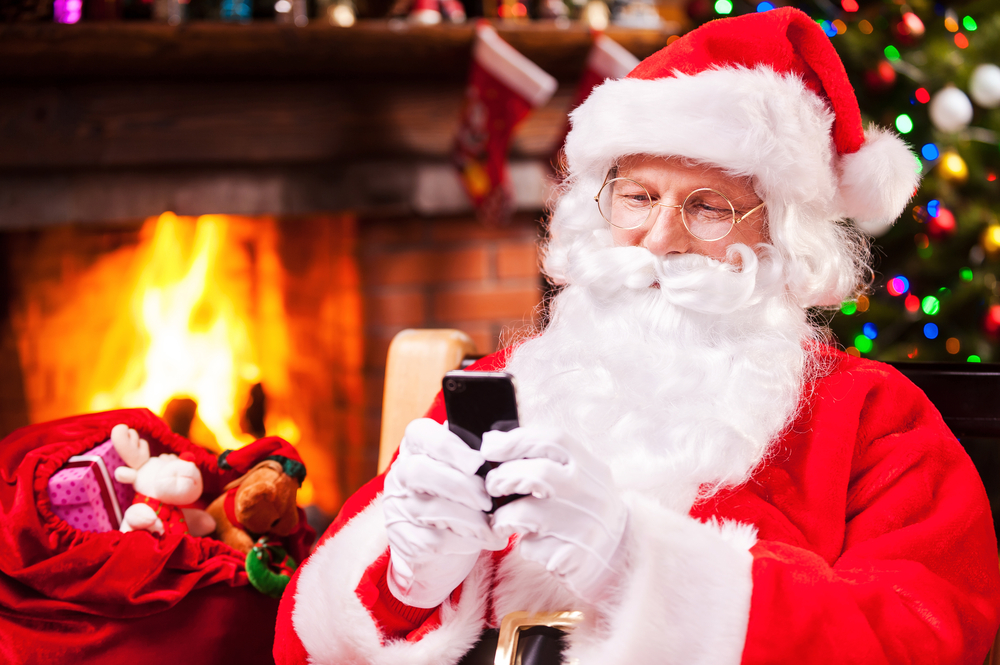 Take it from us, Christmas isn't canceled. Yes, your littles can still talk to Santa Claus this year — whether from the comfort of your own home (you're welcome) or via a socially-distant visit right here in Jacksonville! There are so many fun options to choose from (try one or try 'em all!), your kiddos are liable to promote Santa to BFF status come Dec. 26.
Easily Access Santa from Home
Call Santa's Free Hotline: Yes, Santa has his own personal hotline where your little one can leave a voicemail at the North Pole with all their Christmas wishes! Simply call (605) 313-4000, and you'll reach his voicemail where you can leave a message. The best part? Santa says, "Be sure to listen to your parents." Thanks, Santa! You'll then receive a text message where you can listen to your kiddo's recording and share it with friends and family. Standard calling and messaging charges may apply.
Receive a Phone Call from Santa (St. Johns County): For those residing in St. Johns County, the Parks and Recreation Department, along with assistance from the North Pole, is hosting Phone Calls from Santa this season for children under 8 years old. Parents must click here to register by December 4. (Select the Special Events tab and select a call date.) Santa will be making his phone calls December 8–10 from 6 p.m. to 7:30 p.m. For more information or registration assistance, please call 904.209.0379 or email [email protected]
Get a Virtual Visit from the Clauses: Book a one-on-one personalized video call with Mr. and Mrs. Claus through VisitWithTheClauses.com from the comfort of your home! Easily book your call with a specified date and time, and personalize the call by telling Santa about your little ones during booking. An email link will be sent for easy access. You select the duration of the call, anywhere from 5 to 30 minutes, and you can also order a digital recording of the call to treasure for years to come. For any Cameo fans, Santa also has his own fan club you can join! And check out more virtual Santa packages at KringleMingleFun.com.
Download One of Santa's Special Smartphone Apps: Download the Message from Santa app to try to reach the bearded fella on his mobile, or use his automated voicemail system to report naughty kids, forward the wishlist of nice kids, and more. (And the rest of the year, you can use it to keep your children from misbehaving.) For another option, check out the highly rated Portable North Pole app full of even more Kris Kringle fun!

Participate in Virtual Storytime & Cookies with Santa: Gather around your favorite device in your Christmas jammies and listen to Santa and Mrs. Claus read a holiday-inspired story and say "hello" to some special listeners on Zoom! Brought to you by Yelp, the Jacksonville Public Library Foundation, Mixed Fillings Pie Shop, and Salt & Honey, the virtual event takes place December 13 at 2 p.m. EST. Register on Yelp, and order your gourmet cookie pack ($26) here at MixedFillingsPieShop.com. Each box includes six gourmet brown butter toffee chocolate chunk cookies by Salt & Honey, six decorated holiday cookies by Mixed Fillings, a limited-edition Yelp Jax mug, and a packet of hot cocoa. The deadline to order cookies is December 3; 10% of the proceeds support the Jacksonville Public Library Foundation.
Enjoy One-on-One Virtual Storytime with Black Santa Jax: Enjoy a private virtual storytime with Santa, courtesy of Black Santa Jax! Santa will read an inspiring story and add your child to his Nice List. Select an available date, and book your 20-minute time slot here for $20. Check out Black Santa Jax for a variety of additional fun holiday experiences!
Say, 'Alexa, Call Santa': Use your Echo Dot and say, "Alexa, call Santa!" for all sorts of holiday fun! Just make sure FreeTime is enabled in your Amazon Alexa app. Google Home also has a similar feature.
Receive a Free Phone Call from the North Pole: Use ChristmasDialer.com to enter your phone number, select one of the automatic messages, and get an immediate phone call from Kris Kringle himself — or even one of his elves!
Check Out the NORAD Santa Tracker: A pandemic can't keep NORAD from tracking Santa's big trip around the world! The North American Aerospace Defense Command, which is responsible for protecting the skies over the U.S. and Canada, says it will be ready to follow Santa on Dec. 24 as he flies from the North Pole to visit children's houses all over the world. Typically, hundreds of volunteers are on hand to staff a special call center to update kids who call 1-877-Hi-NORAD to get Santa's location. But this year, in its 65th year, there will be a smaller number of volunteers answering calls in order to reduce the risk of viral spread. Starting Dec. 1, visitors can also visit NORADsanta.com for special apps, updates, and games.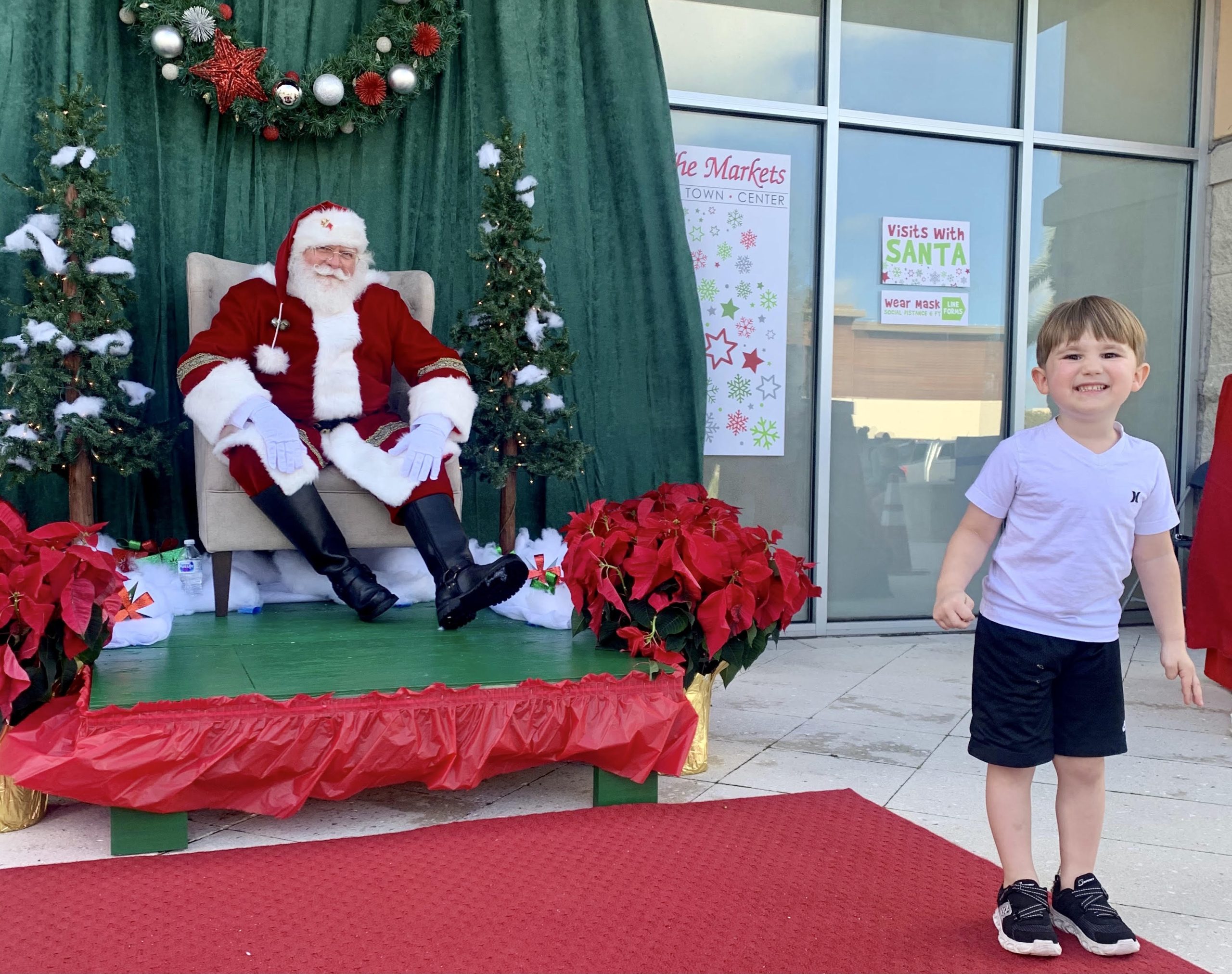 Socially Distanced Santa Visits in Jax
There are also several ways to chat with the big guy in person throughout Jacksonville! See a few of our favorites below, and check out our Where to See Santa In & Around Jacksonville guide for even more opportunities.
Enjoy the Santa Photo Experience at St. Johns Town Center: Yes, Santa Claus will be at St. Johns Town Center this year! A reservation is required, and for everyone's safety, your visit with the jolly guy will be socially-distanced. Santa and his helpers will be wearing masks throughout the duration of your visit, and guests are required to wear masks where mandated. Click here to select your date and book a reservation Nov. 27–Dec. 24.
Experience St. Nick on Amelia Island: The Amelia Island Welcome Center is being transformed into Santa's workshop for two weeks in December — Dec. 5–6 and Dec. 12–13! Boston Photography will be on hand to capture the magical moment for all to remember, as families are invited to peek in at Santa as he plugs away at his workbench making his list and checking it twice behind a set of beautiful glass doors. Guests will be able to enjoy a private, socially distanced visit in front of his work station for photos. Advance reservations required here. Note that there is no physical contact with Santa, and several safety measures will be put in place.
Visit Santa at Deck the Chairs: Before you check out the stunning annual lights display at dusk, don't forget to pop by for a visit with Santa from 3 p.m. to 5:30 p.m. in Jacksonville Beach! While you're there, be sure to stop by the Jacksonville Mom decorated chair in conjunction with Diaper Bank for Northeast FL!
Have Breakfast with Santa at Maggiano's: Enjoy a breakfast buffet with Santa at Maggiano's Little Italy in St. Johns Town Center! In order to keep you and your little ones safe, the entire team will be wearing masks for safety, and guests are required to wear masks when not seated at their table. Each reservation will be seated at their own individual table; tables will be spaced 6 feet apart. Purchase tickets here.
And don't forget to check out our Where to See Santa In & Around Jacksonville guide for more!