When I think about the reason for the season, Christmas always brings about happy feelings. I not only cherish my own childhood memories, but also current family experiences of sipping hot chocolate among the Christmas tree lights while listening to holiday music, our tradition of making an annual gingerbread house, and creating a mini snow land on our family room console table. Unfortunately, for the past few years, the season of hope, in all of the splendor of elaborate decorations, nativity scenes, and even my children's delight at their Elf on the Shelf's shenanigans, Christmas has also created an overwhelming sense of stress.
At first thought, one might assume that the stress comes from figuring out how to afford the gifts and other special experiences that come with the holidays. I recognize this is sometimes the case, but for me, it's not that type of stress at all. It's just the opposite. As I sit here counting down to Christmas, I'm overwhelmed just thinking about all the needless "stuff" that will likely consume our home. My children already have more toys than we have room for, and I can't think of one single thing I really need.
Like many parents, since our children were babies, we made (what I call) the mistake of getting caught up in society's "hype" of more = better. More decorations. More presents. More stuff.  We would secure the main items on their Christmas list, but then I found myself buying "filler" items. Yes, filler items. I'm embarrassed at it now, but at the time I thought more toys and packages created a more magical experience. Our lowest point was when our oldest child, then 5, asked us "Can I please take a break from opening gifts now?" The unfortunate thing is that it hasn't gotten much better since then.
So how do I finally tone things down and go from a "maxed out" to a "minimalist" Christmas when our children are accustomed to waking up to the equivalent of a mini toy store? To start, I've reminded myself that they don't even want half the stuff they receive. Last year, there were several gifts that we re-gifted to them because they had never been opened from the year before! Each year I remind my children and myself that Christmas is Jesus' birthday, not their birthday. So why so much stuff? I imagine I can't be the only one who needs an intervention.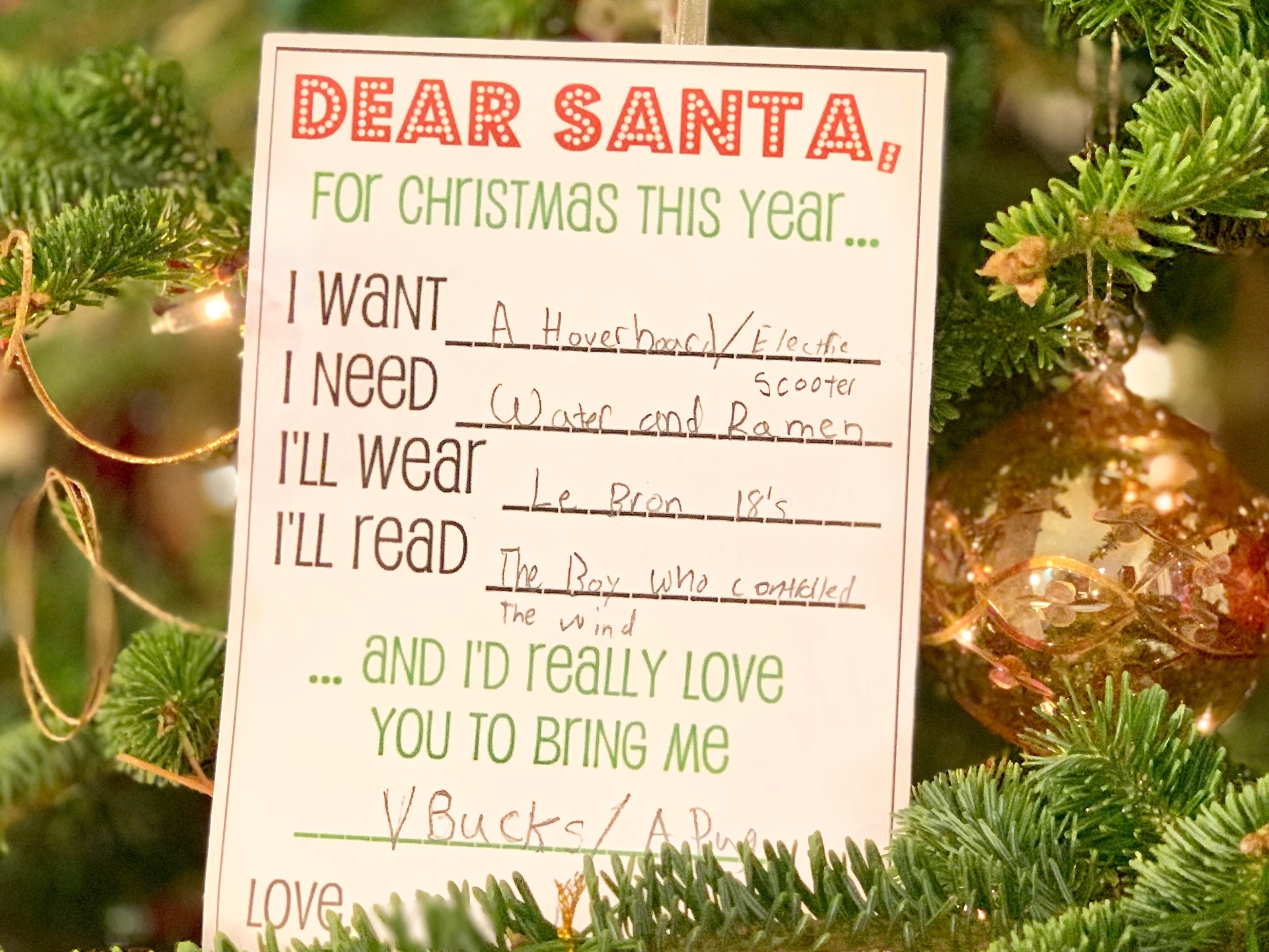 Now I'm trying to figure it out for our family — just how much enough is enough? This year I've decided to try something one of my close friends has used with her children since they were born. Even though my children had already written their letters to Santa, I had them re-write them using a four-part template asking Santa for:
1. Something they want.
2. Something they need.
3. Something to wear.
4. Something to read.
I reminded them that, if they stayed on the nice list, my husband and I would also get them a gift, and they would pick out a gift for each other. My goal isn't to take away the joy of receiving gifts. I just don't want to give them so much that it becomes an expectation and they begin to feel entitled, without considering the reality that (even when it comes from Santa) everything has a cost.
I explained to them that I had been thinking about all the children who might not get any gifts for Christmas this year. It spurred a great conversation about how the holidays should be focused on giving and not receiving. We talked about the abundance of toys and games they have that they don't even play with, and the need to share and help others.
So wish me luck on my journey to a minimalist Christmas! I'm really excited about taking the first step toward transforming this holiday into something more meaningful for our family by minimizing the stuff. And if you're also looking for ways to simply Christmas this year, here are a few other ideas I'm considering:
1. Asking family members to gift my children a class, subscription, or experience, instead of a toy this year. This could be an art class, cooking class, sports magazine subscription, tickets to an upcoming show, or even to the museum. There's no clutter created, and the gift can range from a set of movie tickets (where they pick the movie) to annual passes to Disney.
2. Adopting a charity as a family to support for the year. This can be anything from helping with beach cleanups, to feeding the homeless, to visiting sick children or nursing home patients, to raising money and walking for a health cause. Just the exercise of having this discussion puts the focus back on the real reason for the season.
3. Focus more on deliberate family time together this holiday season. As sad as it is to admit, there have been holidays where I spend so much time buying gifts, online searching for gifts, or wrapping gifts, that I missed many of the "moments." Despite my children's addiction to their electronics, I know how much they value quality family time. One of my children was playing an online game with a friend recently when I told him it was time to wind down. When his friend asked why he had to go, he proudly replied, "We're about to have our family game night!" So I'll use that as my reminder this holiday season that my presence is more important than the presents.