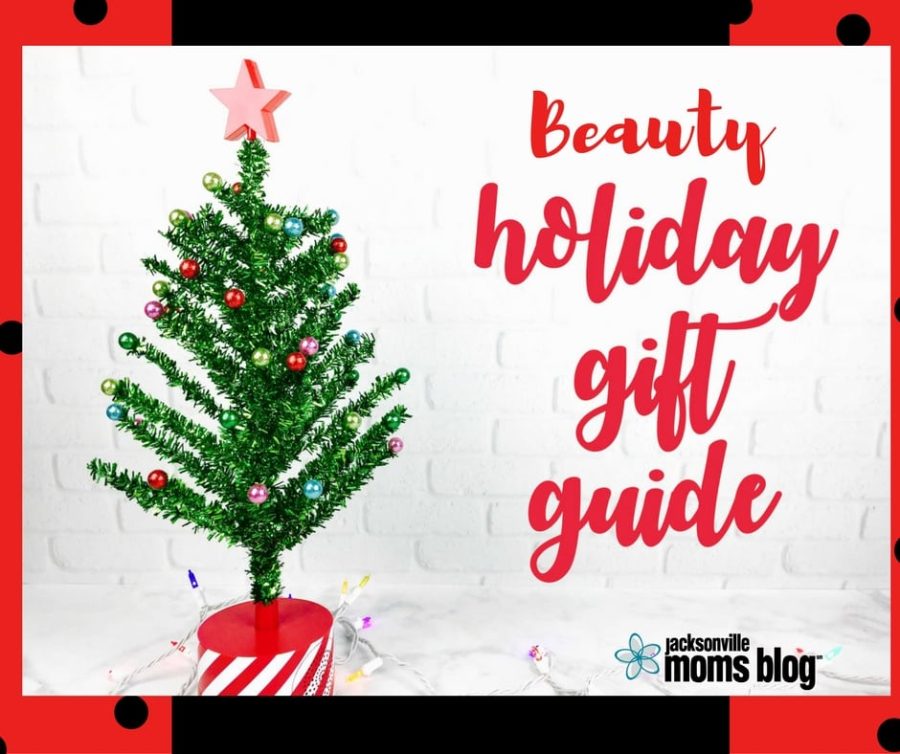 As a professional makeup artist, the holidays are one of my absolute favorite times of the year. Every seasoned beauty lover knows that when beauty retailers release their often limited-edition holiday collections, it's time to STOCK UP! I recently went to one of my favorite beauty hot spots, Blue Mercury, and picked up a few of my favorite things to give as gifts (and maybe I got a little something or two for myself). Beauty products and gift sets make the perfect present for those tough-to-shop-for girlfriends, sisters, mothers, in-laws, coworkers… essentially any special gal in your life. See a few of my favorite gift recommendations below — or consider adding some of these items to your own wish list!
Nothing makes me happier than a deliciously scented holiday candle, and NEST makes the most amazing ones. These soy-based scents may be pricey, but they don't stain your walls — did you know that candle smoke does that? — and they have a long burn life. The NEST Holiday Candle Trio Set ($60) is a go-to for me every holiday season.
If you're into makeup (aren't we all?), then you know you need to have a good, quality set of brushes to get the best look, and NOW is the time to stock up because you get the most bang for your buck. I love this Bobbi Brown Travel Brush Set ($160) — it comes in a luxurious, velvet-lined zipper clutch so your brushes will never get smooshed during your holiday travels.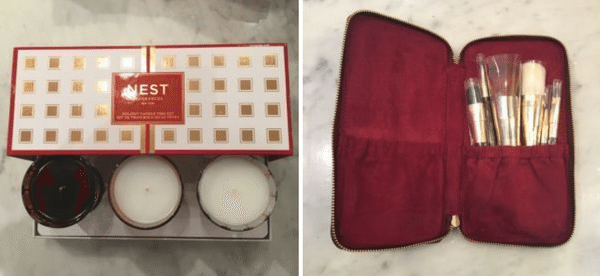 Everyone likes a good manicure during the holidays, right? This Smith & Cult Nail Collection ($50) includes some gorgeous polishes in essential fall/winter hues — a neutral, red and a deep berry/burgundy color. All the heart emojis!
Also, if you've been following my posts, you know that my ALL-TIME FAVORITE ITEM from Blue Mercury is their M-61 Power Glow Peel Pads. They are AMAZING! For the first time this year, they've come out with the M-61 Travel Set ($58), perfect for the frequent (or even occasional) traveler.
Sheet masks are also all the rage right now. If you haven't experienced this skincare luxury, you'll likely have FOMO — so run out and get one! Florapy's Sheet Mask Collection 8-Pack ($56) comes with a variety of options, whether you're looking to detoxify or hydrate your skin. Sure, you may look like Hannibal Lector for a few minutes, but it's worth it in the end.

NARS also recently came out with a new collection and, oh, man… perfection isn't even the right word for it! The Sarah Moon Collection has come out with the limited-edition Look Closer Eyeshadow Palette ($49) for creating the perfect smokey eye (#MakeupGoals). It also includes my favorite Larger Than Life eyeliner in Via Veneto. The buttery shadows and liner go on so smooth, yet they stay in place all day! And the True Story Cheek and Lip Palette ($59) is flawless; if you're a fan of that perfect pink flush, this baby is for you. It includes a few shades of pink, a highlighter and the perfect red lipstick. Last, but not least, I grabbed four ideal shades of NARS Lip Gloss ($26 each), perfect for every skin tone in nude, pink, red and burgundy. Because, really, that's all you'll need to get you through the holidays… and through the whole year!

Have you ever laid eyes on such a cute travel touchup kit? Trish McEvoy thinks of everything! Her Voyager Kit ($98) comes with all your essentials in one little kit. You can't beat it for the price, and every woman would love one in their stocking!
Hourglass has always been known for their perfecting powders. Their Ambient Lighting Edit palette in Surreal Light ($80) will give you an impeccable glow and suits all your powder needs — bronzer, blush and face powder.
Jacksonville Moms Blog Exclusive Blue Mercury Offer
The Jacksonville Blue Mercury location (4742 River City Dr.) is having their holiday party on Wednesday, December 7, complete with makeup tutorials (you might even see me there!) Bonus: They are offering all JMB readers an exclusive offer! The more you spend, the better the discount: 10% off $100, 15% off $175 and 20% off $250.* Pre-orders can be made on Tuesday, December 6.
If you didn't catch my beauty segment on The Morning Show last week, check it out for more holiday gift ideas!
So, tell me, what beauty products are on your Christmas wish list?
*Must mention Jacksonville Moms Blog in order to receive discount.