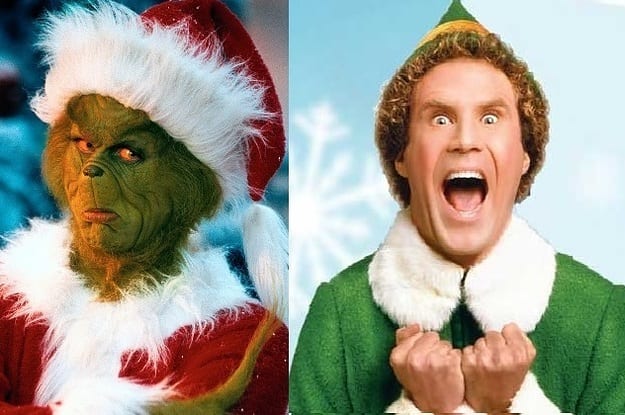 When it comes to the holidays, my husband and I are basically a mix of Buddy the Elf and the Grinch. I start getting excited about Christmas pretty much as soon as the Halloween madness ends. I love the decorations, the music, the holiday spirit, and all of the festivities that come along with Thanksgiving and Christmas. Growing up, Christmas was always a fun time in our house. My mom loves to decorate, and she still has many of the same music boxes and decorations I recall from my childhood. I fondly remember many of our family traditions from growing up, and I have loved passing along these traditions to my children.
My husband does not enjoy the same fond memories from his childhood. Christmas wasn't a huge celebration in his family, and he mostly remembers fights or family gatherings gone wrong. Once he went to college, he avoided going home for holidays as much as possible.
Before children, my husband tolerated my Christmas joy with an eye roll and smile. The good news for me was that we always got to spend the holiday with my family. He had no interest in visiting his family, so trekking across the country to see mine never caused a fight. After a few years of joining our family traditions, he actually seemed to be enjoying himself over the holidays. I mentally celebrated his transformation. I was convinced he just needed to be part of a happy celebration to see the joy of the holidays.
Once our daughter was born, disagreements on starting our own family traditions began to bubble up. She was 6 months old on her first Christmas, and he insisted that we stay home. I wanted to be with my extended family, but I appreciated that he wanted to be in our house and start our own traditions, so I went with it. I'll be honest, it was my first time ever being bored on Christmas. With no siblings or other family members around, it felt like just another day. Our daughter napped most of the morning, and we actually forgot to open gifts until after lunch. Not the most memorable of holidays.
The next year, my son was born just a few days before Christmas, so I honestly don't even remember much of the holiday or the days surrounding it. It was all a newborn blur. As the kids grew in to toddlers, I was finally ready to do all the fun Christmas things I had always wanted to do with my own family! Our holiday decoration collection started to grow as the kids and I picked up fun things while we were out. With each singing reindeer toy or light-up lawn decoration, I received plenty of eye rolls and grumbling from my husband. When it was time to decorate cookies, my husband would complain that it makes too much of a mess, and we don't need the sweets anyway. At least, for the sake of the kids, he would make an effort when he had to. He has always helped put the tree up, I just handle all of the actual decorations. He has reluctantly hung Christmas lights because the kids get so excited about them each year. And on Christmas morning, the children's joy is infectious as they are so excited about each and every thing they discover, and I have caught him smiling and genuinely happy.
But as the kids have gotten older, and life has gotten more complicated, I can sense the force of the Grinch will be strong this Christmas. We have already had several fights about upcoming holiday festivities. My husband has been struggling with depression the past few years, and the holidays are especially difficult and stressful for him. We recently moved, and when I tried discussing the best location for the tree in the new house, he declared that the idea of a Christmas tree was stupid, and we shouldn't even bother this year. At first I thought he was kidding, but he actually has no interest in the tree or any decorations. He has declared that he won't be putting up Christmas lights this year because he has too many other things to do around the house. It makes me so sad that he genuinely sees no joy in the season. I thought he was coming around the past few years as we started our own family traditions, but this year it is clear the Grinch is back.
I am trying to handle each situation as delicately and reasonably as I can. I don't push for him to attend holiday parties or every event with the kids. I will pick and choose which activities are truly important, and let the rest go. I know the true joy of the season is in spending time together and enjoying time with our family, but that is hard when one member of the family is always so cranky. My visions of our family of four decorating the tree while listening to Christmas music or sipping hot cocoa while cruising around looking at lights will most likely be a family of three with the Grinch at home on the couch. And that will just have to be okay.
Does anyone else struggle with their significant other around the holidays?