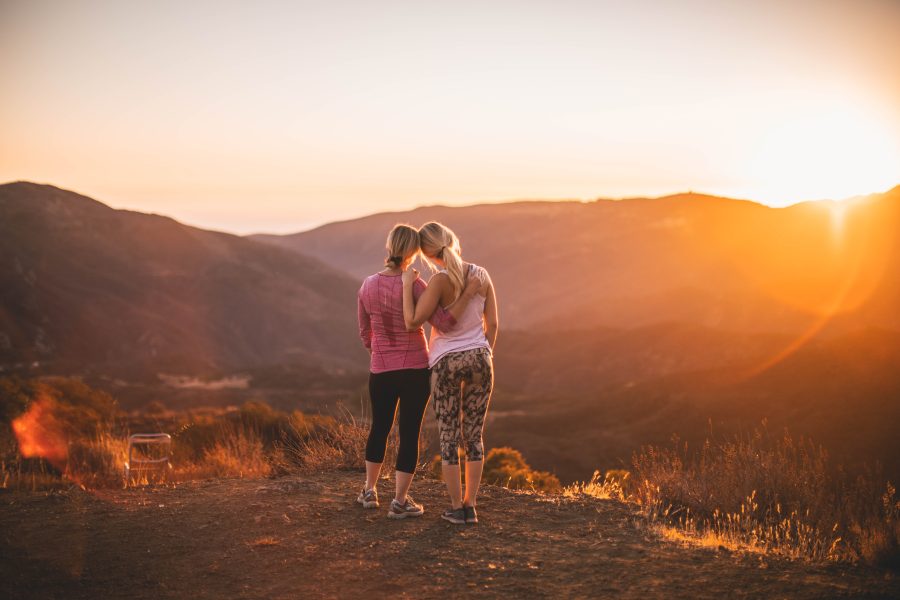 Let's face it, we're all having a hard time right now. We've been quarantined forever, and while it's necessary, it's still tough. With no one but our spouses and our kids to keep us company, and a constant barrage of terrifying updates on the news, it's no surprise that we're all worried about how we'll ever survive this. If you're anything like me, you're desperately missing your friends, who provide the ability to escape your kids for a while and feel like an adult. The chance to have families meet up for a cookout at your house. Double dates with your best couple friends. It's awful to go without your friends, and I'd give anything to see mine right now.
But.
You don't want to be the Target girls. Haven't heard of them? They're a trio of friends who bragged about taking a non-essential trip to Target, admitting they were violating safer-at-home orders because they wanted some girl time and laughed about "going against the norm." Let's just be clear: Putting people's lives at risk for a frivolous outing with friends is not cool. It sucks being cooped up at home, without our friends and with nothing to do, and feeling normal for a little while is tempting. But ultimately, it's not worth risking people's lives, especially people who are vulnerable or high-risk.
Fortunately, there are tons of ways to get us through this hardship while still staying connected with our friends.
Marco Polo
My personal favorite, Marco Polo has been a godsend for years. It's become especially helpful in recent weeks, though. If you're not familiar with it, the Marco Polo app is kind of like a cross between texting and video messaging. You can use it one-on-one, or in a group, and send video chats on your own time. While FaceTime and Zoom are great, you don't have to meet at a specific time to send a Polo or immediately watch the ones your friends have sent. You can view them on your own time, and respond on your own time. I've got a years-long conversation going on with one of my closest Down syndrome moms, who lives in Chicago, as well as group chats which include friends who literally live all over the world.
And let me tell you, it is so helpful to be able to talk to your friends, to see their faces, to get your stresses and frustrations out, or just have a casual chat. It brings a bit of normalcy to a crazy time, but even better, it's that much-needed connection we've all been missing. There are no likes, no ads, no social media posts, and no fees. It's pretty much perfect.
Schedule a Zoom or FaceTime Meeting
While Marco Polo offers spontaneity, you can't simultaneously talk to your eight closest friends and have a conversation together, at the same time. And yes, it is true that these have to be scheduled, but that can be a good thing. When you're having a long day, knowing that at 9 p.m. you'll have a virtual happy hour meet-up with your besties can help you get through those last few hours. You can celebrate milestones, vent about your kids, set up games like Charades or trivia, do online karaoke — you can even work out together using the share screen option. If you've been missing your group yoga classes, for example, then just head over to YouTube and find your favorite option, and get your fit on together.
Netflix Watch Parties
I used to be in a moms' group before I moved, and every finale of The Bachelor or The Bachelorette, we'd have a watch party together. Everyone would come and bet on who the final pick would be, we'd all bring our favorite snacks, and we'd drink wine and eat chocolate together while watching the ultimate chick show. That's not an option now, but it was so much fun.
Enter Netflix, which has just released a Google Chrome extension called Netflix Party. With it, you and a group of friends can stream your favorite shows or movies together, with a chat feature on the sidebar so you can chat while you watch. Everyone has to have a Netflix account to use it, but otherwise, Netflix Party is free!
Host a Virtual Game Night
Game nights with groups of friends can be so much fun, and they don't have to be completely canceled. Have fun with it, and go all out! Share some recipes ahead of time so everyone can enjoy your famous buffalo chicken dip or guacamole, and make a date for game night. You can use Zoom or FaceTime, whatever messaging app everyone likes best, and then pick your game platform of choice. And trust me: There are a lot to choose from.
Jackbox Party Games are fun; only one person has to purchase the game pack, but you can send out the link for everyone to play along for free, and you use your phone as the controller. The games are wacky and hilarious and tons of fun. Or you can try the Tabletop Simulator, which lets you play board games online with your friends — you can even create your own. You can also set up an epic game of Cards Against Humanity, or another favorite card game. Either way, you can still organize an awesome virtual game night that's almost as good as doing it in real life.
How are you keeping in touch with friends right now?