It's that time of year! No, not that time when we're blissfully gazing at Christmas lights or reveling in family togetherness. It's that time of year when parents everywhere frantically try to figure out the best presents to give their kids while getting absolutely no credit for it (thanks, Santa!).
Some parents — probably the same moms who are always dressed impeccably well, host perfect play dates and whose cars never have trash and Goldfish crumbs littering the seats — are wise enough to plan ahead throughout the year, so they aren't rushing all December to do their shopping.
I, however, am not one of those parents. It's already December, and I have done exactly zero Christmas shopping. But fear not, all you procrastinating moms just like me! Jacksonville Mom is here to the rescue, with the ultimate 2019 holiday gift guide for kids, with the hottest toys helpfully arranged by age, in the hopes of making your holiday season just a little bit easier. (If anyone wants to thank me, I'm a size "spa day at the Ponte Vedra Inn & Club," just so you know.)
Babies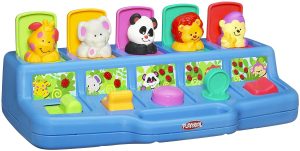 Playskool Poppin' Pals ($23) is a classic, beloved by babies for decades, and it's for good reason. It's entertaining, sure, but it's also great for helping with their development. The bright colors, shapes, and animals help them learn while pushing, sliding, pulling, and twisting helps exercise their fine motor skills. This one is a real win-win!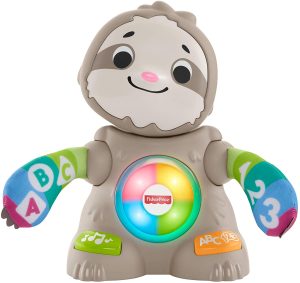 Linkimals are great toys in general, but if your kids are anything like mine, then they watched "Zootopia" and LOVED Flash. Sloths are definitely having a moment right now, and the Fisher-Price Linkimals Smooth Moves Sloth ($30) plays music, dances, and lights up. He also counts, says the alphabet, names colors, and has other educational fun. It's perfect for babies nearing toddlerhood, and as a bonus, if you have other Linkimals, put them together and watch them sing and play together!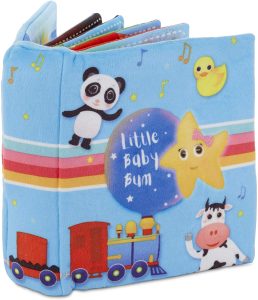 If you've got a streaming service, there's a good chance your baby has found "Little Baby Bum" and become addicted to the nursery rhyme songs and cutesy animation. The Little Tikes Little Baby Bum Singing Storybook ($25) sings the same songs from the show, and helps them learn letters, numbers, colors, and more, and is sized perfectly for those adorably chubby baby hands.
Toddlers
I know, I know… don't hate me! But let's be real; every toddler LOVES "Baby Shark," and the WowWee Baby Shark Dancing Doll ($30) will be a big winner come Christmas. It's not only a perfectly plush toy that your toddler can cuddle with; it also sings and dances the "Baby Shark" song, as well as a couple of bonus songs.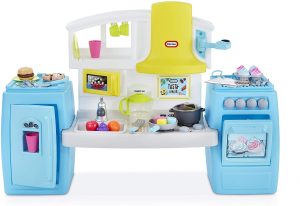 You know those insanely delicious recipe videos you see on Facebook and Buzzfeed? Those are from Tasty, and now they have an awesome Little Tikes Tasty Jr. Bake 'N Share Kitchen Role Play Kitchen & Activity Set ($100) that will delight any toddler. It starts out wide and low and then grows higher as your toddler grows. There are some test recipes they can make, and even a smartphone holder so they can take pictures and share their yummy meals!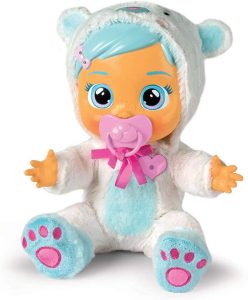 Toddlers are known for loving baby dolls, but the Cry Babies Kristal Gets Sick & Feels Better doll ($50) takes them to the next level — it's just like a real baby (which might drive YOU crazy, but hey, as long as it keeps the kid happy, right?). When you take out Krystal's pacifier, she cries real tears, and she gets "sick." She coughs, runs fevers, and gets flushed. When your kiddo takes care of her with lots of snuggles and medicine, Krystal gets all better.
Big Kids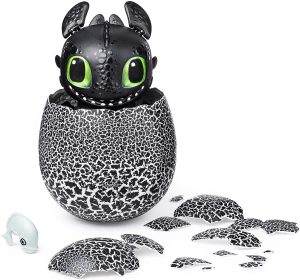 The How To Train Your Dragon Hatching Toothless ($60) provides endless opportunities for imaginative play. It starts out as an egg, which interacts even inside the shell with glowing eyes and growls, and even interacts as your kid taps from the outside. Once he hatches, Toothless can fly and make plasma blasts. He responds when he's asked questions, likes playing games, and can even be fed. It's the perfect gift for an adventure-loving child!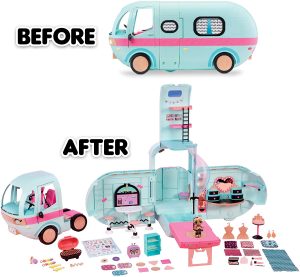 L.O.L. Surprise! dolls are insanely trendy right now, and the L.O.L. Surprise! 2-in-1 Glamper Fashion Camper ($100) is the latest must-have accessory. The glamper includes numerous surprises, an exclusive L.O.L. Surprise! doll, 10 hang-out areas, and a car that detaches, complete with a horn and headlights. There is 360 degrees of interactive play, and it accommodates all the different sizes of dolls.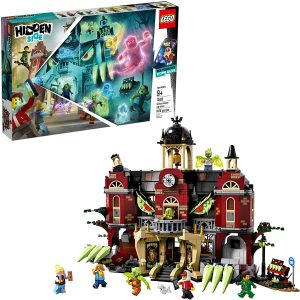 LEGO is always popular, but the new LEGO "Hidden Side" series is incredible. Each set — a graveyard, a high school, and so on — is tons of fun on its own, with interactive pieces they can build and play with. But what sets it apart is the possibility for virtual reality. With the smartphone app, they can hunt for ghosts, find evidence and clues, and truly immerse themselves into the story, all while the LEGO set interacts with the app itself.
Preteens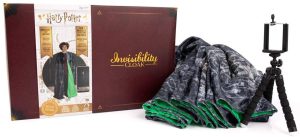 If your preteen is a Potterhead, then the WOW! Stuff Collection Harry Potter Invisibility Cloak Deluxe Version ($80) is the gift to get them. This invisibility cloak is just like the one Harry wears in the movies, and it comes wrapped in Christmas paper, with the same note given Harry got from Dumbledore. It can be used for cosplay, but even better? With a smartphone or tablet, they can actually become invisible.

Yes, Hydro Flasks are known as the must-have accessories for VSCO girls, but they're definitely trendy for preteens of all kinds. They're not just cool, too — they're actually useful. They keep hot drinks hot and cool drinks cool for hours and hours, and they come in tons of different colors (not to mention the sticker trend), so it can be customized to exactly what your preteen likes.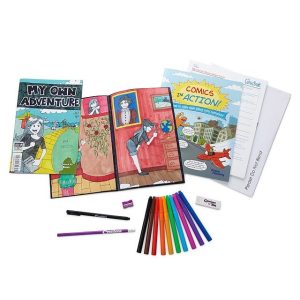 For all you mamas of artistic kids, the My Comic Book Kit ($30) is the gift for them. This comic book kit lets them create their own story, with preformatted pages that come with instructions and helpful tips. After they're done drawing and creating, you mail it off, and it's returned as a professionally bound comic book, complete with an author's bio page all about them.
Teenagers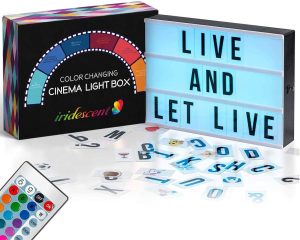 Light-up cinema boxes are having a moment right now, and teens will love this Color Changing Cinema Light Box ($43), which changes different colors, thanks to the bright LED lights in it. This little bundle also comes with multiple light settings, like "flash" and "strobe," as well as both letters and emojis. They can leave messages for everyone else in the family, notes for themselves, or just use it as fun room decor.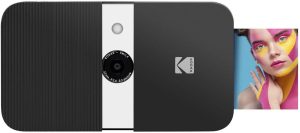 Remember those iZone cameras from the 2000s that printed out little strips of photos? They were insanely popular when I was in high school, and this camera will probably be a huge hit with teens today, too. Of course, the Kodak Smile Instant Print Digital Camera ($100) one is a digital camera, and the size — not to mention quality! — of the pictures printed are much better. The photos print on sticky-backed paper, so they can instantly be placed in scrapbooks or on lockers, making it great for teens to use with their friends.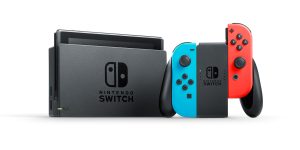 Yes, the Nintendo Switch ($300) is the priciest item on the list. But if they don't already have a Nintendo Switch and you want a gift that's going to make your teen jump up and down screaming, this is the thing to get. It's both a home and mobile video game system, combining a home video game experience with the portability of a handheld game. It can be played alone or with friends, can be used as a handheld or synced up to your TV, without ever losing the progress they've made in their game.
What are you getting your kids for Christmas this year?