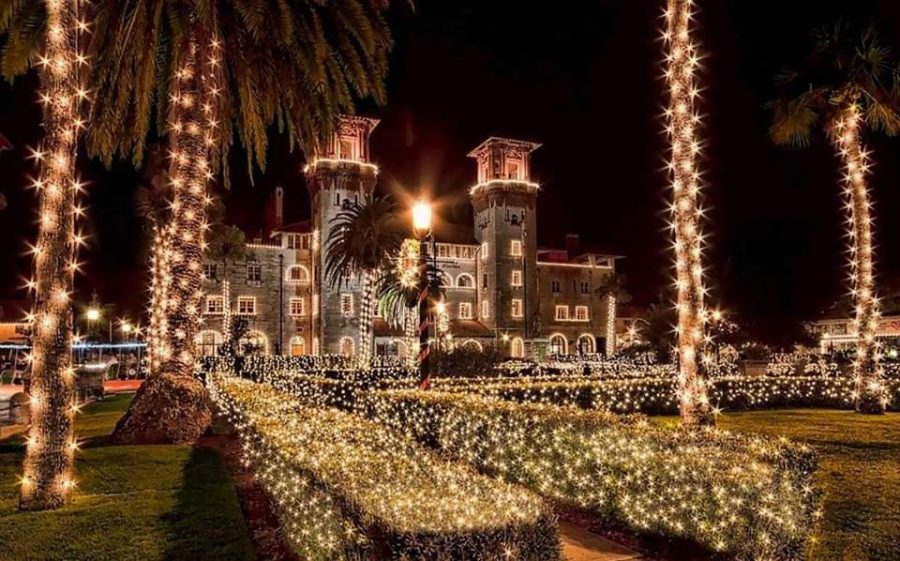 It's just barely fall, but it's almost time to start getting ready for the holiday season. And in the First Coast, that means one very exciting thing: Nights of Lights! Whether it's for a family outing or a romantic date night, people from all around north Florida — and really, all around the world — flock to St. Augustine to take in the sights.
But of course, things are different this year. Thanks to the COVID-19 pandemic, everything has changed. Social distancing and mask-wearing have become the new normal. Events that could be too crowded are canceled, scaled back, or hosted virtually. So what will that mean for our beloved Nights of Lights?
Let's start with the good news: The Nights of Lights is kicking off earlier than usual this year — November 14! They run through January 31 and are entirely outside, so it should, in theory, be easy enough to stroll around the Historic District and take in the sights while still social distancing. Some awesome spots for selfies or family pictures are along the Bridge of Lions, and the Plaza de la Constitución. The bridge offers some spectacular panoramic views of the riverfront, while the plaza showers you with trees festooned with thousands of lights — and the beautiful Christmas tree.
Other businesses are finding new ways to continue their Nights of Lights traditions during the pandemic. Villa Zorayda is halting its famous candlelight tours, but they're still offering evening tours to celebrate Christmas. Guests will be spread throughout the museum, properly socially distanced, and the museum will go dark, only for the Christmas tree to light up, and then each floor re-lit one by one. The general manager of Old Town Trolleys told WTLV that they're preparing for the crowds with plexiglass shields between each row of seats, required face masks, and hand sanitizer required before boarding.
The St. Augustine Lighthouse & Maritime Museum will be hosting their FREE Luminary Night on the first Wednesday in December. Two thousand luminaries are placed around the historic site, kids can make fun crafts, and there's even a visit from Santa! There are also TONS of other events: boat parades, a Holiday Regatta of Lights, a Christmas parade, fireworks, historic events like the Changing of the Guard, the Arts and Crafts Festival, and more.
Things may be different with COVID-19 cramping everyone's style, but it doesn't have to ruin our holiday spirit. Don't miss out on one of the First Coast's most beautiful and exciting must-sees, starting in just a few months.