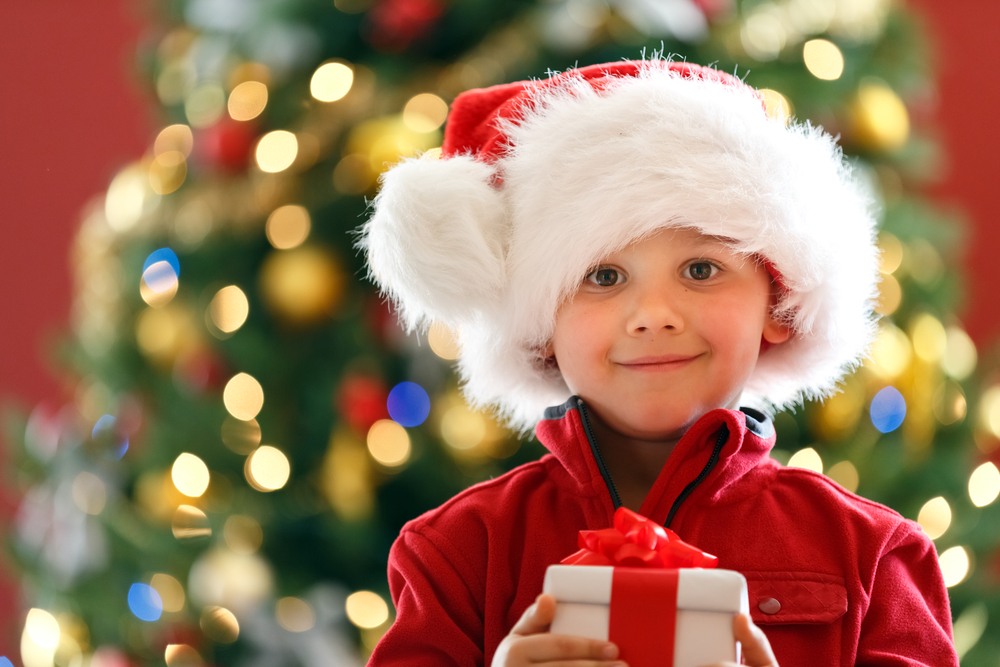 Since 2015, we have created a printable calendar for the month of December that we call our Kindness Calendar for Kids. Because 2020 (obviously), and everyone, everywhere could use a little more love and kindness, we decided to extend the Kindness Calendar by a few days. For the first time ever, we are including Thanksgiving and the last few days of November. That means this year, there are 36 days and 36 ways to show kindness. We are pleased to bring you an updated calendar for 2020 — complete with more resources on how to give. Each day, there is a suggestion for a random act of kindness that even your youngest child can do to show friendliness, gratitude, consideration, and generosity.
Our hope is that these small acts start a conversation about giving and gratitude with our kids, inspiring us to do more for those around us. Similar to last year, we have included links below to several of the resources mentioned on the calendar, which will have additional information including wish lists, addresses, how to donate, and more, so be sure to bookmark this page throughout the next month!
We would love to see your little ones in action! Download the calendar now, and use the hashtag #JMKidsGiveBack so we can see all the good happening here in Jax.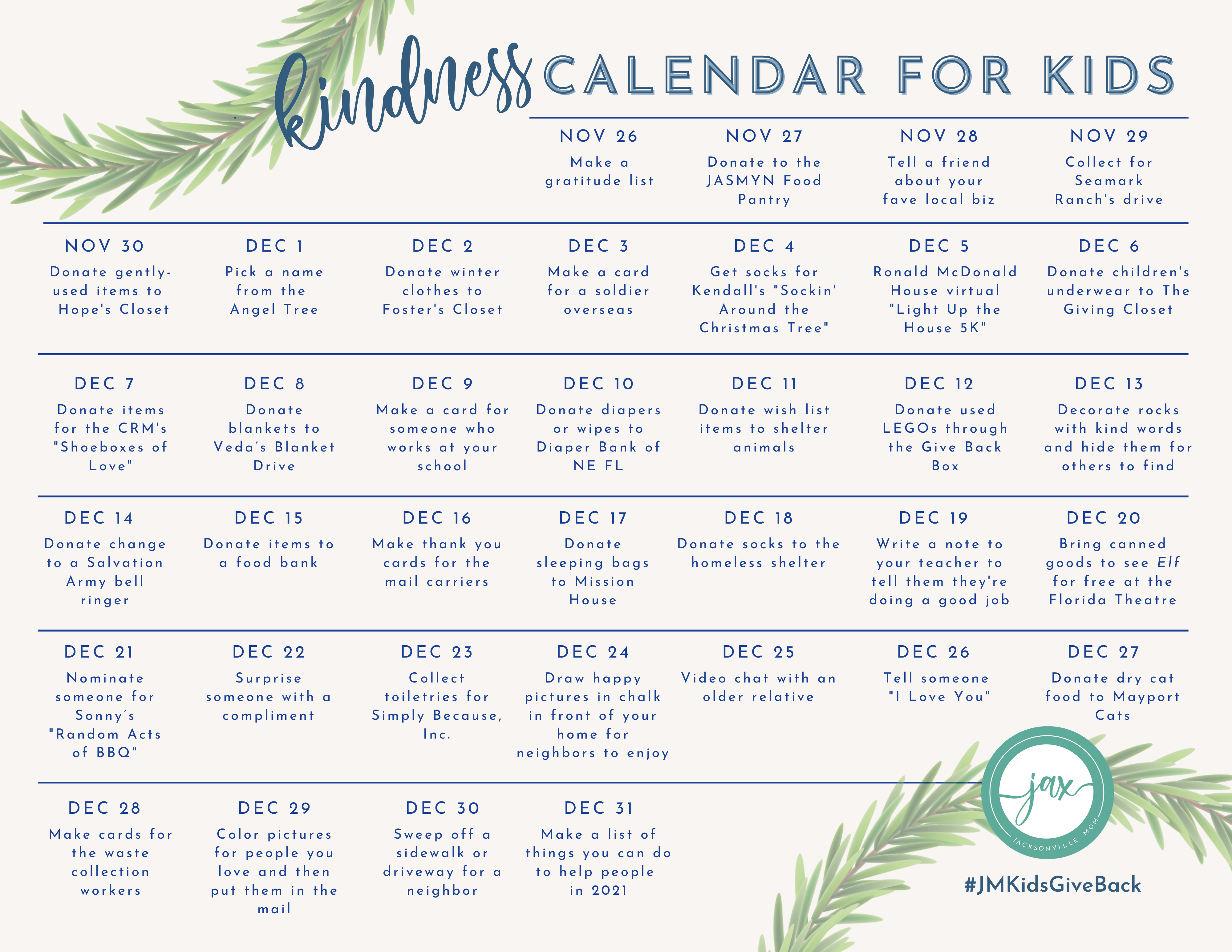 Nov. 27: Help stock the pantry at JASMYN. JASMYN supports LGBTQ young people in Jacksonville by creating a safe space, providing health and wholeness services, and offering youth development opportunities while bringing people and resources together to promote equality and human rights. Access JASMYN's Amazon Wish List here.
Nov. 29: Collect items for Seamark Ranch's annual White Christmas drive. Located in Green Cove Springs, Seamark Ranch is a nurturing Christian home and family system that gives children from families in crisis the tools they need for a brighter future. Click here to view the items needed for their annual holiday drive.
Nov. 30: Clean your room and select a few of your gently used toys and clothes to donate to Hope's Closet. Hope's Closet Thrift is a retail ministry of The Church of Eleven22. Serving the Jacksonville area since 2015, Hope's Closet aims to create a dignified retail setting in our store environments for all people. Click here to view their donation locations.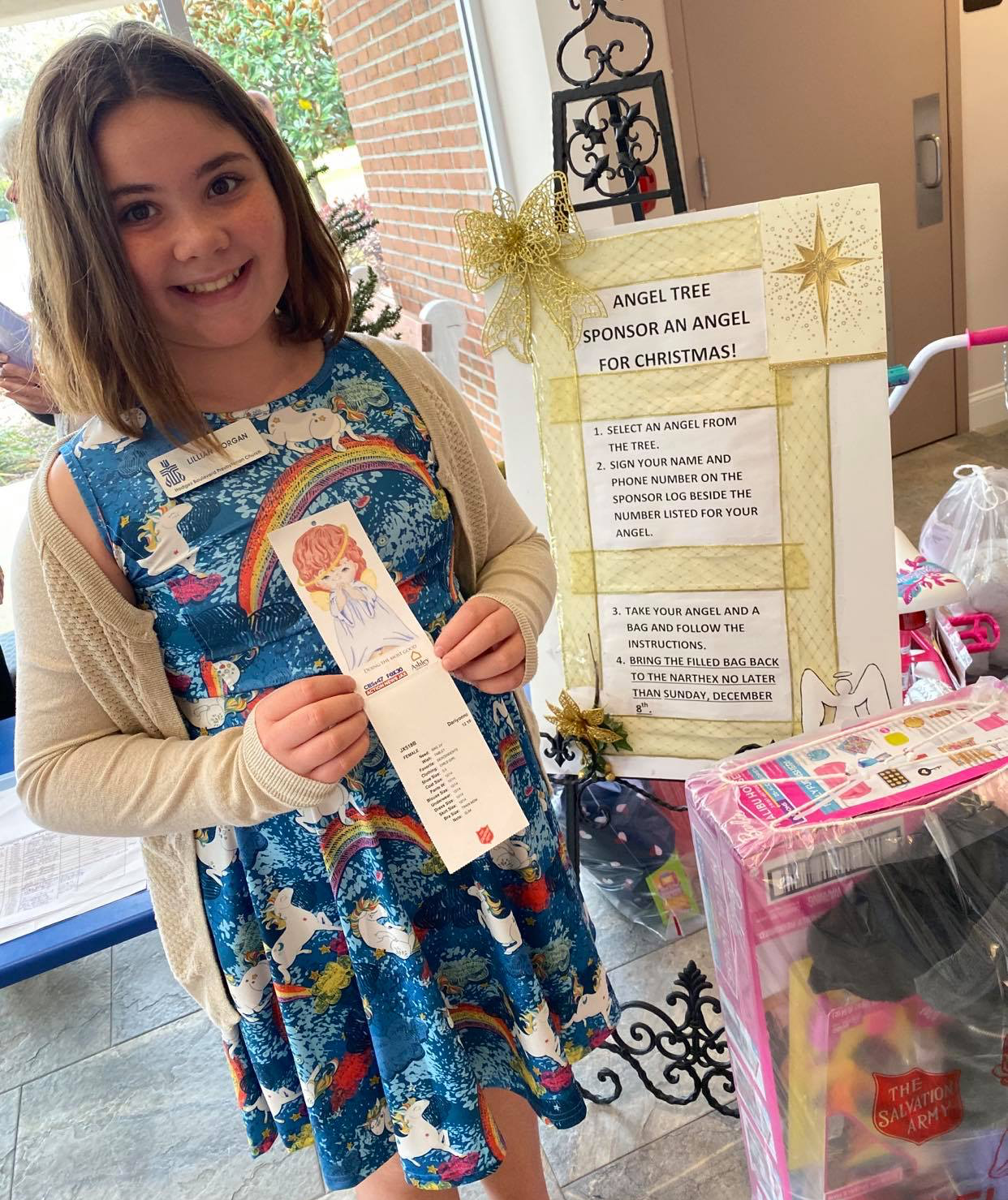 Dec. 1: Buy something for a child from the Angel Tree. The Salvation Army's Angel Tree program provides Christmas gifts for children ages birth–12 whose families have proven financial hardship. These are kids who, without the generosity of people in our community, might not otherwise receive gifts for Christmas. You can find Angel Tree tags at all Jacksonville-area Walmart stores. Click here for more information.
Dec. 2: Donate winter clothes to Foster's Closet. The complete wish list of the Foster's Closet can be found here. Please call before donating. They can be reached at (904) 629-2116 and are located at 730 St. Johns Bluff Rd North, Jacksonville, FL 32225.
Dec. 3: Make a card for a soldier overseas. Send a card or even a care package through Operation Gratitude. Click here to learn more.
Dec. 4: Pick out socks for Kendall's "Sockin' Around the Christmas Tree" sock drive. For the third year, a local teen named Kendall is doing her third annual Sockin' Around the Christmas Tree sock drive benefitting local organizations. She's not an official non-profit; rather, she's just a 13-year-old who is trying to help others in the community! Click here to view her Amazon wish list.
Dec. 5: Participate in the virtual "Light Up the House 5K" for the Ronald McDonald House. Be a part of the first-ever virtual Light Up The House 5k event! Grab your sneakers and get ready to 'Light Up The House' during the festive holiday season for critically ill children staying at the Ronald McDonald House of Jacksonville. Athletes of all levels are invited to run, walk or stroll on their own time, anywhere! Click here to register.
Dec. 6: Donate new underwear for Jacksonville area students through The Giving Closet. Students in our schools are struggling now more than ever from problems caused by situational poverty. These problems affecting our students include living in unstable environments, homelessness, and lack of access to resources. The Giving Closet Project aims to address some of the most basic problems our students and schools face through simple, effective solutions. Jacksonville Mom has teamed up with The Giving Closet to collect underwear of all sizes (from 3T to adult sizes for boys and girls). Click here to access the Amazon Wish List or contact Jessica at [email protected] to arrange dropoff of your donation.
Dec. 7: Collect items for the City Rescue Mission's Shoeboxes of Love. The City Rescue Mission is collecting Shoeboxes of Love for our neighbors in need in Jacksonville. Simply fill a shoebox or like-sized box with items from the list on their website, wrap it in a blanket, and drop it off at their location downtown.
Dec. 8: Donate blankets to Veda's Blanket Drive. Veda is a 10-year-old local 4th grader who started her blanket drive when she was in the first grade. She attends John E. Ford Montessori School which is located just west of downtown Jacksonville. Seeing local homeless on cold morning drives to school inspired her to do something for her community. Click here to view all the details.
Dec. 10: Collect and donate diapers or wipes to Diaper Bank of Northeast Florida. The Diaper Bank of Northeast Florida provides diapers to local nonprofit organizations that support families who are experiencing diaper need. Diaper need is the lack of a sufficient supply of diapers to keep a baby or toddler clean, dry, and healthy. Click here for ways to donate.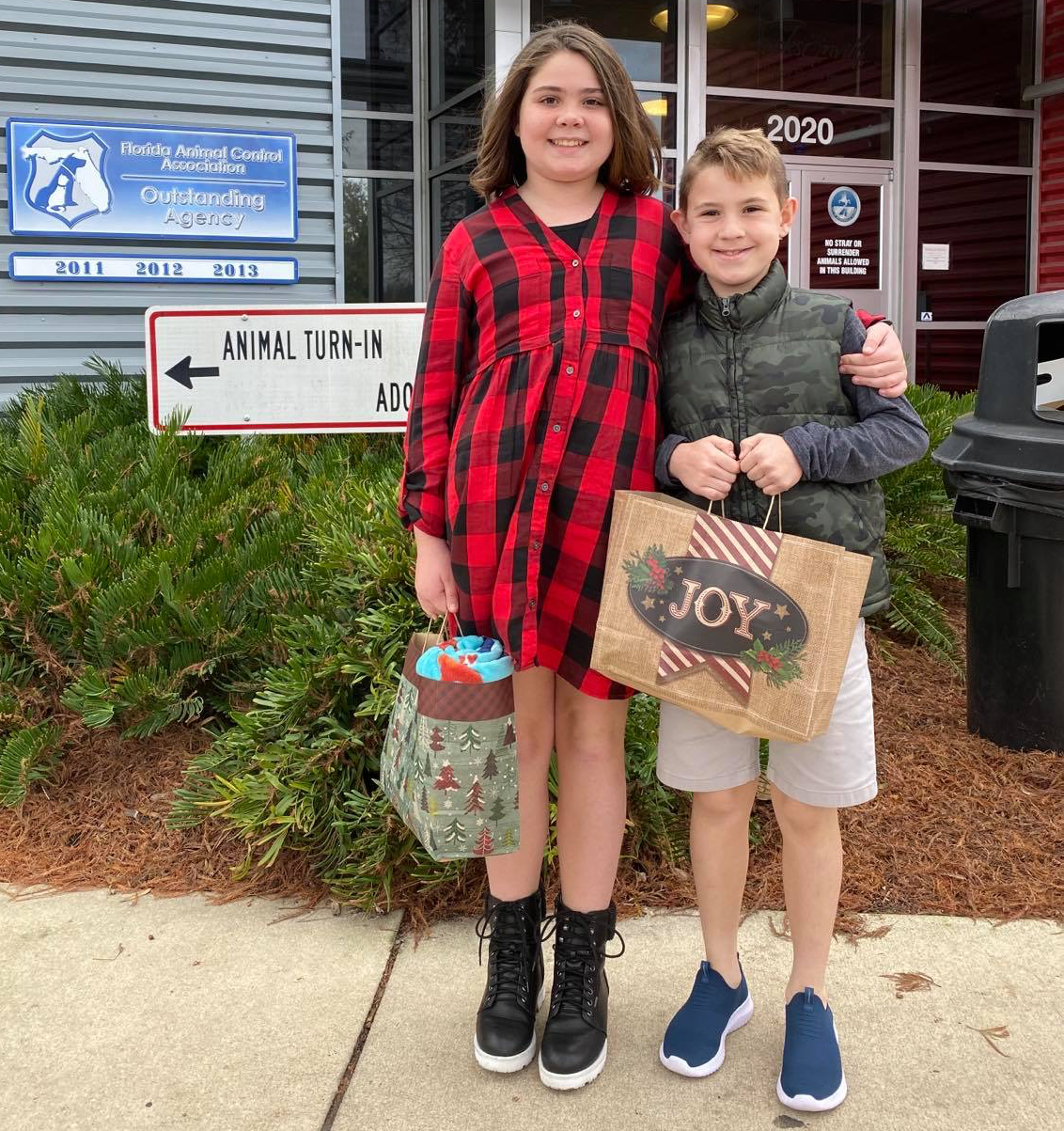 Dec. 11: Donate wish list items to shelter animals. Jacksonville's Animal Care and Protective Services wish list can be found here. The Jacksonville Humane Society wish list can be found here. They are located at 8464 Beach Blvd, Jacksonville, FL 32216. Clay County Animal Care and Control's wish list can be found here.
Dec. 12: Donate used LEGOs through the Give Back Box and LEGO Replay. The purpose of Give Back Box® is to provide an effortless and convenient method of donating your used household items. Give Back Box not only provides an easy way to be part of a truly good cause, it gives a secondary use to corrugated boxes. Click here for more info and to print your label.
Dec. 15: Donate non-perishable food to a local food bank. Mandarin Food Bank, Arlington Food Pantry, Jewish Family & Community Services and Feeding Northeast Florida all gladly accept food donations.
Dec. 17: Donate sleeping bags to Mission House. Mission House is the only day facility to help meet the needs of the homeless adults at the Beaches through compassion, faith, and programs designed to provide assistance at an individual level. Click here to access items that are currently needed.
Dec. 18: Donate socks to the Homeless Shelter: New socks are one of the most requested items by the Sulzbacher Center, one Jacksonville's homeless shelters. Click here to learn more.
Dec. 20: Donate canned goods or non-perishable food items to the Florida Theatre. Bring canned goods or food items and see the movie Elf for free at the Florida Theatre. Click here for all the festive details for the December 20th event!
Dec. 21: Nominate someone for Sonny's "Random Acts of BBQ." Sonny's BBQ is accepting nominations for its Random Acts of BBQ program, an unexpected recognition of those who spark the spirit of barbecue in their communities. Click here to learn more.
Dec. 23: Collect toiletries for Simply Because, Inc.: Simply Because… it's the right thing to do, is a nonprofit dedicated to providing for the underserved within our community. Click here to access their Facebook page with the most current list of community needs.
Dec. 27: Donate dry cat food, kitty litter, and small blankets to Mayport Cats. Mayport Cats is a non-profit organization dedicated to the health, welfare and safety of feral and community cats. Items can be dropped off at The Caffeinated Cat, Jacksonville's first and only Feline Coffee & Wine shop!
What is your favorite activity to do with your kids to show kindness to others?