I never thought I'd say this, but my favorite thing to do this time of year is bake! As soon as my daughter Avery was old enough, I knew that I wanted to start a holiday tradition of making Christmas cookies together like my family did when I was a little girl. We have our Christmas Moose cookie jar that has to be filled and, of course, have something to leave out for Santa to have with his milk.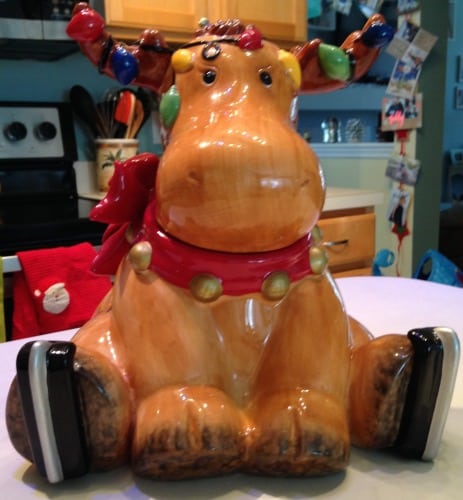 We started this tradition last year when Avery turned three years old and could safely help out in the kitchen. We made homemade sugar cookies sprinkled (doused) with red, green, and white sparkly sprinkles and candies. Avery loved cutting out the cookies, but I think she enjoyed pouring (literally) the sprinkles so much more.
This year, I decided to up my game and make not only homemade cookie dough but also take a shot at making the icing to decorate our delicious treats. Now as a mother of two, a 4-year-old and an eight-month-old, I have found that it is difficult to get things done around the house, much less add baking cookies to the mix. So I planned two days of cookie fun. We baked our cookies on day one and decorated the next. Much easier, cleaner, and I highly recommend! So with the Christmas music blaring, the cookie fun begins!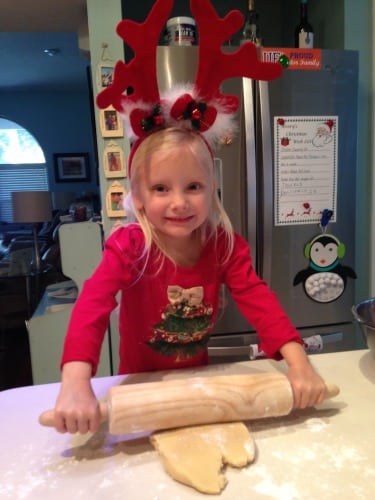 The Cookie
There are so many sugar cookie recipes out there to choose from. My go-to is Alton Brown's recipe. This is a simple base recipe that I tweak a bit to my liking by adding a teaspoon or two of vanilla for little more flavor. You could really add any flavor such as almond or even peppermint to add a little Christmas flair.
After mixing and chilling the dough, my little sous chef appeared with her reindeer antlers on, ready to work. She wanted to help with everything this year from rolling the dough to cutting cookies. She chose her cookie cutter shapes, with her favorites being a Christmas tree, an angel, and a snowflake. We did do a bit of pre-baking sprinkles on some, as these are her daddy's favorites. Then we popped them in the oven and watched them bake to a nice golden brown.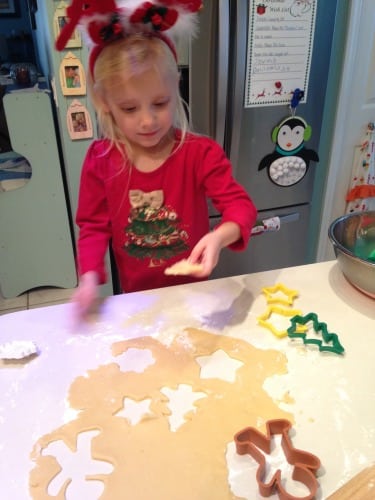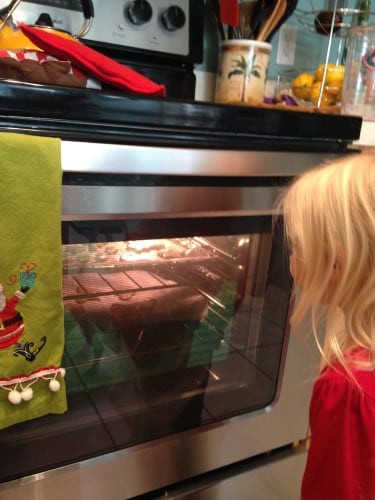 The Icing
Oh icing, how intimidating you can be! As with the cookies, there are many recipes of icing to choose from. As someone who has never made icing before, my only requirements were that it had to be tasty and harden quickly enough not to ruin our masterpiece, especially with a 4-year-old's sticky fingers at work.
After hours of searching the web, I relied on my most reliable source, Grandma! She provided a simple recipe that turned out great! The hardest part was configuring my grandma's "measuring system" to actual measurements to share with you! So here's what I came up with:
[yumprint-recipe id='1′]Icing, sugar sprinkles, and assorted candies and the decorating begins!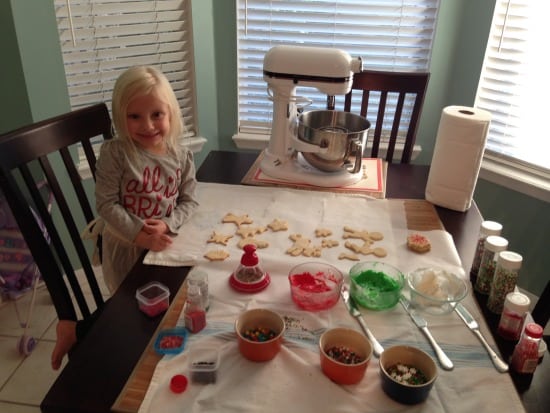 I do not have any fancy decorating utensils, so we just used a dull knife and our fingers. As I took on the task of applying icing to the many holiday shapes, Avery was more than happy to begin the process of decorating with the sprinkles and candies. Of course, a lot more of the candies ended up in her mouth, especially the M&M's!
We made about 2 ½ dozen cookies. Not only did it fill our Christmas Moose, Avery decided that she wanted to share some with her friends and even surprise her teachers at school with a little treat. This was a super fun and successful cookie making experience, one that we will continue to do for years to come!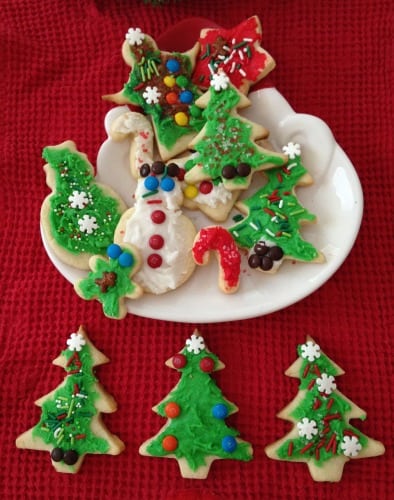 Do you have a yummy Christmas cookie recipe or baking story that you'd like to share?