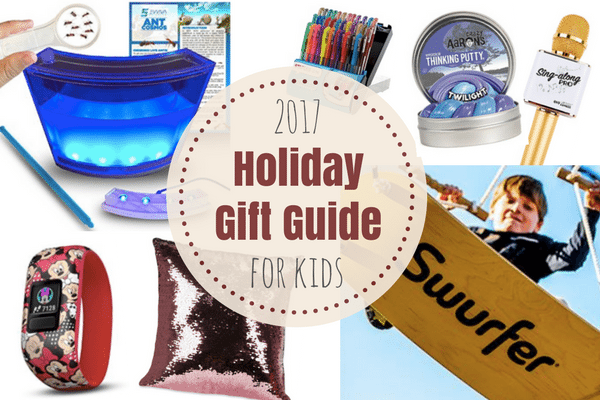 Come November 1, my mailbox is flooded with magazines toting the latest and greatest gifts for the upcoming holiday season. While that pile of ads annoys some, it excites me, your favorite gift giver. After days of page turning, Google clicking, endless Facebook polls and other gifting research, I'm ready to share this season's must-have children's gifts for 2017. Your kids can thank me later.
Swurfer Swingboard ($130, Amazon): Combining the most popular activities in Jacksonville — swinging and surfing — the Swurfer is this season's perfect present for playing outside. The company recommends this for 6 years and up, and adults can do it, too! If you're looking for a more traditional swing, check out HearthSong's award-winning Platform Swing ($119, HearthSong.com).
Garmin Vivofit Jr. 1 & 2, Activity Trackers for Kids ($80–$100, Amazon): Fitness trackers are here to stay, and kids want them, too! Garmin's Vivofit has all the traditional features like step count, sleep tracker and stopwatch, but the incentive app is what makes it the best choice. The app uses the child's step count and daily activity goal to create a visual adventure each day. Parents can also set up the chore management feature that sends rewards straight to the watch for added motivation. Friends who have Vivofits can challenge each other through the app and much more. The difference between the first and second edition is that newer version has adjustable bands and a bigger selection of styles including Disney, Star Wars and Marvel characters, as well as a $20 price difference.
Sing-Along PRO Bluetooth Karoke Microphone ($40, Amazon): Finding room for new toys around the holidays can be tough, which is why I love this Bluetooth karaoke mic. Sync it to your device, download a karaoke app and watch your little pop star's dreams come true!
Magic Sequin Products: These shimmering sequins allow children to create messages and designs with a flip of their fingertips. It's all the rage right now from throw pillows ($10, Bed Bath & Beyond) and bracelets ($15, Amazon) to pencil bags and backpacks (spotted at local beach store KYDS). Do a little surfing to find the best deals.

Ant Farm with LED Light ($32, Amazon): Yes, I'm encouraging you to invite small pests into your home this holiday season! If your household is demanding a pet, and you just aren't there yet, ants are a carefree option that will buy you some time until Fido arrives. This educational gift will mesmerize your children, as the neon light and high-quality gel encourages the ants to dig deeper tunnels. This farm does not include live ants (most are sold separately) but does have an e-book, magnifying glass and instructions on how to order ants. P.S. Amazon does ship live ants for under $10.
Gel Pens ($18 for 36-pack, Staples): No lie, this is the gift that kept on giving in our house last year! Close your eyes and feel that gel pen sweeping smooth beautiful letters onto paper. Sounds crazy, but if you're trying to get a child excited about writing, practicing spelling words, future thank-you notes or just need a moment to breathe at the end of a long day, this is the golden ticket. There are tons of options out there, but my daughter loved organizing them in this case, and we haven't lost any because of it!
Crazy Aaron's Thinking Putty ($15, Amazon): This is the perfect stocking stuffer, and it will honestly stand the test of time when it comes to putty (won't lose elasticity or dry out). There are 30 color choices including fun ones like liquid glass (high-gloss clear) to an iridescent super scarab and even a glow-in-the-dark option. You'll thank me the next time you take the kids on a road trip or airplane!
STEM Club Toy Subscription ($20/month, Amazon): This is literally the gift that keeps on giving every month for a year, and it's available for ages 3-4, 5-7 and 8-13 years old! For $19.99 per month, your child receives the best toys to encourage them to tangibly explore and experiment with science, technology, engineering and math skills through play. It is fun and educational; just the kind of gift that grandparents love to give if they are looking for suggestions.

My sage gift-giving advice this season is when in doubt, buy a Beanie Boo ($8, Amazon). Kids of all ages are obsessed with this big-eyed stuffed animal, and it's under $10. We all know the holidays aren't really about the gifts, but it still doesn't hurt seeing those tiny faces light up. Happy shopping!
What items are your children asking for this year?
This post contains a few affiliate links. All opinions are still my own!