"How much money did I make?" This was the question my son asked his father this weekend while working in the yard. This was the question my five-year-old son asked after only three minutes of "work" – grabbing a few sticks and holding open a trash bag for grass clippings.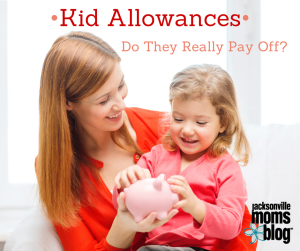 Naturally, for my frugal accountant husband his response was short – nothing: this was our house, our responsibility which we don't get paid for. Let's just say my son didn't take too kindly to that. He ultimately came around and getting to help mow the yard with his father ended up being reward enough for our son, but it spurred a discussion in our household after bed time: Allowances.
Did you get an allowance as a child? I did not. My siblings and I were just expected to contribute to the household chores. There were other ways we could "earn" money, maybe doing something extra, but for the most part, we did not receive any allowance.
My older children are coming of the age where they are starting to wonder about and beginning to understand the concept of money. We do not do allowances in our house yet, and I am not sure if we will. Determining what we will reward and how will make this decision is a bit of a struggle.
First, How Much
A quick Google search revealed that the average amount of a weekly allowance is $.50 per year of the child's life. For example, a 7-year-old would receive $3.50 weekly or a 10-year-old would receive $5.00 weekly. This varies for everyone, but this could be a good starting point if you weren't sure.
Next, how do we reward them?
We thought through some options with allowances…
• Give a weekly allowance for doing household chores. Some options are having a chart set up with all of the chores listed with the child receiving a star or sticker or something for every chore that is done (check out KidPointz for some great printables). If the agreed upon chores are done in a timely manner, then the child gets their weekly allowance to spend or save as he or she sees fit. This way promotes working for your money.
• Give a weekly allowance not dependent on chores. The child would still be expected to do their household chores, but the weekly allowance would have nothing to do with them. The allowance would solely be to teach fiscal responsibility.
• No weekly allowance. The child would learn fiscal responsibility through other ways. In my case, I would receive money for birthdays. My father always told me he would double whatever I wanted to deposit in the bank and save. If I chose not to do this, I could just spend my money however I wanted to, but would not have it doubled. I usually debated hard about what I wanted to do. The doubling of my money was a nice thought, but more often than not I would say no and just keep the original amount to spend. As I got older I started rethinking my ways, especially after seeing how much my brother was accumulating because he chose to save and get double rather than spend!
Whether you choose to give an allowance based on chores or not, I came across an interesting way of allocating the allowance. The child could be required to split the allowance into several different jars…1/3 for spending, 1/3 for saving, and 1/3 towards a charity donation of his or her choice. This is a way of teaching the child some fiscal and social responsibility.
Do you give allowances? If so, at what age did you start? How much do you give? If not, why not?