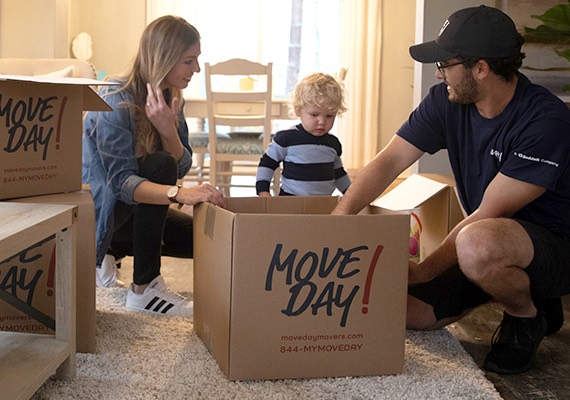 It's no secret that the housing market is hot right now. We sold our house in one day and bought a house that never even hit the market thanks to some friends in our dream neighborhood, or we would probably still be looking for a home. Bidding wars, cash offers thousands of dollars over asking price, people making offers sight unseen — the real estate market has gone bonkers.
Thankfully for us, our new home's closing went smoothly, and then we shifted our focus to moving. This is our fourth move in 13 years, and it's the first time we decided to hire movers. We had four weeks in between our closings, so we could get some work done on the new house before we moved in. I joked with my husband about how much time we had to pack up for our family of four and be ready for the movers: One whole month! We took our time and packed one room at a time — with bubble wrap for delicate items. We did a lot of purging which felt great since we were downsizing to be near the beach, and we donated a ton of clothes and toys and other things we had outgrown. Yet, we still filled an entire moving truck and then some.
Moving day came fast, and we still weren't close to being ready. Where had the time gone? We were still throwing things in boxes and panic-packing just minutes before the new owners took possession of the home. We even had to leave some things behind on the curb because we simply had no way to get them to the new house. I shed many tears when we pulled out of the driveway, but not for sentimental reasons. I was stressed, frustrated, tired, and ready to get our lives back.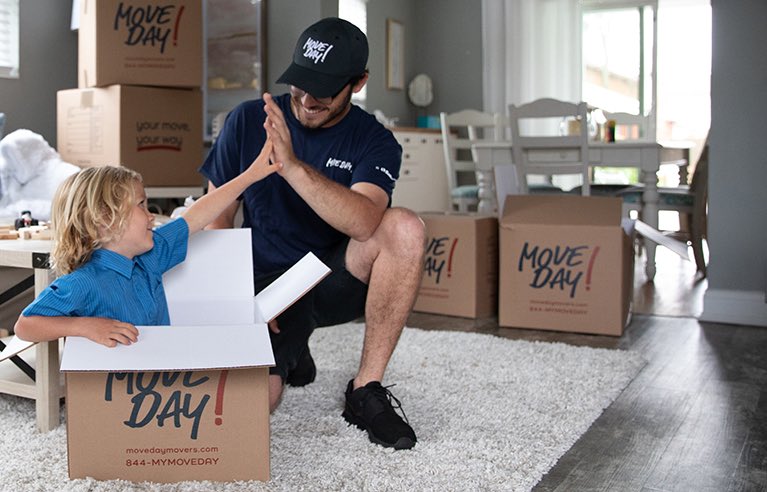 Though it all seems like a blur now, there are several things I wish I had known about moving and finding the right moving company — and not just any random company because they had the best hourly rate. Our friends at MoveDay!, a locally owned company based right here in Jacksonville, are here to help and ease your mind when it comes to moving. They are trusted, efficient, and caring — and helped me answer some of those questions.
What time of year is the busiest season for moving, and how could that affect my move?
May is the start of what we call "peak season" — mainly, it's when a majority of moves are happening because kids are out of school and the real estate market is heating up. This is a time of year we recommend reaching out to and booking a mover as soon as possible (as much as six to eight weeks out) because capacity can be limited. That will help ensure you get the date you want.
One thing to be aware of, especially during peak season, is that capacity can affect the price of your move. Kind of in the same way it would cost you more to fly on a Friday or a Sunday as opposed to a Wednesday, if you want to move on a weekend at the end of the month, limited capacity would affect the price. If you're flexible with your moving dates, it can help your bottom line.
What steps should I have taken to vet my local mover?
Be sure to check out What to Look for in a Local Mover. Also, there is a lot of lingo that can be thrown around during the quote process. Make sure you fully understand what everything means — that's where our Moving Vocab blog can come in handy.
I felt really overwhelmed before moving. What are some services I might not have known about that could have helped?
Home staging help! Most people don't think about a moving company before they sell their home, but we are able to collect items or furniture from your home to declutter it for showings, and then deliver those items alongside the rest of your goods to your new home.
Labor only. If you're planning to do everything yourself but just need help loading, we can step in on move day and load and unload whatever needs it.
Packing and unpacking. We offer flexible and convenient packing services, from partial to full-service, to be custom fit to both your budget and plans. Our trained packing crew will take care of your property using the best materials and packing techniques, quickly and easily readying your items for moving day.
Storage. We have the capacity to accommodate the storage of household goods at any point in your move and deliver it when your new home is ready.
Senior moving services for parents. To clarify, it does not cost extra — our crews are just trained in soft skills that make moving easier emotionally, as well as packing items like antiques. Here is a checklist to help if you're moving seniors.
All around flexibility. No matter at what point you need a little help when moving — even if you just need an extra set of hands to help you move heavy furniture in, or only need help packing — we can step in to assist.
Part of my stress was feeling unprepared, like there were a lot of things I was forgetting about. What are some of the most common things people forget?
People don't move that often, so it's natural to not think of every little thing. For example, defrosting your fridge three days prior to moving, or forgetting to empty the trashcan before movers come, forgetting to label boxes according to the room they're being placed in. Our Moving Checklist can help!
On top of my own stress and emotions with moving, I also have to help my kids through it. What are some approaches I could have taken to help them through the transition?
For your kids, this might be the first move they remember, which means it can be scary and stressful, and they don't really know what to expect. They might have some anxiety over leaving the only home they've really known. So try to make it an adventure. The most important step is to start early if you can — that way, you're giving them time to adjust and understand, and not rushing them through packing or giving away old toys and clothes. Try to help them understand what is going to happen on moving day, and get them excited for the movers and truck.
Another good tip is to visit your new house if possible, or your new neighborhood as often as you can. This will help build excitement, especially if there is some kind of fun destination nearby — a new park they can play at, a new ice cream place. Something for them to hold onto and get excited about. Check out our Moving with Kids Checklist or The Ultimate Guide for Moving with Kids.
My fur babies — they knew something was up, they were extra clingy. How could I have helped them better?
Fur babies can be even harder than kids sometimes because there really is no explaining to them what is going on, and why everything in the house is being packed up. It's like that look they give you when they know you're going on a trip, times 1,000. Make sure your animals have some comfort items at all times during the move — a favorite toy or their bed — so they have a safe place that is familiar. But the best thing you can do for your animals is to find them a pet sitter on moving day. Whether you're taking them over to a friend or family member's house, or giving them a fun daycare trip, it's best if they're not in the house. Not only will it stress them out to have so many new people in the house, but it is extremely common for pets to get loose during a move. We have personally had so many stories of our movers tracking down a scared dog that got out, or ripping open boxes because an owner isn't sure where the cat is.
It will be a load off of your mind to know they're safe and out of the way, and it will be much better for their stress level as well. Here is our Moving with Pets checklist to help.
My family packed ourselves, and we did okay, but I feel like we could have packed better and consolidated more boxes. What are some packing tips that would have helped?
For example, most people don't pack plates properly — they are most stable if packed sideways, as opposed to stacked on top of one another. Or when packing glass, don't use newspaper because the ink can rub off on them.
Moves are priced based on the cubic feet you're taking up in the truck. You probably can't pack poorly enough for it to make a big difference in your price, but boxes and packing material can be expensive, so it's overall better for your budget the fewer boxes you have.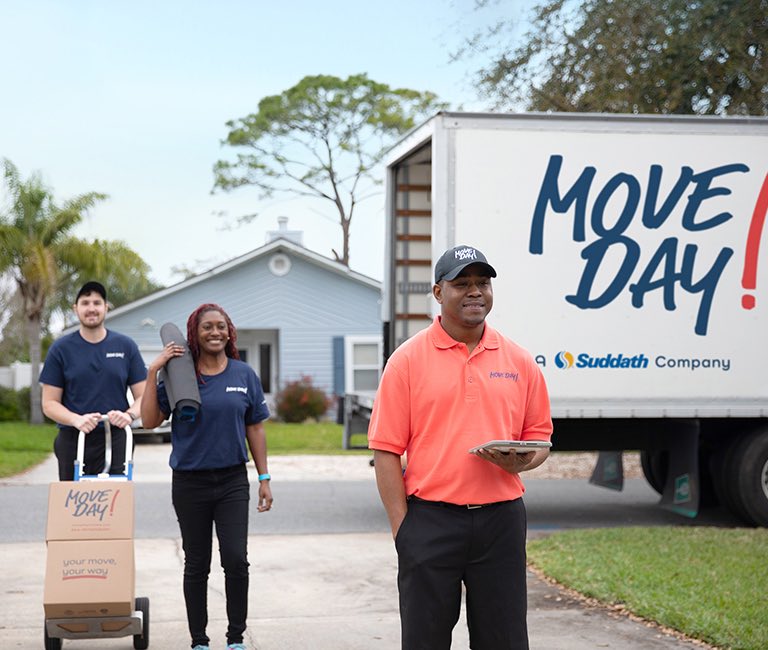 Fast forward three months and while we are mostly unpacked, I spy with my little eye a few boxes remaining in our master bedroom and a garage also occupied by several brown boxes with labels like bedroom, closet, and kitchen. I just can't muster up the energy to unpack one. more. thing. I definitely underestimated what moving with two kids would entail — and even more so the endless unpacking. Take my advice — spend the money on good movers and let them do the work!
Special Offer
Ready to make your move? Book a move with MoveDay!
Jacksonville Mom readers get a FREE packing starter kit (valued at $200) when you book a local move with MoveDay with promo code: JAXMOMS.
And download a must-have Moving Checklist here.