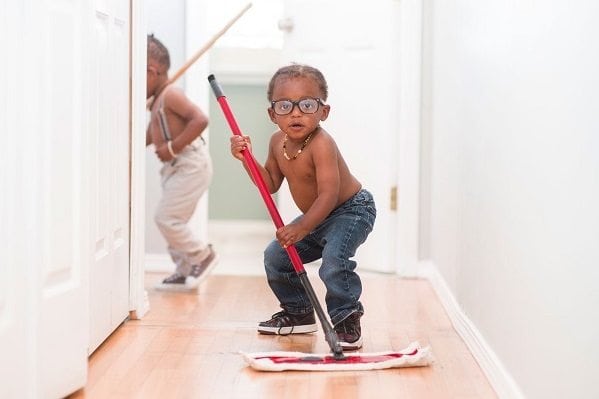 If you have a couple of toddlers at home during the day, there's no doubt you have a disarray of toys, books, or maybe the odd runaway sock or shoe around the house along with blankie. Sound familiar?
Rather than picking it all up on your own while your child naps, it's important to start young to teach your child simple ways to help, along with the concept that things belong in certain places. A trick I've found that works wonders to get some tidying assistance is to use the music that you often hear in pre-kindergarten: The "Clean Up Song."
Google that bouncy melody, and you'll find it is available on YouTube with everyone from Dora the Explorer to Barney to The Singing Walrus to the original "Clean Up" songwriters. I suggest you create a playlist (or bookmark on your iPad or laptop) with half a dozen of these two-minute songs that you can play at a designated time each day — such as late in the day before you start dinner when it would be nice to have some available space. You can think about your own daily routine and when it would fit best.
The words are great too — simple and repetitive, which encourages the use of new words and memorization: "Clean up, clean up, everybody clean up… pick up, pick up, everybody pick up the toys… Now it's time to put away everything that we took out. When the place is nice and clean it makes us feel so proud… we always clean up, clean up, because we like to do our share."
It is a simple strategy, but it's well known that toddlers and preschool children like songs about familiar things such as toys, and they love to move around and sing aloud. You've probably seen your youngster humming and swaying to their own made-up songs or moving to the music you play.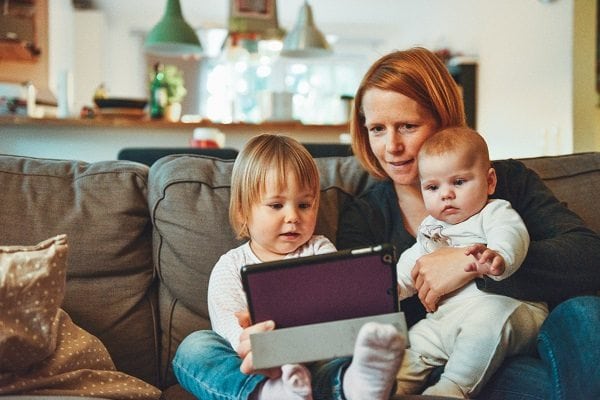 This approach makes cleaning up fun (yay!) for the child, and it's a very short period of time that works well with their attention span. Child psychology experts suggest that a young child's attention span in minutes is their age, plus one.  So, a 3-year-old would have a four-minute attention span to focus on the clean-up task. Start by participating in it, too, to make it lively at first. Over time, you can move from participating, to watching and singing the song with them. I suspect you'll hear your child say "again!" Another participatory song you could be involved in is the "Follow The Leader" song by the Wiggles, where your child can march behind you to help pick up. You get the idea.
There are lots of lightweight options you can use as a toy bin, from plastic to natural grasses to fabric or ones that unfold and spring into shape — you can certainly find something to fit in with your décor. A low shelf in the family room can be used for books or put them in a separate small bin. Your child will know they can find their toys there and where to put them back.  I've seen a color photo of what items go in the bin attached to the outside so the child doesn't forget, but I'd opt for just one storage place where you'd like the toys to reside so it's easy to remember. You can always think about painting, stenciling, or using fabric markers on the bin to write your child's name.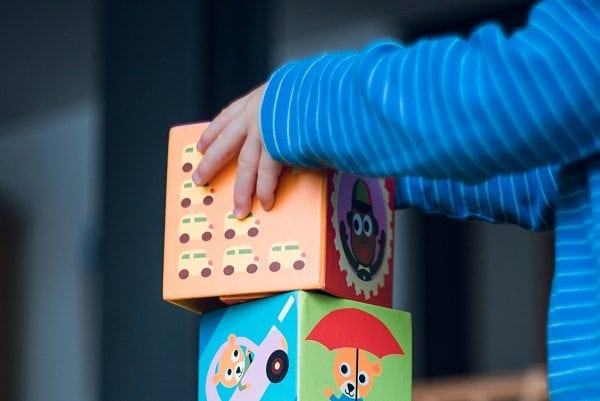 Once a week or every two weeks you can switch out the toys for other ones in their bedroom so they have ongoing interest in what's there, rotate existing toys better and find out which ones really aren't of interest to them — and let them go to a new home.
For the ones your child does love, as you rotate them out, think about giving them a good "clean up," too.
Most stuffed toys (without batteries or squeakers) can go in a gentle cycle in the wash on warm followed by a low-heat, short dryer cycle. Toy manufacturer Fisher-Price has good information on how to wash a variety of toys here.
So make music in your home, and your toddler's playlist can expand beyond nursery rhymes to include "Clean Up" songs that will brighten their day and brighten your home! After 25 years in business, I have a few tricks up my sleeve to make tidying up and cleaning a little easier on you and your time.
About the Author
Jean Hill is a mom and the CEO of Jean's Clean Team, a Jacksonville-based company that offers quality residential cleaning, decluttering and organizational support. She's an active entrepreneur in her 25th year of business, which she began alone and has expanded to a team of 20 women who support clients across Jacksonville, the Beaches communities and into St. Johns County. She was recently given the Positively JAX Award from WJXT News4Jax, that celebrates people or things that make living in Northeast Florida special.