The 8th Annual McKenzie's Run will take place on Saturday, November 18th!
1-Mile Fun Run at 9:30 a.m.  |  5K at 10 a.m.  |  EverBank Field
The McKenzie Noelle Wilson Foundation was founded in memory of McKenzie Wilson, a resident of Ponte Vedra Beach and student at The Bolles School, who passed away from a rare and sudden illness in 2010 at the young age of 15. The Foundation was created by her parents to continue her legacy and keep her light shining. The Foundation's mission is to help young people recognize their full potential through their local and global initiatives. As of today, The Foundation has invested over $4 million into these initiatives here in Jacksonville and across the world in Uganda, Africa.
The Foundation's largest annual fundraiser outside of individual donations, McKenzie's Run, includes a 1-mile fun run and 5K, both of which will start on Gator Bowl Blvd. and end inside EverBank Field. Runners will be able to take a lap around the field and watch themselves cross the finish line on EverBank Field's massive video boards.
Brian Sexton, The Voice of The Jaguars, will emcee the opening ceremonies, and Pastor Joby Martin of The Church of Eleven22 will share an inspiring message as we think back on the impact of McKenzie's life and pose the question, "Why do you run?" Jacksonville Jaguars mascot Jaxson De Ville will kick off the 1-mile fun run at 9:30 a.m., which is a perfect activity for children.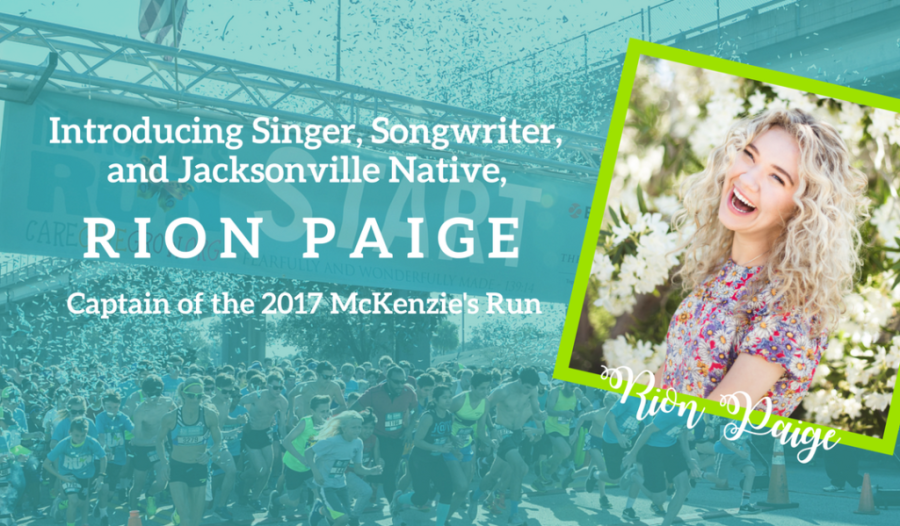 This year, the Foundation has also created a new tradition by selecting a young person who embodies the  "care, give, grow" spirit to serve as McKenzie's Run Captain. Singer, songwriter, X-Factor finalist and Jacksonville native, Rion Paige, has been selected as Captain of the 2017 McKenzie's Run. "Being Run Captain makes me feel honored and excited to be a part of the next generation living in the spirit of 'care, give, grow,'" says Rion. Rion will complete the opening ceremonies by singing the National Anthem and kicking off the race with celebratory confetti canons!
After the race, runners will enjoy an after party in Runners Village with musical guest The Church of Eleven22 Band "Eleven22 Worship," along with free face painting, a photo booth, inflatables, free snacks, games and so much more! McKenzie's Run sponsors and non-profit partners will have tents with free giveaways and other great merchandise for sale. The McKenzie Noelle Wilson Foundation will also have a large merchandise tent featuring all new McKenzie's Run and Foundation merchandise, including LIV-N-GRACE bracelets!
I have had the privilege of participating in McKenzie's Run for the past four years. Each time, I am moved by how much McKenzie was loved and how much she loved others. Her spirit shows up at each race in the speech from Pastor John to the final push across EverBank Field. Before each race, there is a video montage showing the previous year's race, as well as all of the events the McKenzie Noelle Foundation has put on over the years. There is a powerful message and call to action to care for others, give back and grow ourselves.
McKenzie's Run is also extremely family oriented. My girls have loved joining my husband and I on the course, as well as the fun activities afterward like the bounce houses, live entertainment, free food (especially the cookies) and several other fun activities. We look forward to another fun year of running and supporting such a loving organization in Jacksonville.
Register with the Jax Moms Blog
As this year's champion sponsor, Jax Moms Blog is proud to be a part of the race and helping the foundation in their mission. We encourage you to join our JMB team — simply register under our team using "Jax Moms Blog" as the team name, and receive a discount on your 5K registration.